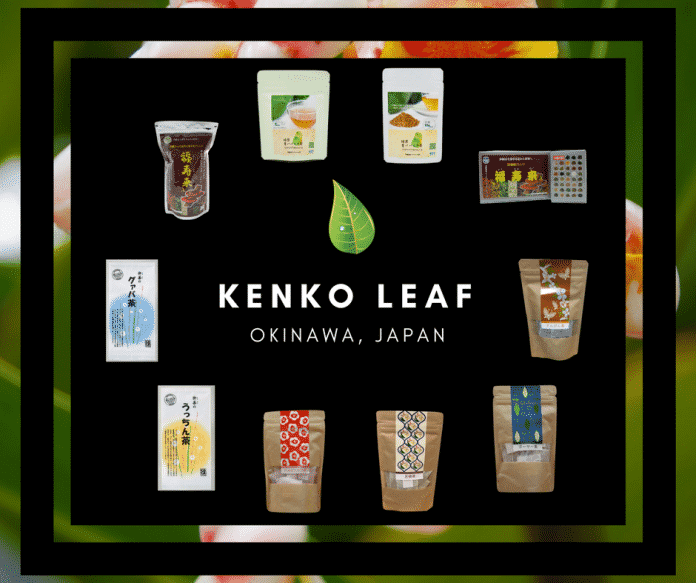 No matter where or how far, a piece of Okinawa can still reach your door.
Kenko means 'health' in Japanese and is one of the reasons Kenko Leaf was started. Okinawa is an island full of beauty and tradition going back centuries. It is still known to some as the 'island of longevity' as many Okinawans live to and past 100 years old. Many scholars even now research the factors that have led to longer life expectancy rates in Okinawa and have come up with many results. However, one thing is for certain, the food and surrounding beauty is a considerable influence.
We believe the health and beauty should be shared with the world and not just confined within this small island. That is why 'Kenko Leaf' was started, an online store selling goods made on Okinawa by Okinawans. There are two rules we follow:
It must include Okinawan-based ingredients, design, or tradition

It must be made in Okinawa or by Okinawan people
Kenko Leaf offers teas, supplements, coasters, aroma oils, and much more, all with an Okinawan twist. New products are being added all the time and we are open to suggestions if you can't find what you are looking for.
Before adding a new product, we meet each company at their store or headquarters and speak with the owner and staff to learn more about them and what they make. Relations are important on this little island and we love making connections with the locals who share a passion for all that encompasses Okinawa.
We don't just slab on any product on our site like some other e-commerce stores. We choose products based on their creators and the reasons for creating the products. We buy and try each product personally to show we 100% back every good we put on our website.
These companies want to spread knowledge and awareness about Okinawan health, tradition, and design but lack the international market and language skills to do so. That is why we say 'makasete-kudasai!' (leave it to us!). If you want coasters from one company but goya tea from another, we put it all in one box making it the one and only hub you need for Okinawan goods.
Together we want to spread awareness about our home to all those who live across the ocean. We ship to all countries that allow shipments from Japan and offer three shipping methods. We take any questions regarding health, longevity, tradition, the products, or anything you can think of. If we don't know the answer, a local we work with who has grown up on the island definitely will!
Website: https://shop.kenkoleaf.com
Email: kenkoleaf@gmail.com