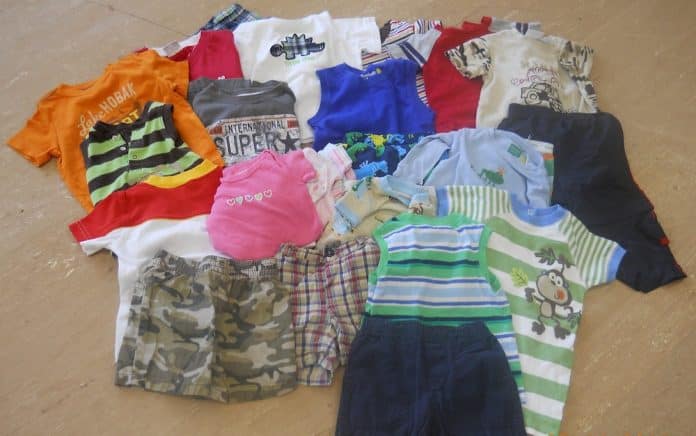 Swap Clothing
CONTRIBUTED BY MEGAN PARKER
The concept of swap shopping is simple and genius: take what you don't need and trade it for something you do! It's a great way to recycle, save money, and even meet new people. If you like any of these things, swap shopping might just be for you!
The Okinawa Kids Clothing Swap began in 2009 by founder Anastasia McPherson as a way for parents to meet and swap their kids' clean, gently used clothing for clothing in sizes they need. Best of all, there's no money involved – it's absolutely free! It is a credit-based system whereby you are granted a credit for each piece of clothing that is accepted. You then turn around and use those credits to "shop" for new-to-you items! Pure genius.
Swap shopping is easy and fun, but there are tricks to the trade. Read on for some helpful tips to help maximize your first (or next) swap shopping experience!
Have a Game Plan
The best thing you can do is to have a game plan. This is not a "browsing" shopping experience – things move very quickly at these events. Prioritize what you are looking for, especially if you are shopping for more than one child. Before the swap begins figure out the layout of the room – where the sizes you need are located and the most direct path for getting there. Older kids' clothing goes fast, so I always go there first and then hit up the younger kids' tables where there is generally more to choose from. This last time, however, my daughter really needed shoes so I hit up the shoes/accessories table first and scored some cutey-patootie Sketchers. Prioritize!

Swap Tables

Swap Clothing 2
Size Up
You will have the best luck with swap shopping if you "size up" – and by that I mean, at each swap you should shop for not only the sizes your child needs but at least 1-2 sizes up from that as well. Doing this allows you to build a wardrobe over the course of several swaps, and by the time your child actually grows into that size you will have a stockpile of clothing to choose from.
Manage your Credits Wisely
If you are concerned about the style/quality/quantity of clothing that will be available, I recommend starting small and bringing just a few items; maybe 5-10 to start with. But remember that you can only leave with the amount you came with. So if you hit the jackpot and find tons of stuff but run out of credits, you're out of luck. The great thing about the Okinawa Kids Clothing Swap is that credits are currently valid for three swaps (the one you register for and the next two). So even if you don't use them all at the first swap, they'll carry over for another two swaps. So plan accordingly!
Volunteer
The swap can't exist without our volunteers, and we use registered participants the day of the swap to review the clothing coming in. By volunteering, you receive 10 pre-picks of clothing! That means you get to go through the clothing before the other swappers and choose 10 items, so long as you have 10 credits to use. This is a great opportunity to snag the best items first! I almost always walk away with some clothing that is new-with-tags and/or name brand. I've included some pictures of the clothing that I brought home from our most recent swap, as well as a picture of clothing that a friend scored for her son!

Swap Logo
I loved volunteering at the swap so much that when Anastasia needed someone to take over the swap due to her upcoming PCS, I jumped at the opportunity. Heather Nordell and I joined Anastasia's previous partner, Sarah Cardio, in helping coordinate the swap. Each swap gets bigger and better, and we now average around 100 participants per swap! The swaps are held quarterly, and we'd love to have you join us in swap shopping. Find us on Facebook (Okinawa Kids Clothing Swap) or join our Yahoo! Group for more information and to register for the next swap!