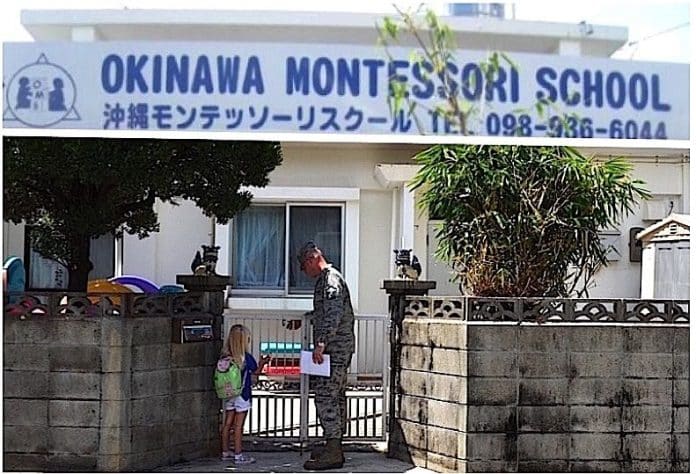 Editor's Note: This is a new review about OMSI.  To read our review from 2007 & its update from 2010, along with all the associated comments, please see THIS POST. 
For all you parents looking for a preschool that suits your kids, we're hoping to add a little something to aid in your search. Parents of children who attend various preschools on island have filled out a series of questions about the schools for the benefit of the rest of us. We welcome more than one voice on each school since everyone has a different experience, so please feel free to add in your two cents in the comments.
If your child attends a school that has not been reviewed on this site, please contact our Submissions Manager for the template.
CONTRIBUTED BY ELISA ANDERSON
Address: 1-348 Miyagi, Chatan, Nakagami District
Phone:  Ms. Aida (098) 936-6044 or (090) 8911-6044
Email: admin@okinawamontessori.com
Website: https://okinawamontessori.com
Ages Accepted: 2.5 to 6 years
My 4-year-old (almost 5) attends OMSI, and my 6-year-old goes back for summer school. I've written this in a Q&A format to give other parents like me an easier time of finding what you need! 
ADMISSIONS/ENROLLMENT – Yen Only
What is the maximum number of students that the school will allow? Their maximum amount is 40 students.
What is the current number of students?  Currently they have 36 students.
Is enrollment open/year-round enrollment or per semester? Enrollment is year-round.
Does my child have to be potty-trained to attend?  The school accepts applications for enrollment from potty trained children ages 2.5 to 6 years old.
Can I bring my child in for a pre-enrollment visit? Yes, they offer trials for the children (and the parent). They call the students that are on a trial "visitors." Sometimes my son comes home telling me he made a new friend, and he/she is a "visitor." Parents of applicants are invited to schedule an appointment to visit the school and meet with the director for orientation. Enrollment is on a first come, first served basis. Priority is given to returning students and to siblings.
DAYS AND HOURS
What are the school's hours? Their school hours depend on the age/ level. For Pre-K it goes from 8:00 a.m. – 12:00 p.m. or from 12:00 p.m. – 4:00 p.m. My son is 4 years old, but he already attended pre- school when he was 3, so I was able to take him to the Advanced Pre- K which is from 9:00 a.m. – 3:00 p.m. The Kindergarteners (5 years old in September) are also from 9:00 a.m. – 3:00 p.m., and then there is the Full Day Program which is from 8:00 a.m. – 4:00 p.m., all Monday-Friday.
Is the school on a Japanese or American schedule? They follow the American schedule for most holidays.
How flexible is the school with pickup and drop-off times? Their drop- off times are not earlier than 15 minutes before their starting time, and the pick-up time is no later than 15 minutes of the scheduled time.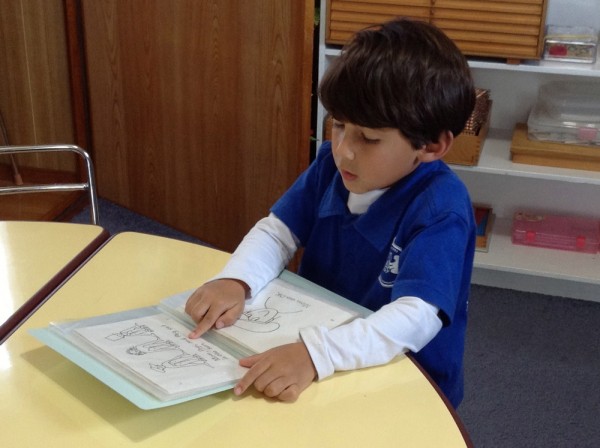 COSTS 
What are the registration fees?  Registration fees are ¥20,000 (Japanese Yen).
What are the tuition fees? Their tuition fee depends on the hours your child is attending school. Their regular monthly tuition is ¥40,000 (4 hours daily for the morning or the afternoon). If you add 2 hours daily (my son goes from 9:00am-3:00pm), then it is ¥15,000 additional fee (so ¥55,000). If you add 4 hours extra (all day), then you have to add ¥25,000.
If any, what are the assessment and school supplies fees? Supplies/material fee is ¥20,000 (Pro- rated)
Are any discounts offered for referrals, siblings, volunteering, working there, etc.? Yes, there is a 5% discount given for the 2nd and 3rd child enrolled in the school. The school also gives a 5% discount for referrals.
Is there a late-pickup fee? The late pick- up fee is ¥700 from 15 minutes – 1 hour before drop- off and after pick up time
How and when does the school require payment (in yen, dollars, etc.)? Tuition is due on the 1st of every month. Payments are in Japanese Yen or automatic payment thru GI bill is available.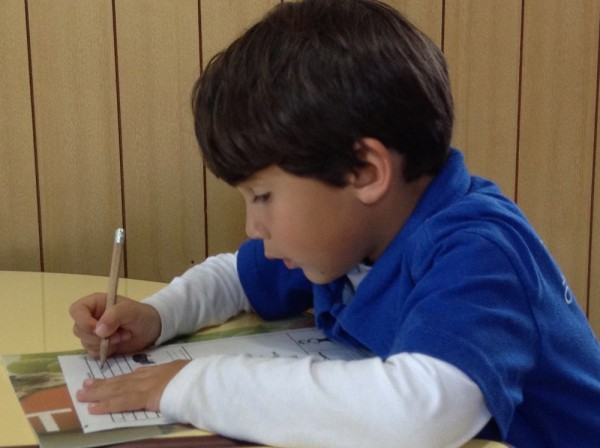 PARENT INVOLVEMENT AND INTERACTION
Does the school encourage spontaneous visits from parents? They do not prefer or encourage this, because it can cause anxiety for the children.
How do parents communicate with teachers? There is a volunteer parent for communication and coordination. Also, monthly newsletters are e-mailed to the parents and posted in the school's bulletin boards. Currently there is Facebook page for parents where the volunteer parent also posts news, and updates.
Is there a daily report or other process for informing parents of what children did during the day (naps, BMs, snacks, etc.)?  No, there is not a formal report of the children's activities. Normally when you pick up your child from school you will hear from the teacher how your child did that day or if there were any issues.
Are there parent/teacher conferences? Parent-teacher conferences are held twice a year and whenever necessary for the well-being of the children.
CLASSROOM STRUCTURE AND SIZE
How are the kids grouped? Mixed ages/grouped by age? The students are grouped according to their maturity and learning readiness.
What's the teacher-child ratio in each group? The ratio is 10 students to one teacher, but students attend at different times so usually is a lower ratio.
How many full-time teachers are there? How many assistants? There are three full-time teachers and there is one part-time teacher.
What is the school's educational philosophy? Is the school program developmentally-based or does it have an academic focus? The school adheres to the Montessori philosophy and method of education. It follows the code of ethics of the American Montessori Society (their office address is New York City, USA). The school program is developmentally-based and academically focused.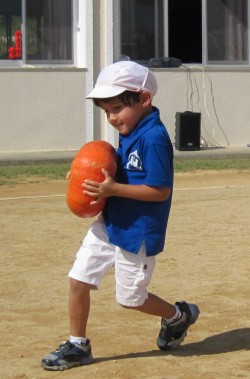 Is there a playground for the children to play on? Yes, the school has a small playground, but there is also a play park close by the school. Sometimes they go to the Community Center (two minutes from the school) to play.
What do the children do on any given day? Their general routine is outside play (fun time), group lesson (circle time), individual work (floor work or worksheet), one-on-one time with teachers, and snack time/lunch time.
Are there extracurricular activities or field trips? Yes, they have strawberry picking and potato picking. There are holiday celebrations such as Thanksgiving, Christmas, Sports Day, Easter, Halloween, Picture Taking Day and Valentines' Day. Parents can also come in and read a book or talk about a career, or an event. Examples are reading a book on Dr. Seuss day, talk about St. Patrick's Day, a sun safety class, Healthy Eyes Month, Nutrition and Digestive Tract and Antarctica.
How does the school discipline children? They implement the "Thinking Chair" (similar to time-out).
How does the school comfort children? The teachers give the children one on one time. They also comfort the children by talking about what is bothering them or upsetting them. They hold/ hug the children if there is a need to do so. My child has separation anxiety, and when he cried when I left they made him look for "Nemo" in an aquarium that they have. This distracted him and he was not upset anymore after a few minutes, because he was too busy looking for "Nemo!"
FINAL COMMENTS/OBSERVATIONS ABOUT THE SCHOOL
With an abundance of schools here in Okinawa, it is not hard to find one for your child. However, finding a good school is the challenge. As a parent we all look for the perfect school for our children. After visiting and interviewing several Montessori schools, I can honestly say that we are very happy and fortunate that we found the Okinawa Montessori School International (OMSI).
For my 4-year-old who had serious separation anxiety, I was looking for a school with loving and experienced teachers who understood, and had experience to handle this in a caring way. At OMSI they know how to work with your child. The teacher was so sweet; she knew I was worried going home and leaving my 'baby' at school, and she called me half an hour later on my cell phone to let me know that my boy was doing fine and that he already joined the circle without crying. His anxiety lasted only a few days. The teachers provide a devoted environment where every child is nurtured throughout the day.
The teachers at OMSI work to provide activities that are interesting and challenging to help the students reach their potential in an encouraging and warm environment. All full-time teachers have between seven and 20 years of experience, and it is apparent in their daily work.
What I like about this Montessori school is that they focus on children becoming independent, respectful of others, and responsible for themselves. They have the flexibility for children to learn new skills as they are developmentally ready, rather than when they are in a specific one-year grade. Children of different ages share the same classes, and are encouraged to collaborate and help each other. They also learn Japanese, and I am amazed on how fast they learn a new language.
Although my son will be eligible for Kindergarten this year at a DoD school, I will keep him at OMSI. I cannot wish for a better school, with such dedicated staff.
Ultimately, choosing a school is a personal decision. If however, your child craves consistency and a need to form strong relationships with his teachers, you'll make a good choice at the Okinawa Montessori School International in my opinion.
Directions: From Kadena Gate 1, head south on 58. Immediately, get in the far right lane and turn right at the very first stop light (US Auto and Family Mart are on the corner).
Take a left turn at the second stop light. Once you've turned, a large colorful Japanese school will be on your left.
Just past the Japanese school, the road will fork. Take the right fork and then take an immediate left turn (small road). OMSI will be about three buildings down on the right.
From Camp Foster, head north on 58. At the Camp Lester stop light (Starbucks on the corner), turn left.
Turn right at the first light. Go through three stop lights. You will pass JUSCO, the Ferris Wheel, and Hamagawa Lodge. You will then pass the Pink Panther Apartments on your right (yes they are pink!).
Begin to slow down. As you pass the Rainbow House III Apartments on your right (they are yellow), you will make the very next left turn.
There will be a small road on your right with two vending machines on the corner. Take a right turn on that road. You will pass a small park on your right and OMSI will be just ahead on your left.