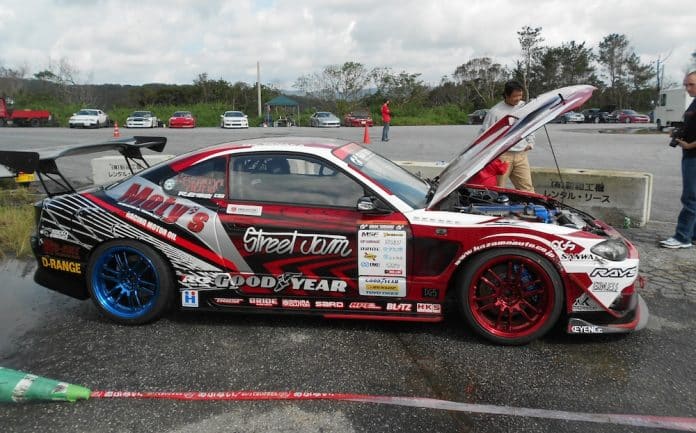 CONTRIBUTED BY AMY MADDOCKS

Oki Motor Fest Street Jam
Any motor-heads out there? Enjoy watching car or motorcycle racing? Or perhaps you want something a little different to do on a weekend? If so, the Okinawa Motor Festival is a fantastic event for you!
Since moving to the island last summer, I have greatly missed my home-town demolition derby's and races we used to go to, so this event piqued my interest. Therefore, my husband and I packed up the car and headed up north to Yukari Field (by the bullfighting ring) to see what it was all about.

Oki Motor Fest car line
Needless to say, we were both pleasantly surprised by the event and how much fun it was! There were many different cars competing, along with motorcycle races as well. After the time trials—which were awesome, by-the-way—everyone was allowed to walk down to the pits to get an up close look at the cars, their engines, and talk to their drivers (if you speak Japanese!).

Oki Motor Fest D
Another highlight of the day was watching the drifting. A certain part of the competition was actually judged on the angle, speed, show factor, and amount of smoke—the more smoke the better! The smell of burning rubber on asphalt always gets my heart racing, as it would any motor enthusiast, and there was plenty of that to be had!

Oki Motor Fest Car
Basically, anyone who enjoys racing or for those looking to do something a little different one afternoon, I highly recommend you try to catch the next race. They host them each year in January, April, July, September, and December, with time trials and rehearsals on the first day and the final races on the second day.  JapanUpdate ran a specific article about the January event here. I have also heard that many Okinawan racers who want to practice the sport spend many weekends at the same track, honing their skills. I have not seen this myself, but a few people at the event told me you can usually go to the same place as the event on a good weather weekend and expect to see at least a few drivers practicing some pretty cool drifting.


Oki Motor Fest Motorcycles
A few words of advice: the track is not set up for spectators to be comfortable! We came unprepared and ended up standing to watch the races for a few hours (although we stood by one curve of the track that had the cars racing past us only a few yards away—so I'm NOT complaining!). I recommend you bring strollers for the little ones and folding chairs for the rest of the family. There were plenty of places to put chairs up and lots of room for standing, but no bleachers or seats. Most people preferred to stand so they could snap photos and film, but there were plenty of places to put chairs up. There is plenty of parking space but plan on walking a bit to get to the actual event if you arrive late. We came late and only stayed a few hours and there was still plenty of parking, but more people were piling in on our way out. Last year they had over 2,300 spectators over the weekend and I expect there were more this year.

Oki Motor Fest Food
There were several food and drink vendors set up with your typical festival food—ranging from corn dogs & French fries to Soba and sweets (bring Yen for food & drink purchases). There are also bathroom facilities available to use but you will need to go up the hill and through the bullfighting ring to find them (there were no signs pointing the way—we luckily found a staff member that spoke English). If you go in the front doors of the bull fighting ring, turn to your left and walk to the back of the arena, the bathrooms will be along the back wall. Also, if you plan on staying the whole day there will be some down time while waiting for different events to clear the track. There was about a one hour wait (perfect time for some festival goodies) after the car races while they set up jumps for the motorcycle events. We didn't have little ones with us but noticed that the kids all seemed to have a blast during the event and there was plenty of space for them to run around.

Oki Motor Fest Cycle Race

Oki Motor Fest Jump
Cost:  Adults = 1000 yen or 15 dollars (this entry fee will get you admittance to BOTH days' events, and entry into a raffle for prizes), Children = 800 yen
Hours:  9:00 a.m. to 4:00 p.m. each day (arrive early for the best racing!)
Yearly Events in: January, April, July, September, and December 
Directions: Drive north on Hwy 58 (or take the express) almost to Nago. A few minutes before you enter the city, take a right onto Hwy 329. Follow 329 across the island and turn left at the Futami traffic light, then immediately right (there were parking attendants to guide you at this point). If you are coming from the east side of the island, drive north on Hwy 329 past Camp Schwab and the entrance to Futami bypass tunnel, then turn right at the traffic light (same light as above).