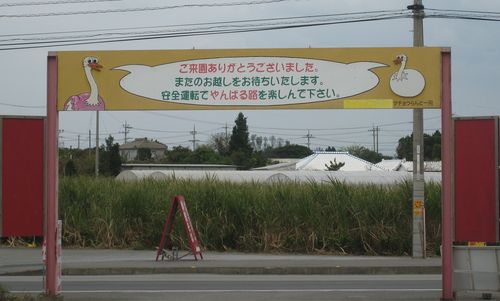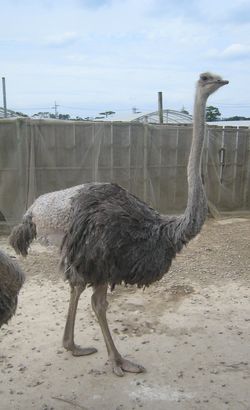 CONTRIBUTED BY EMILY FINDERS
My husband and I have always enjoyed visiting unique animal farms/parks.  On our first vacation together we visited an alligator farm in Louisiana.  On our honeymoon we spent a morning at an Alpaca farm in Cape May, NJ.  So shortly after arriving on Okinawa in October, I began searching for a new and different animal experience for us to enjoy.  My search led me to Okinawa Ostrich Show Land (also known as Dacholand).
After reading about this park on a few tourist websites and finding it on the map on my iPhone, we set out on a Saturday afternoon in search of the park.  The park is fairly easy to get to, although it was a decent length drive from our home on Camp Kinser.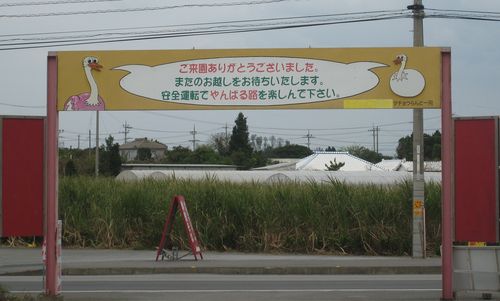 The park is well marked with a large sign (in Japanese) that has pictures of ostriches and ostrich eggs on both sides.  We were greeted by a very friendly Japanese woman at the entrance and asked to pay the 500Y admission fee.  She led us into the park, gave us a large handful of green plants and motioned that we could feed the birds.  We were the only visitors at the park that day and after getting us started, the Japanese woman left us alone in the park to explore.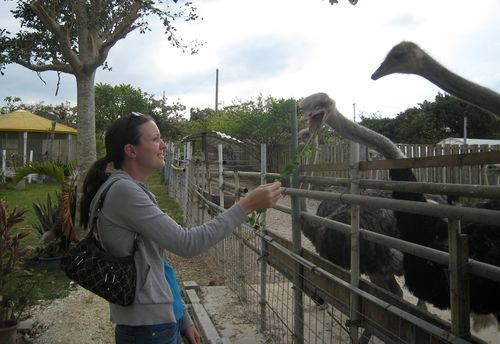 The farm consists of several large pens of ostriches, and a few emus.  We entertained ourselves by feeding the birds for a long while.  The birds are very friendly, while I was looking at my camera; one leaned over the fence and snatched the food right out of my hand.  At the very back of the farm there are several small sheds with horses and goats.  Some of the goats were roaming free, grazing in the piles of grass and plants.  On the other side of the park there were several colorful turkeys.  The male turkeys followed us around, ruffling their feathers and gobbling when we got to close to the female turkeys.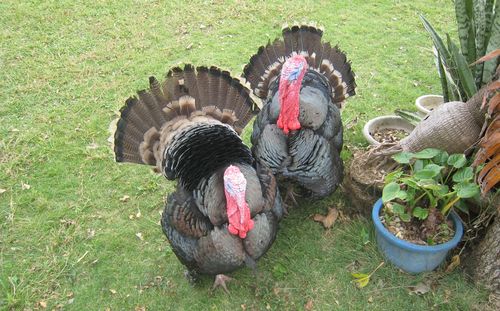 While we enjoyed our visit to Ostrich Show Land, I would recommend combining it with other activities to make the long drive up north worthwhile (we only spent about 45 minutes in the park).   This would be a fun place to visit with young kids, as there is plenty of room for them to run around and lots to look at.  The park also has a small restaurant next door where you can sample ostrich meat and eggs and other more typical Okinawa foods.  Unfortunately we had a big lunch out just before we went to the park, so we opted not to eat at the restaurant during our visit.  If you enjoy trying new and interesting foods, this may be a nice way to cap off your visit!
Hours: 9am to 6pm, 7 days per week
Parking: There is a big parking area right in front of the farm with many spots available.
Price: Admission is 500Y for adults and 250Y for young children (cash only).
Directions: Take the expressway all the way to 58.  Go north on 58 until you hit route 71.  Take a right on route 71.  Make a left onto route 505 and follow this route until you see the sign for Dacholand.  The sign is in Japanese but has several pictures of ostriches and is pretty easy to spot.
Address: 309 Heshiki Nakijin-son, Okinawa Prefecture 905-0423, Japan.  We were able to locate this on our iPhone and follow the map directions pretty easily.
Phone:  980-56-3550