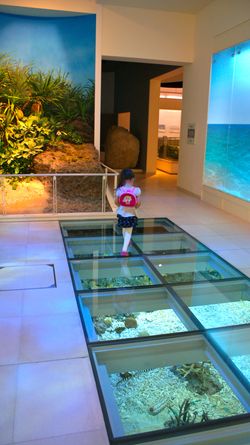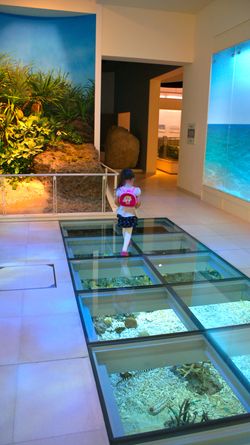 CONTRIBUTED BY JENNIFER SHUE
This little gem is nestled right between the Toys R Us/Babies R Us and the Naha Mainplace. If you've been down there you must have seen it. The outside is the creamy limestone so common in Okinawa and is stylistically reminiscent of the various gusuku sites scattered around the island. Inside, it is beautiful, open, and airy, divided into two wings: natural/local history and art.
The natural history side is marvelously well-done, though don't go expecting anything quite like the Smithsonian.
As you enter the wing, you feel as though you are walking on water, approaching an island. My daughter could not believe that we were supposed to be walking on the large glass floor tiles and the lady working behind the desk had to come out and show her that it was OK.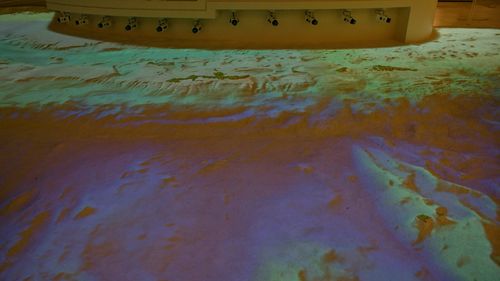 You'll enter a main exhibition hall with exhibits about Ryukyu geography, climate, culture, history, ecosystems, and more. There is a really neat interactive floor map that will show you various animations about ocean currents, seasonal weather and cloud patterns, Habu habitat ranges, cultural calender, historical trading routes with China and Japan, typhoons, and I forget what else. Aside from the entry hall, this is my daughter's  favorite thing about the museum.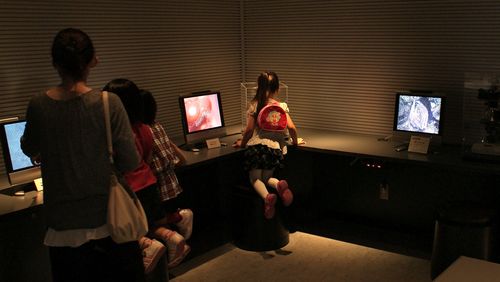 There are also several smaller exhibit halls including a specimen room, maps and mineral samples about the composition of the islands and how they were separated from China by the rising seas, plants and animals, early human settlement.  In addition to this, there is a hands-on room adjacent to the main lobby, a museum gift store with some great gift ideas, a cafe upstairs, and a rotating exhibit hall upstairs. The hands-on room does not have very much English language information, unfortunately, but you can still have fun in there trying to figure some things out. Almost all of the museum side has some sort of English-language information to go along with the exhibits.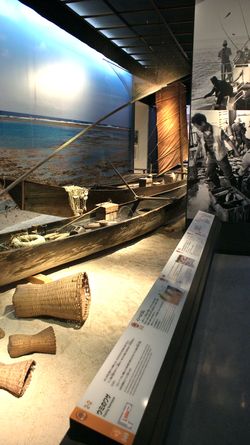 Hours:  The Prefectural Museum is open Sun-Th, 9am-6pm (last admission at 5:30), Friday and Saturday from 9am until 8pm (last admission at 7:30). They are closed on Mondays. However, if Monday is a National Holiday, the day after a National Holiday, or Okinawa Memorial Day, the museum will be open, but will close the following Tuesday instead. And will close for the New Year's holiday, Dec 29th-Jan 3rd.
Parking:  There is ample parking in the front lot.
Price:  General admission for adults for the main exhibit hall and associated exhibits (pretty much everything other than the rotating exhibit upstairs) is 400Y, elementary and junior high students are either 150Y or no charge, high school students are 250Y. There are annual passports for sale for each side of the museum, or both the art and natural history side combined. The information on the website regarding annual passes is incorrect, but I can tell you that my annual pass for just the museum side was approximately either $36 or 37 and my daughter gets in free with me. Bring yen for admission – I pulled out my Visa and the ticket lady's eyes got all big like I had just done something wrong. The gift shop takes Visa though.
Website: www.museums.pref.okinawa.jp/english/index.html
Directions:  Take 58 south into Naha. Turn left at the third light after the long overpass just after Kinser. There will be a building with red and white letters that say "Agre" on the right. This is the same turn to go to Babies R Us/Toys R Us or Shintoshin Park, Naha Mainplace, or DFS Mall or DFS Food Colliseum. Pass along the front of the Babies R Us. As you go under the pedestrian overpass have your indicator on and turn into the museum parking lot entrance immediately on your left.