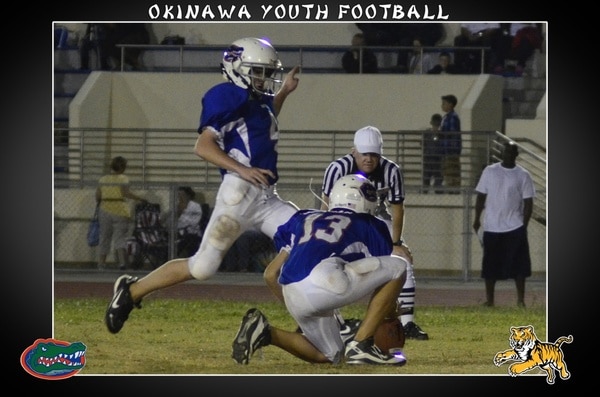 CONTRIBUTED BY ADRIEKE OSMUN

OYFL Kid
Last December, I was sitting on the bleachers watching my son during his football practice and a wave of emotion came over me as I heard colors begin. I saw every player on that field stop running drills and snap to attention as the trumpet wafted through the Okinawa air. I was struck at how this ritual is second nature to our kids and immediately wondered how different things would be when we moved back to the States and didn't live in this secluded atmosphere so many of us have adjusted to. I also thought about how anxious I was when we received our orders here and thought this would be a great opportunity to share one of our experiences with a family just starting the journey as we had three years ago!
As a mom of two very active boys, I was worried about how our move from the States to Okinawa would affect them. Our older son has always been involved in whatever sport was being played during that season. When we found out that we were moving to Okinawa, his biggest concern was "Mom, do they play football in Japan?" I scoured the internet sites looking for some mention of football and outside of high school or flag football, my search came up empty. I didn't have the heart to tell him at the time, so I kept changing the subject every time it came up. When we got here and started to settle into the MANY changes that come with a huge move like this; the question continued to nag in my head and out of his mouth. Finally, one day as we were walking through the Foster Exchange we came across a registration booth for Okinawa Youth Football and we were elated to find the answer to our questions!

OYFL Kick
Now, three years later, I'm thrilled at how far the league has come and how it's grown. To see those boys and girls take the field on game day will always be awe-inspiring. I watch football players with "war" faces on (and a spark of smile in their eyes). I see cheerleaders with their uniforms pressed and infectious joy spreading to the crowd. There's no better way to spend the weekend!
Living in Okinawa is an experience we will treasurer always. But being so far away from our "regular" lives, is often times a difficult adjustment, especially for our kids. For so many of us, the game of football gives us a feeling of home. Being able to maintain this sense of normalcy in our kids' lives is a blessing to all of us. Keeping them fresh on their skills will also make the transition back home much easier. Often times, our kids go back to the states and are expected to pick up where they left off. This is one way to ensure our kids are ready to step back into tackle football with little or no hesitation. This is especially important with the older kids that will be playing high school ball. We need to make our time here beneficial on many different levels, OYF is just one of those ways to try and make a difference for our kids.

OYFL Logo
OYF offers full tackle football and cheerleading to kids ages 5-14.
For more information —
Website:  okinawayouthfootball.com
Facebook:  Okinawa Youth Football