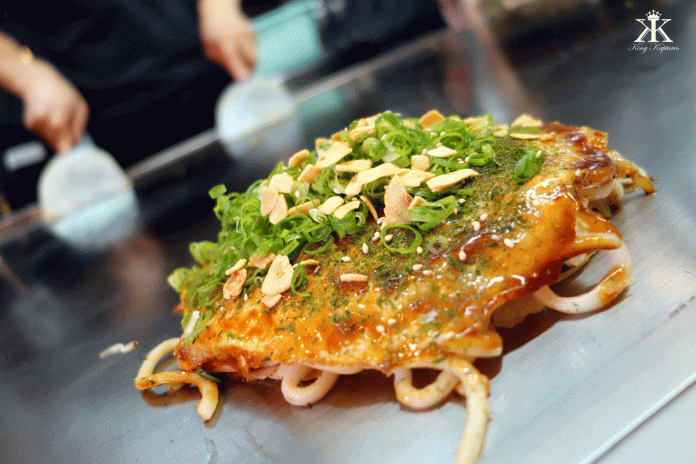 CONTRIBUTED BY KEVIN "ELVIS" KING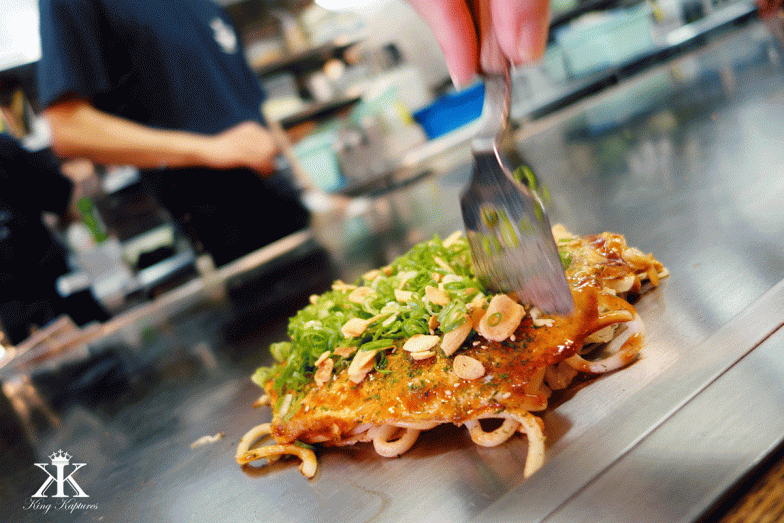 "Nagata-ya," said the tiny female valet as she tapped the map she was marking for us. We were checking into the ANA Crowne Plaza in Hiroshima and were asking about where to get the savory Japanese pancake for which Hiroshima is so famous: Okonomiyaki.
Our appetites, however, were no match for the oversized okonomiyaki (お好み焼き, pronounced "Oh-kono-me-ya-key") served in Hiroshima. Often called a Japanese pancake, they are really more of a crepe. In any case, the thinness of the dough simply serves as the foundation for oh so much more. "Okonomi" in Japanese means "as you like," and refers to the many permutations of ingredients a diner can choose to pile onto their grilled ("yaki") goodness. The delicacy is most popular in Kansai (Osaka, Kyoto) or Hiroshima areas of Japan, but can be found throughout, including in Okinawa. The biggest regional differences are in the toppings and the batter used, along with how they are arranged during cooking.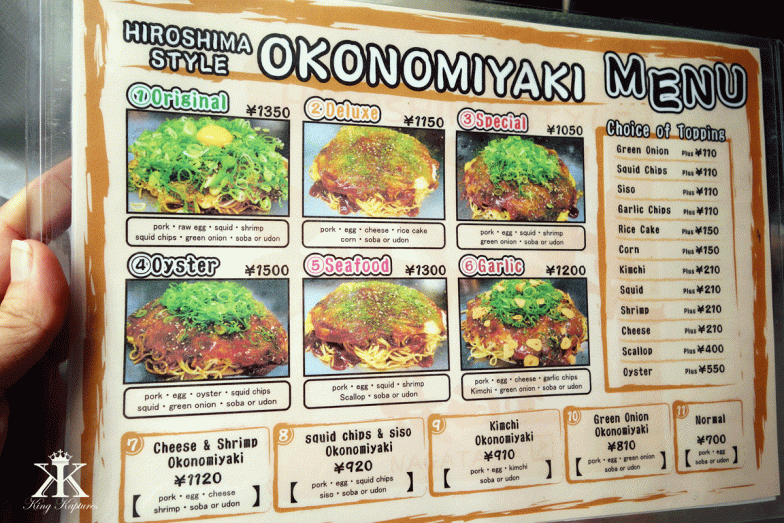 We passed Nagata-ya the day before, and decided to stop by on Saturday after enjoying Hiroshima's Peace Park and Museum. There was no line late Friday afternoon, but when we returned on Saturday about 3 p.m., the line stretched all the way down the street. We decided to stick it out and ended up waiting about 20 minutes. The staff was happily and amazingly efficient, taking orders outside on electronic keypads, which were then transmitted wirelessly back to the kitchen. By the time we sat down at the grill-side counter, our okonomiyaki creation had already been started.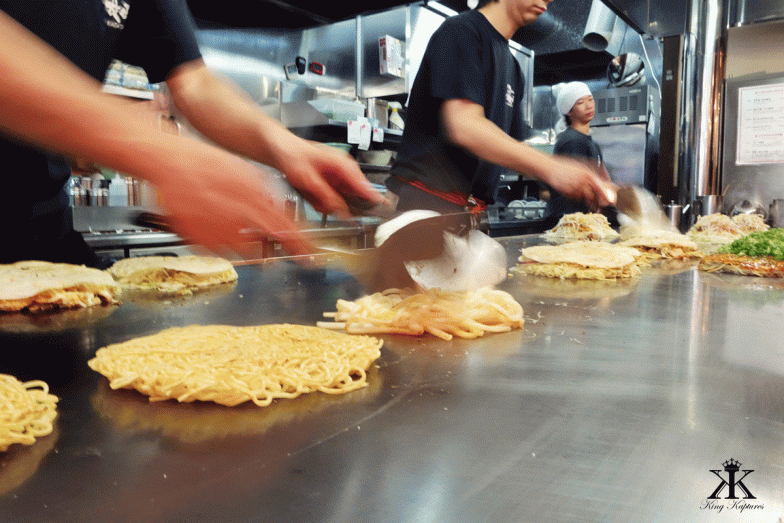 Okonomiyaki became very popular during WWII when rice was in very short supply. Due to the lack of other ingredients, a simpler version was made with more readily available fixings. Suffering harsh wartime conditions, the freshly grilled and hot wheat pancake was nutritious, filling and inexpensive, all at the same time.
The okonomiyaki style mixes all the constituent ingredients, including shredded cabbage, egg, green onion and usually some type of protein, into the batter before grilling. The okonomiyaki in Hiroshima uses very similar elements, the but rather than being mixed into the batter before grilling, they are layered on top of the batter on the grill. Okonomiyaki also includes a layer of noodles (soba or udon) and is often topped with a fried egg.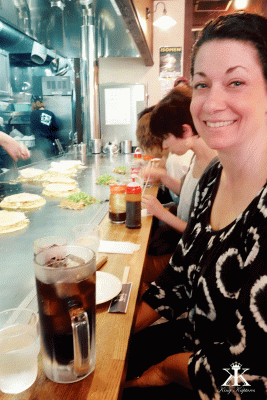 I am a huge fan of udon (my favorite soup in the whole wide world), so we elected for this starchy layer over the soba option. Looking up and down the grill, however, it seemed we had made a faux pas of sorts: ours was the only okonomiyaki served the pasta-like noodles. Nagata-ya also offers a "jumbo" coke, and for once, Japan finally served an American-worthy sized soda!
The resulting meal is about the size of a dinner plate, and the thickness of the deepest dish pizza you can imagine. It was impossible to imagine my wife and myself eating one each, so we ordered one to share, which seemed to surprise our waitress to some extent.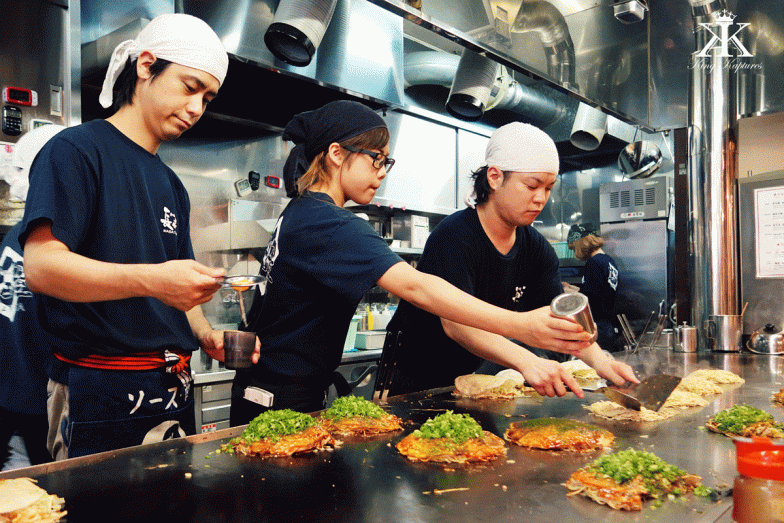 Part of the rather unique flavor of this Japanese culinary specialty comes from okonomi sauce that is brushed on during grilling. This glaze is best described as one part steak sauce, two parts BBQ, and one part tonkatsu sauce. Eating the okonomiyaki I was unsure that I really liked the sauce, and now weeks later, I still remain undecided. Although peculiar, it certainly didn't stop me from devouring my portion of the savory pancake!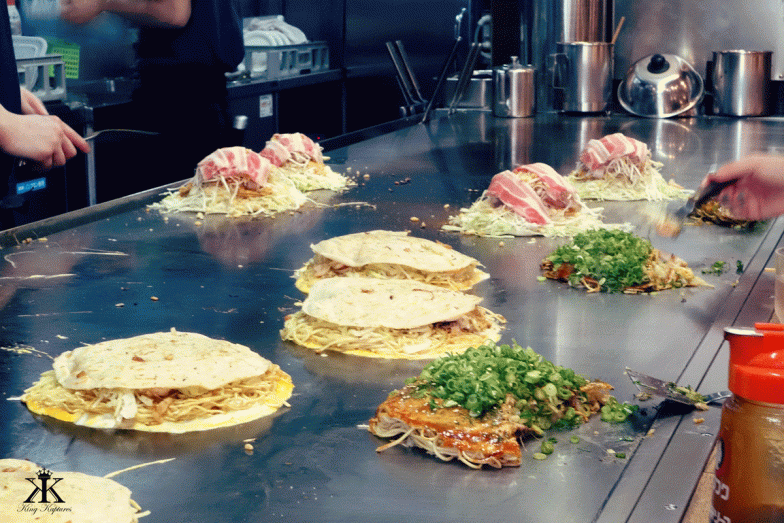 In Okinawa, okonomiyaki is called hirayachi (ヒラヤーチー) and is much simpler, and uses fewer ingredients. However, Okinawans enjoy this dish mostly at home, so there are very few okonomiyaki restaurants in Okinawa. We haven't found a way or place to partake of the Ryukyuan version.
Yes, Japan is known for sushi, sashimi and even Kobe beef. But Okonomiyaki, too, is a uniquely, if much less known, distinctive Japanese dish, and should be included as part of any culinary adventure to this corner of the world. Seek it out, whether you find yourself in Tokyo, Osaka, or Kyoto. But in Hiroshima, seek out Nagata-ya's. You (and your oversized American appetite) will not be disappointed.
Hours: 11:00 a.m. to 9:00 p.m. CLOSED TUESDAYS
Phone: 082-247-0787
Address: Chome-9-17 Ōtemachi, Naka-ku, Hiroshima-shi, Hiroshima-ken 730-0051, Japan
 Coordinates: 34.3833753, 132.45199560000003
Website: https://nagataya-okonomi.com/en/shop.html
For More Information on Okonomiyaki
https://en.wikipedia.org/wiki/Okonomiyaki
https://japanesefood.about.com/od/holidaytraditionalfood/r/hirookonomiyaki.htm