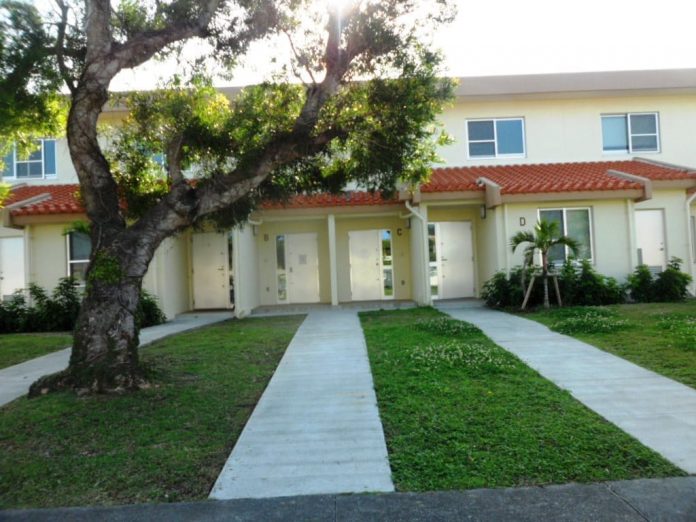 Living overseas has its challenges, and a commonly agreed upon one is finding that perfect place to live. To help those of us who are curious about the different options for living on Okinawa, readers have answered some of the most frequently asked questions about on-base housing. If you live in an on-base house that has not yet been featured on this site, please contact our Submissions Manager for the template.

Here's a great link to access, too, if you're on the fence as to whether to live on-base or off-base.
CONTRIBUTED BY AMANDA HEIPLE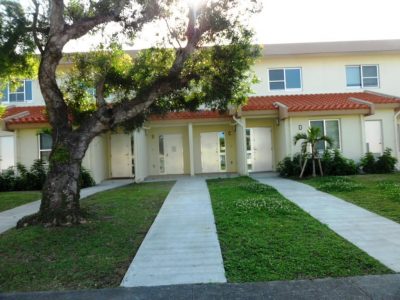 What military base is your home located on? Technically it is Kadena but we are outside Kadena Gate 3.

What area of the island is your home located on (i.e. North Island, Central Island, South Island)? Central
What is the name of your neighborhood in which your home is located?  Chibana
Generally speaking, most on-base homes are approved for occupancy based on military or government rank.  If you would like, please provide the range of ranks that your home is approved for? I honestly have no idea.  It seems that everyone on our street are officers.  But right across the road are some enlisted houses.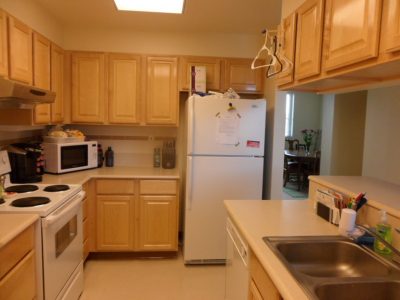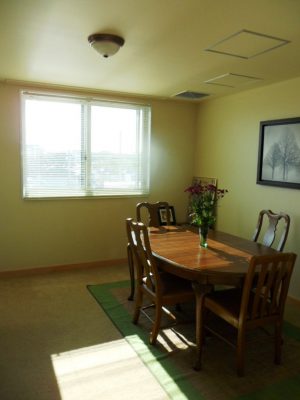 What DODDS school district is your home attached to?  Is there a schoolbus system available? My kids aren't in school yet but I assume that the kids here go to school on Kadena. There are buses that pick up and drop off kids (I see them pass every afternoon).
Please describe the "feel" of your neighborhood (i.e. pet-friendly, child-friendly, level of safety, friendly neighbors, spacious, etc.) Our neighborhood is a very family friendly, extremely safe place. There is a playground directly behind our building with a basketball court. There are also two other playgrounds in the development. There are kids all around. A lot of people also have pets and can be seen walking them often. I have never felt anything but safe here. I can go running at 8:30 p.m. and have my entire run in light due to the multiple street lights.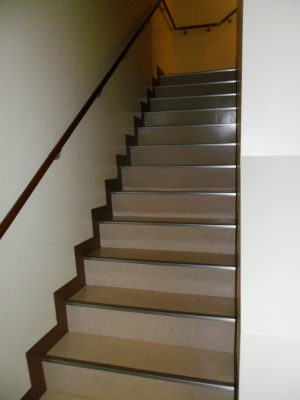 Please describe the style of your home (i.e. detached home, duplex, apartment, age of the home, etc.) I call our house a multiplex.  There are 6 units in our building.  Three units are downstairs and 3 units are upstairs.
Please provide general information about your home such as square footage, number of bedrooms and baths, number of stories/levels, special amenities, etc.  I have no idea the square footage but it is more than enough room for our family. There are 3 bedrooms and 2 full bathrooms. It is a single level home for the most part (you have to walk up a flight of stairs to get to our living space but all our rooms are on the same  level). We have a large great room that would be great for a living room/office or living room/playroom. The kitchen looks into a dining area. (We use that area as an office and have the living/dining room)
What places of services are available near your home such as restaurants, shops, commissary, playgrounds, parks, etc.? In Chibana, we have a few playgrounds and basketball courts. There is also a baseball diamond. Kadena is conveniently located so trips to the Exchange and Commissary are easy. Also there is a lot to do off base that isn't far. There is a great farmers market up the street that we frequent weekly. It isn't far from the Expressway, if you want to go explore. And Camp Shields in right up the road as well. We really like the convenience of the location.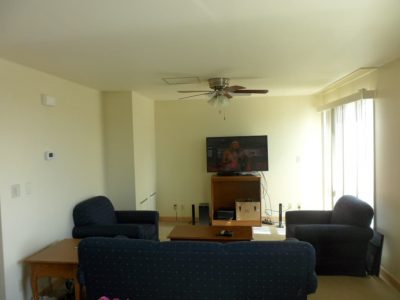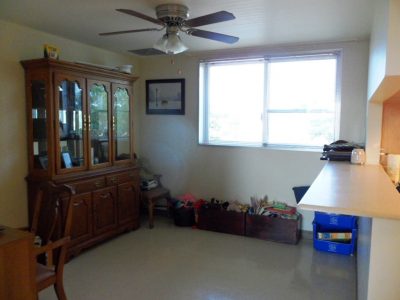 How is parking provided for your home? We have two assigned spaces per household and there are several visitors spaces as well.
Is there any yard space or outdoor spaces provided for your home? The downstairs units get the backyard space (which is perfect if you have animals or want to fence in a yard). The upstairs units are responsible for taking care of the front yard area. So both units has responsibilities when it comes to yard maintenance.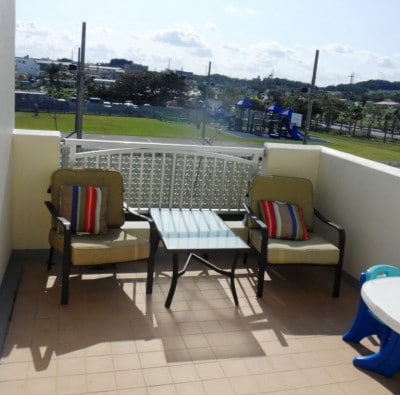 What do you feel is special about your home or neighborhood – what makes it feel like "home" here on Okinawa?  I like the family feel of this neighborhood.  My kids have other kids to play with at the playground.  I have also met some really amazing people here.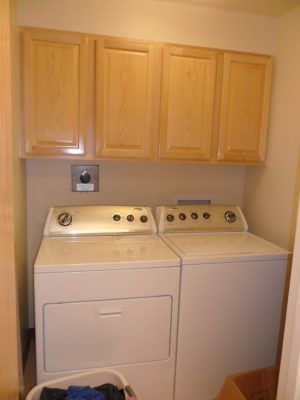 What housing expenses are included with on-base housing (i.e. utilities, rent, appliances, etc.) Are there any expenses or fees associated with on-base housing? The only expenses we pay every month are for our cable and internet. Everything else is included. We have a fridge, stove/oven, washer, and dryer. The only thing we needed to buy was a microwave.
Are you satisfied with the maintenance services provided by your on-base housing organization? The only expense or fee we would need to worry about would be lawn care. There are multiple lawn care providers that will come out and mow your lawn for a fee. There are also some enterprising teenagers that will knock on doors on the weekends asking to mow and edge your yard for a fee. Or you can buy a mower and do it yourself. That is really the only expense we would have. I have never needed to call maintenance so I can't comment on them.
Finally, what advantages and disadvantages do you feel have been your experience living on a military base here on Okinawa? The advantage for us to living on base is not having to worry about paying bills every month.  It is a nice thing to not have to concern yourself with.  I also like that there are a lot of playgrounds close by for my kids to run out energy on.  The obvious disadvantage is that is separates us from the full experience of living in a foreign country.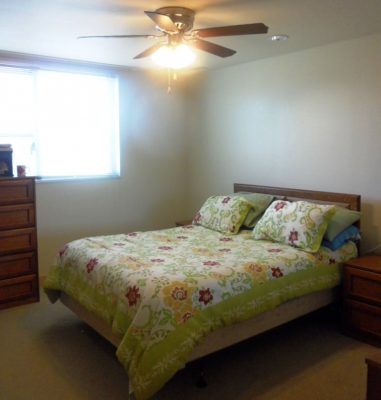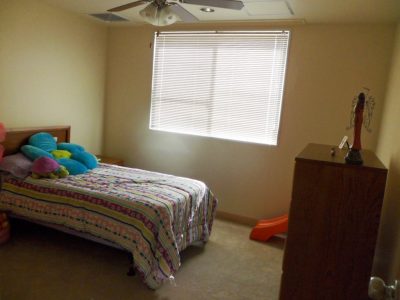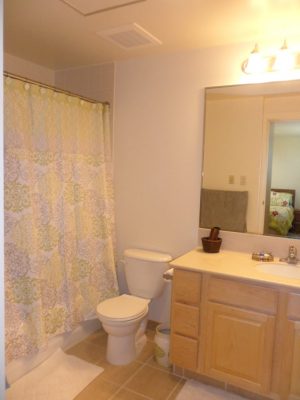 Please provide any COMMENTS that you feel would be helpful for others about living on-base. Chibana is newly renovated.  They are still in the midst of gutting and remodeling several other buildings. I had very low expectations when we looked at base housing. I expected everything to be a little run down and used. I was pleasantly surprised when we looked here and everything looked brand new. This is a nice, quiet
neighborhood that is really perfect for families.