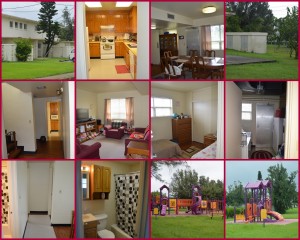 Living overseas has its challenges, and a commonly agreed upon one is finding that perfect place to live. To help those of us who are curious about the different options for living on Okinawa, readers have answered some of the most frequently asked questions about on-base housing. If you live in an on-base house that has not yet been featured on this site, please contact our Submissions Manager for the template.

Here's a great link to access, too, if you're on the fence as to whether to live on-base or off-base.
CONTRIBUTED BY CASSANDRA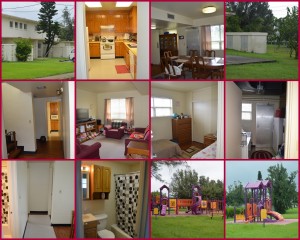 What military base is your home located on? Camp Lester

What area of the island is your home located on (i.e. North Island, Central Island, South Island)?Central
What is the name of your neighborhood in which your home is located?  Old Lester Housing
Generally speaking, most on-base homes are approved for occupancy based on military or government rank.  If you would like, please provide the range of ranks that your home is approved for? Company Grade Officers and senior enlisted
What DODDS school district is your home attached to?  Is there a schoolbus system available?
The Elementary School is E.C. Killian (bus system is available)
The Middle School is Lester Middle School (no bus but the school is in the neighborhood!)
The High School is Kubasaki High (bus system available)
There is also a preschool named Kuwae available ON base
Please describe the "feel" of your neighborhood (i.e. pet-friendly, child-friendly, level of safety, friendly neighbors, spacious, etc.)  Camp Lester is definitely kid friendly! I have 5 little bulldogs and they are definitely NOT bored here!  There are two parks within walking distance one of which is brand new! The yards are good size so dogs are always welcome! As for feeling safe, I almost always forget to lock my doors and don't even think twice about it. Although I AM trying to remember!
Please describe the style of your home (i.e. detached home, duplex, apartment, age of the home, etc.)  The homes here on Camp Lester are either duplexes or multiplexes. The houses are pretty old but very sturdy!
Please provide general information about your home such as square footage, number of bedrooms and baths, number of stories/levels, special amenities, etc.  The homes here are two level. There are three and four bedroom homes available.  We have a four bedroom with both bathrooms upstairs. There are some four bedrooms with three bedrooms and a bathroom upstairs and the additional bedroom and bathroom downstairs.
What places of services are available near your home such as restaurants, shops, commissary, playgrounds, parks, etc.?  Camp Lester is unique in the fact that the hospital is located inside the base!  We are also within walking distance to American Village which has PLENTY of shops and restaurants to suit anyone's eating and shopping needs. There is also an AEON in American Village which can provide you with another grocery store option. Camp Lester is also super close to Sunset Beach and Araha Beach (pirate ship park) My family and I walk to the beach all the time!

How is parking provided for your home?  We have our own "driveway" in front of our house for our car.
Is there any yard space or outdoor spaces provided for your home?  We have a front yard and a back yard. Our back yard has a patio for our outside table and chairs and our bbq. It also has a storage shed in the back. The yard is big enough for the little bulldogs to set up a slip-n-slide or a trampoline.
What do you feel is special about your home or neighborhood – what makes it feel like "home" here on Okinawa?  I think the neighbors make a neighborhood feel like home. We have awesome neighbors that definitely make Oki feel like home!

What housing expenses are included with on-base housing (i.e. utilities, rent, appliances, etc.)  We have all government furniture in our house (we chose to store our furniture). All appliances are included in the house to include a washer and dryer. Rent is covered as well as utilities. We pay for internet and our house phone and that's it.
Are there any expenses or fees associated with on-base housing?Are you satisfied with the maintenance services provided by your on-base housing organization?  There are no other expenses expected of you on Lester housing. I am satisfied with the quality of maintenance provided. The maintenance office receptionist speaks great English and the workers speak it well enough to be able to explain to you the problem and how they fixed it or are planning to fix it. They are fast, efficient, polite and neat.
Finally, what advantages and disadvantages do you feel have been your experience living on a military base here on Okinawa?  I definitely prefer living ON base as opposed to OFF. I can be cool in the sweltering heat of Oki in the summer without being afraid of the bill at the end of the month. (We keep the thermostat at 77) I can let the little bulldogs outside to play without worrying too much about their safety. I can go out in town and enjoy the beautiful Okinawa beaches and culture and still be close to home. My neighbors are great and are there in an emergency or to just be a friend.
Please provide any COMMENTS that you feel would be helpful for others about living on-base.
I think you need to be open minded about living on base. While they try to conform to American standards they are still not quite there yet.
I would seriously consider leaving some of your bigger furniture in storage back home, the houses are smaller and storage is limited.  Bring lamps! We have ZERO overhead lighting in the bedrooms and in the living room.
We have wood floors in our house but some have linoleum floors.Since I have two crawling bulldogs we have put area rugs in all the rooms. These are available along with padding at the furniture store!
The walls are concrete, so if you plan on hanging curtains or pictures a hammer drill is a MUST! The self help store has drills you can rent along with drill bits. But it is not a hammer drill. We learned that lesson when it took 2 hours to hang up our curtains on three windows!

We are a homeschooling family and found that there are tons of homeschoolers around us so the resources are abundant and the schools are helpful!
Okinawa is beautiful. It's hot and humid and there are BIG bugs but I wouldn't change anything about it!
---
If you live in on-base housing OR off-base housing that has not been featured on Okinawa Hai, or in housing that has been renovated since its last post, please contact our Content Manager for the on-base housing template and instructions on how to share your little slice of Okinawa with the rest of us.