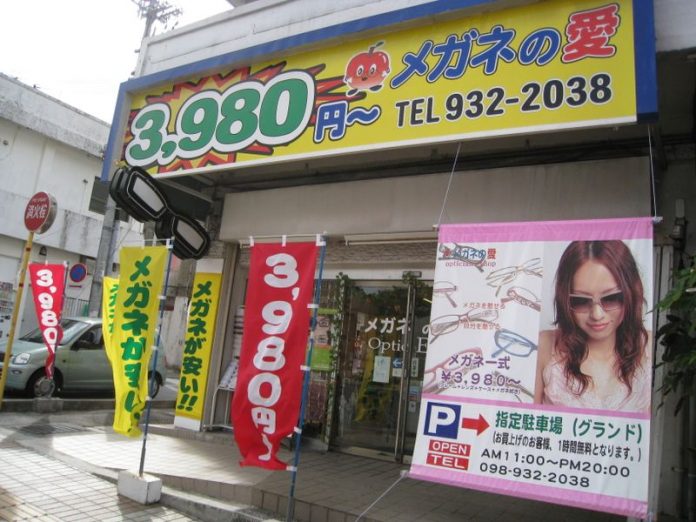 CONTRIBUTED BY JILL STAGGS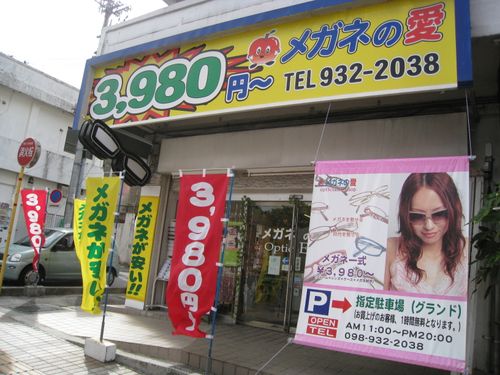 I recently needed a new pair of eye glasses.  I had heard about this store from a friend, but it sounded too good to be true.  I went to the concessionaire mall first, so I could compare prices.  With my prescription, the cheapest pair of frames and lenses at the optical shop on Camp Foster would have been $225 (most were closer to $275).
Optic Eye has a good selection of glasses that range from Y3,980 to Y6,980.  There are also a handful in the Y10,000 range.  The best part is that the price includes the cost of the frames and the lenses.  There are lens upgrades available and because my prescription is somewhat strong, I paid Y4,000 extra to have thinner lenses for my wire frames, but my total cost was still just Y7,980.  My purchase included a cleaning cloth and a case.
I spoke with three different employees and they all seemed to speak English fairly well.  There was also selection of contact lenses available.
---
Optic Eye
Hours: 1100 – 2000
Phone: 098-932-2038
Address: 〒904-0031 Okinawa-ken, Okinawa-shi, Uechi, 2 Chome−1−7
GPS Coordinates: 26.3319544, 127.79738680000003
Directions: From Kadena Gate 2: go straight out of the gate to Hwy 330 and turn right.  Drive through two lights. The store is at the third light on the right side of the street.  No U-Turns are allowed at this intersection, so you will have to turn right and follow the side street until you find a place you can turn around.  You can park at the curb just outside the store or there is a sign that shows a small parking lot just down the street (after you have turned around).  The Optic Eye sign is not very visible, but there is a large sign that says "3,980."