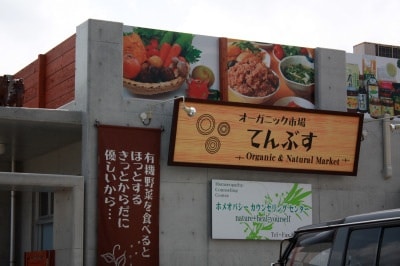 CONTRIBUTED BY MARY RICHARDSON
Looking for a local shop that supplies organic food staples?
Well, you're in luck. One afternoon I was driving along in Okinawa City and noticed the Organic and Natural Market.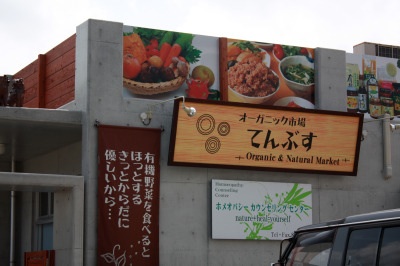 I stopped to check out this tiny store and found a goldmine of organic and macrobiotic diet foods, including a buffet of home-cooked prepared dishes.
On that day, some of the store's offerings included vegetables such as lettuce, onions, carrots, daikon, kale, and several different varieties of mushrooms. I didn't happen to notice any fruit, however.
Inside the freezer cases, I found organic milk, chicken, bacon, pancetta, other pork products, and even some meats I couldn't quite identify.  The fully stocked aisles featured organic beans, grains, pasta, sauce mixes, and eggs.
The prepared dishes included tofu stir-fries, salads, onigiri (rice balls), quiches, and sata andagi (Okinawan donuts). In fact, I observed one woman filling up her bento boxes from home with a yummy healthy looking vegetable medley.  I also noticed a selection of bakery items such as breads and sweet buns as well as organic teas.
Moreover, one section of the store is devoted to an alternative treatment area, where there were shelves of vials of homeopathic remedies, natural oils, lotions, and soaps.  The homeopathic practitioner does speak English and is available for acupressure and acupuncture appointments and other types of counseling. Her name is Nobuko Irei and her number is 098-973-3193.
Overall, the store had a funky health food vibe to it, and the sales people were extremely friendly (though English was limited). The store also seemed to be genuinely committed to healthy eating and living practices, so even if they don't happen to sell a product there, they would be a great resource for finding that obscure organic item in Okinawa.
---
Organic and Natural Shop – Tenbusu
Store Hours: Monday to Saturday 12:00 noon to 8:00 pm.
Phone: 81 98-880-6866
Website: tenbusu.ti-da.net
Address: 2 Chome-2-8 Hiyagon, Okinawa, Okinawa Prefecture 904-2173, Japan
GPS Coordinates: 26.2124013, 127.68093169999997
Directions: Take a left turn out of Sgt Major gate on Camp Foster (where Westpac is) and keep going downhill. Turn left at the 329 intersection and go straight. You will pass Living Design Square on your right and keep going in the direction of Comprehensive Park, but not all the way to the park. You will come to a big intersection with a McDonalds on the right side and a Hotto Motto on the left. Turn right at that intersection and continue straight towards Awase Shopping Center on the right. Just beyond the Awase Shopping Center (with ToysRus) two or three buildings down, you will see the Organic and Natural Market on the right side. Go to the next intersection and make a U-turn. There are several parking spaces in front.