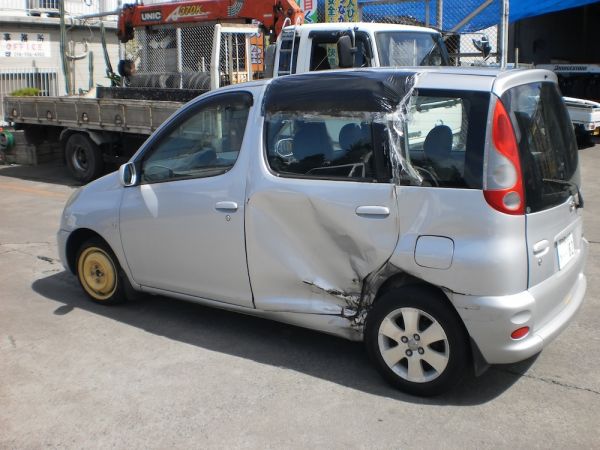 Follow Sarah's OCONUS to OCONUS journey here:  1, 2, 3, 5, 6
CONTRIBUTED BY SARAH FORTE
We started our time in Okinawa with twin cars: two silver Funcargos. Sadly, they came to different fates by the time we needed to leave Okinawa. One car was the protagonist of this post about selling a car. The other Funcargo was in an accident so she couldn't join her sibling at the lemon lot; instead we led her through her final paces and recycled (a.k.a. "junked") her.
In 2008, Meredith, the founder of OkinawaHai, wrote a post about how she junked her car. I used her directions—with a few changes—and added a few details and pictures. Maybe you have a car that is not worth the price of this year's JCI, or you need to get rid of a car not worth selling. Hopefully this article can help you.
First: Junk! That! Car!

Olympic Junk Car
• There are a few options for where to take your car. In her article, Meredith took her car to the Takuryu Recycle Center, which is located near Kinser.
• We took our car to Miyagikaitai, which is close to Kadena.
o Hours: Monday – Saturday, 8:30am – 5:30pm.
o Directions from Kadena Gate 1:
• Turn north (right) out of the gate.
• Turn west (left) at the first stoplight. This intersection has a pedestrian walkway overhead and a car lot with Aladdin     painted on the building to your left.
• Continue straight. When the road stops, the junkyard will be straight ahead. 

Olympic Junk Miyagikaitai Recycling
• Park your car on the left hand side after you drive through the gate.
• Take your registration paperwork into the office. The official vehicle weight on the paperwork is used to determine how much money you will get for your car.
• They gave us tools for removing our license plates and road tax sticker. You will need to turn both of these in along the way; keep them with you.
• Hint about the license plates:
o You may find a silver bolt cover over one of your screws. This is a prefecture seal and is not to be removed until the car has reached the end of its life.
o A screwdriver can pierce the silver bolt seal. After it is broken, you can either pry off the seal or access the screw underneath.

Olympic Junk Seals
• Inside, they will pay you for your vehicle and take your title and keys.
• They will give you more paperwork with the required "recycled" stamp. Take paperwork, license plates and road tax sticker with you to all of the following steps.
• We received ¥16430 for our Funcargo (based on the daily rate for scrap metal). I have heard that rates were much higher in the pre-Beijing Olympic days, but alas, not as much now.
• Wave good-bye to your car!
Second: JSVRO (the prequel)
• Take your paperwork pile to JSVRO (Joint Services Vehicle Registration Office) at Foster.
• Hours: Monday – Friday 0900 to 1130 and from 1230-1530.
• Directions:
o Enter Foster through the commissary gate (the one off of 58).
o Take your first right after driving through the gate.
o Building 5638 will be on your left.

Olympic Junk JSVRO
• There are two counters to visit; both are inside the front office.
o First stop at the counter straight across from the front door. They will check your paperwork and take the remains of your road tax sticker. You'll then be directed to the second counter on the right.
o At the second counter you will need to pay a ¥1000 (yen only) fee to deregister the vehicle yourself. They will put a stamp on your paperwork and send you on your way.
o Note: If you are having someone else (like your insurance company or junking company) take care of the rest of the steps, the fee is ¥3500.
Third: Land Transportation Office (the maze!)

Olympic Junk LTO Map
• Take your paperwork and license plates over to the LTO.
• Hours: Monday – Friday 0830-1145 and from 1300-1630.
• Directions:
o Leave Foster out of the commissary gate and turn south (left) on 58.
o Drive over the bridge on 58 with A&W on the left. Start counting the lights at the bottom of the bridge. You will be turning right at the 5th light.
o There is a white and black sign that directs you to the LTO. There is a new pachino parlor on the left called "The Faraoh" with, you guessed it, a giant pharaoh mask on the outside of the building. Turn right.
o At the first light, turn right (there is a small sign pointing the way).
o Drive down a hill. There is a large parking lot on the left (the lot entry is after the exit). You know you are in the correct parking lot if you see a large building marked with inspection lanes in front of you.

Olympic Junk LTO Main Building
• First step: Building #1 window "D"
o From the parking lot, look to the south. You will see the main LTO office and building #7 "Plate Seals". Walk between these two buildings. Building #1 is behind #7.
o At window "D" you will turn in your actual license plates. They will mark your paperwork.

Olympic Junk Building 1
• Second step: Main LTO office, window 2, marked "Military/SOFA"
o From building #7 you will walk straight out the door and follow the arrow to window #2.

Olympic Junk Window 2
o This is where you will receive your actual "de-registration" paper work. You may need to have a seat and wait while they get the paperwork ready.
• Third step: Building #9 window 11
o From building #2, go back outside. Building #9 is across the street.
o Starting at window 11, you will be directed to show paperwork at three different counters.
o At this office they will settle your road tax and give you a refund. If your road tax isn't current, you may need to pay. 

Olympic Junk Building 9
Fourth: JSVRO (the sequel)
• Take all of your paperwork (the pile should be shrinking) to the first counter from step two. They will review the new paperwork and remove your name from the vehicle as far as the military is concerned.
• At this point they signed the necessary out-processing paperwork. You will only need to do this step if you are PCSing.
Fifth: Your insurance company
• Take your remaining paperwork to this last stop.
• They will refund your JCI and personal vehicle insurance.
The process took us over four hours, but we didn't know about the lunch break at the LTO, so we lost an hour there. We never had to wait very long in line. If we had timed it better I'm sure we could have done it all in fewer than three hours. With the price of metal and refunds from our road tax, JCI, and insurance we got back about $450. This will vary a lot, depending on how much time you have left on any of your refundable fees and the weight of your vehicle.
There are different companies out there that offer to junk your vehicle for you. I don't have experience with any of them, but it sounds like they run the course. Some do all the steps for you. Some just take care of the LTO portion. Some give you money back. Some just offer to junk your vehicle for free.
My husband and I completed these steps together. I'm sure you would need a power of attorney if a dependent needed to complete these steps by themselves.
In this step of our PCS Olympics we sold our metal. It wasn't quite worth the price of gold, but it's better than getting disqualified for not following the rules!