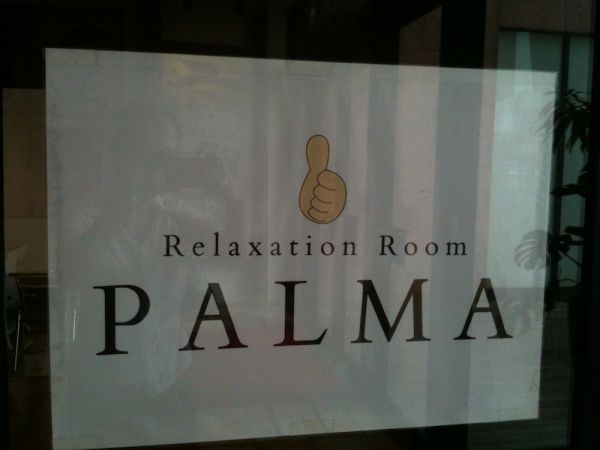 CONTRIBUTED BY TINA FONACIER-FLORES

Palma Sign
There is a new massage place at the Mihama American Village and it is pleasantly clean and affordable with a courteous staff. Their prices are very affordable compared to other massage places that charge almost double. Palma Relaxation Room just recently opened and I tried their acupressure massage. The rates are a great deal. I chose a 20 minutes session for 2,000 yen.

Palma Lobby
Once I entered their lobby, the staff gave me a cool towel that smelled heavenly along with a cold cup of green tea. After a few minutes, I was ushered to the massage room that was very clean and private. The rooms are divided by walls and curtains so you will hear other people but you still get your privacy.

Palma TeaTowel

Palma Room
The therapist who worked on me was very friendly even if she spoke limited English. She told me that she studied acupressure (a type of massage in which one's pressure points are massaged in order to relieve pain) so that made me feel good that I was being massaged by someone who knew what she was doing.
If you combine the affordable price, clean place, relaxing ambiance and courteous staff, Palma Relaxation Room is a great place to go for a simple, no-fuss massage.
They also offer other services like foot massage and combination foot and body massages. The service menu and sign-up form are written in Japanese but they will have their menu and forms in English soon. They accept Yen only. They will eventually be accepting credit cards and US dollars.
Hours:  Open daily from 11:00 to 22:00 (last appointment at 21:00)
Payment:  Accepts yen only (US dollar and credit cards will be accepted soon)
Address:  15-69 Mihama, Chatan-cho, Nakagami-gun, Okinawa prefecture 904-0115
Carnival Park Mihama, 1st Floor
Phone:  080-8502-7644
Directions: Turn left out of Kadena Gate 1 and head south on the 58. Turn right at the fifth light where the ferris wheel is. Palma is located on the 1st floor of Carnival Park (ferris wheel shopping building).
Menu of Services:  Click for larger view

Palma Menu