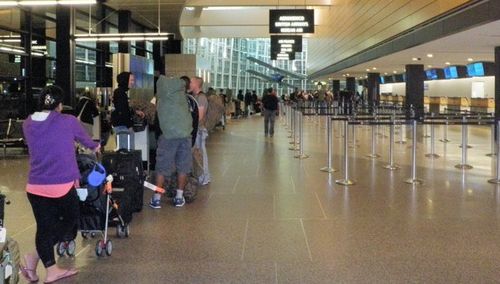 For those of you coming to join us on our tropical island paradise, we hope Trish's experience leaving Seattle will be helpful.  For another point of view, check out Crystal's post HERE.
CONTRIBUTED BY TRISH KAPRIELIAN
Well, we finally made it to Okinawa and I'm here to share what I learned that may help others.
Seattle Hotels: There are many cheap places to stay that are right across the street from the airport. Seriously, I mean within walking distance. All of the hotels provide shuttle service. Using the shuttle service will help you avoid having to listen to the cabbie tell you he is losing money by driving you across the street…
Places to eat: 13 Coins and Denny's are 24 hours and within walking distance. We ate at a Chinese place in the Ramada Inn. Really delicious! If you don't want to get a room, the USO is open 24 hours and has free food and snacks. But it looked like it gets packed quickly.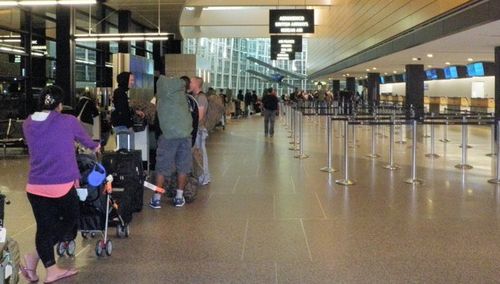 Pre-Flight:  People started to line up EARLY, really EARLY for the flight. The seats are first come first served. They do keep families together- seat wise and in the plane. If you are single and want to sit with a friend, line up next to that person. They weight EVERYTHING and count bags. Pets and kennel weight over 70lb is $112. If you take more than 2 bags a person, it's $112. They will even ask you your weight. Can't say that was most pleasant first thing in the morning! Then you will get a ticket, but the airport doesn't open until around 5am or so. There is a 24-hour Starbucks and a Hudson News (in the baggage area).  There will be plenty of time to kill before the flight after you get your ticket. (That is when we decided to eat breakfast. We did go to 13 Coins. HUGE portions and really tasty.)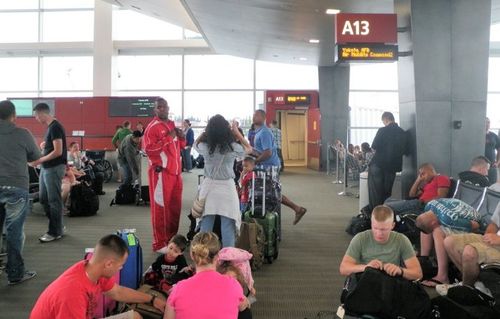 Flight:  The seats are arranged in a 2-3-2 pattern. There is no "first class." Everyone gets the same seat- a coach class leather seat with decent lumbar support. Yes, they recline, have a pillow and blanket on each seat. Kiddos get a little backpack with an old maid game and a coloring book. They show movies- adult and kid friendly. Headphones are supplied as well as a few music channels.
Food in Flight: The first flight has 2 snacks and 2 meals. Meal quality is coach, but it's a meal and you get a hot towel. I'm not 100% exactly what each item we ate was called, but it wasn't bad. I'd avoid the meat, but that's just my preference. Beverage service is an entire can and they DO sell alcohol (beer, wine, liquor for $5). Beverages are coke products, Dr. Pepper, water, coffee, tea and juice.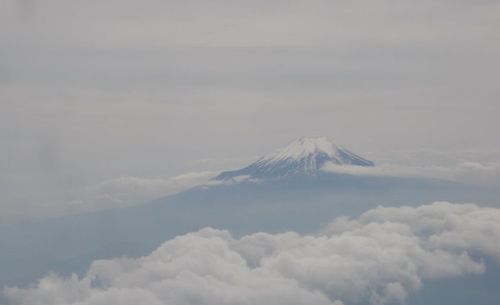 Stop/Layover: The first stop for us was a long layover; bring all of your chargers to recharge your electronics. At the first stop, even after eating the entire flight, people were still hungry! You can exit the waiting area and go to a mini café and get food. They also sell sundries and packaged snack items. Bring Yen for the vending machines. At this point, people can walk their pet and sit outside for a little bit. There are telephones, phone calling cards and wifi in the terminal. The wifi is a little slow because everyone is on it, but pretty cool, none the less. Also, they have asked for no photographs of the flight line!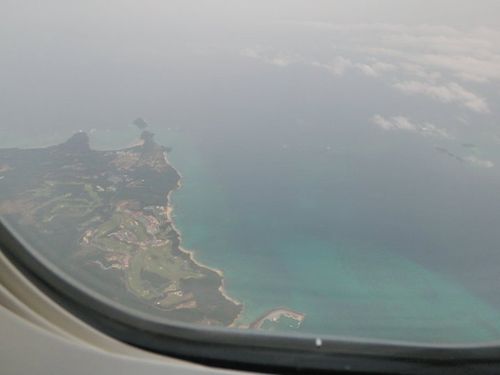 Final:  Finally, landing in Okinawa! It takes a little time to get off the plane, so please be patient. It also takes time to get the bags, but the luggage carts are free!! Another tid bid no one told us is — they do randomly inspect bags for "illegal items." Some of these items include — fruits, veggies, beef jerky (meat products), unlabeled medications/expired medications, pocket knife blades linger than 2.5 inches.  (Glad we ate the beef jerky!!)
All and all, it was a pleasant flight experience!