CONTRIBUTED BY COURTNEY PLOTZ
Editor's note: Courtney PCS'd from San Diego to Okinawa with a dog, traveling on the military flight commonly referred to as the "Patriot Express." She has some helpful hints for those who will be attempting to do the same this season.
We started our process about nine months before we left the US. The first thing I did was call our base veterinarian and make an appointment to start the process. At our first appointment we got our dog microchipped and she received her first rabies shot. Our dog already had an Avid microchip, but because it was not recognized internationally, we re-microchipped her with the company Home Again.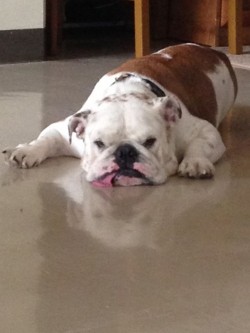 After the first rabies shot we made another appointment for her to get the second rabies shot, which must be given at least 31 days after the first rabies vaccine. Two weeks after the second rabies vaccine I made another appointment for her to have the FAVN test done. The FAVN is a blood draw that needs to be taken and sent off to a lab. When you receive the FAVN results back, your quarantine starts. To come to Japan, we had to do a 180-day quarantine. We did not have to send an advanced notification 40 days prior to arrival because we flew AMC from Seattle.
A few days before we left, we made another appointment to go and pick up her health certificate. The certificate has to be done within 10 days of arriving on-island. If the health certificate is done by a military veterinarian, it does not require a USDA Endorsement, as long as all requirements are met through the military veterinarian. Our vet gave us a few copies of all the paperwork we needed.
Once we received our orders we called the AMC terminal to find out what kind of kennel requirements we needed to meet. The kennel needed to be big enough for the pet to lay down and to stand up and turn around. We bought nuts and bolts to secure the kennel top and bottom together. We had also read that we would need to zip-tie the door, so we bought zip-ties. We were never asked to zip-tie the door. However, we thought it was better to have it and not need it than to be stuck at the airport and not be able to get them.
I also read that we would need to use puppy pads and have a water bowl that hooks on the kennel. We bought these items as a "just in case" precaution, but again, we were never asked for them. Still, I was glad to be prepared because there was no way I was going to get to the airport and have anybody tell me that we couldn't take our dog because we didn't have X, Y, or Z.
90 days prior to our requested departure date (actually, I made my husband start asking TMO to check flight availability about 85 days prior), we were able to confirm places for ourselves and our pet on the AMC flight. I never felt so relieve! TMO booked our flight from San Diego to Seattle; we then called the airline and booked our dog. We had no problems.
When the day finally arrived, we showed up to the airport in San Diego and we were on our way. It was a very easy process with Alaskan Airlines. I was very nervous but they took great care or her. We got a hotel room in Seattle because we had a nine-hour layover and we wanted her to be able to stretch her legs. We also wanted to get a little sleep! We stayed at the Red Lion; it was clean, and they had a free shuttle to and from the airport.
We left the hotel around midnight because I had heard it was quite a process to get checked in. We got in line with all the families and the airline workers came and inspected her kennel, took the paperwork they needed and had us place her up by the check-in counter. We remained in line and checked our bags, then got our tickets. At about 4:00 a.m., we took her out of the kennel to go potty one last time before we went through security.
At our first stop, in Yokota, we were allowed to let her out to potty, and we gave her some water and a little food. At our second stop, in Iwakuni, we were allowed to get her out again to potty.
Once we arrived at Kadena, our dog was waiting for us by the baggage claim. There was a nice woman there to hand out a bag of treats for her. We were finally on our way to the Shogun Inn on Kadena.
The room was small. It was a one-bedroom, one-bathroom layout with a small kitchen (refrigerator, microwave, stove, some silverware, dishes, pots, pans, etc.) There are four in our family so our children had to sleep on a pull-out couch. They did not provide extra pillows or sheets, but luckily I had some or our sheets and blankets in our luggage. We went and bought pillows at the BX. I did not ask the front desk; I just took care of it since I had the stuff with us.
If you cannot get a pet-friendly room there, you can kennel your dog at Karing Kennels. It is also located on Kadena. Within 72 business hours of arriving on-island, your pet will have to be seen by the Kadena Veterinary Clinic. Monday morning I took our dog to the clinic. They did a quick physical exam on her and checked her paperwork. We did not have to pay for this. We found that our previous vet did NOT include her microchip numbers on her rabies vaccine paperwork, and we would need to complete another 180-day quarantine. Great. It was not a huge deal just a little inconvenient. Please make sure you check that on your paperwork.
My biggest piece of advice is to make sure you are organized and that you stay on top of the process. Don't rely on anybody else to remember to check flights or paperwork. We were always calling and checking on things to make sure they were being done.
I'm including some links that I used when I was trying to figure out what to do or what to expect:
https://www.amc.af.mil/shared/media/document/AFD-120103-003.pdf
https://www.amc.af.mil/shared/media/document/AFD-110415-049.pdf