Having just gone through this process myself, I was delighted to receive this submission from Barbara.  She nailed the details and the experience! We have a number of posts about bringing animals to Oki, but this will give you the in's & out's of getting them back home.  I'll add in a few notes throughout… –Joelle
CONTRIBUTED BY BARBARA LUBKIN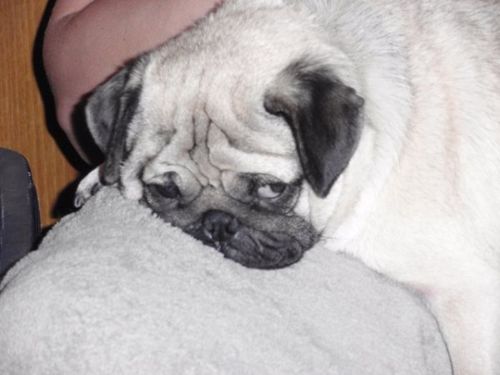 In preparation for PCSing back to the States with my two dogs, I called the Kadena Vet Clinic on a Thursday, 17 days before departure. Unfortunately, they were booked for the next two weeks, and I was told to call back on Monday when the schedule opened for the week we were flying. I asked what happened if they had no opening. They said they would squeeze me in. I asked them if they couldn't squeeze me in the week prior to that, and they said no. So I called first thing Monday morning, and sat on hold until I had to go. It took three phone calls to get through, but I made an appointment for the afternoon of April 19th. Our flight was scheduled for the 21st.
LESSON LEARNED:  Call Kadena Vet on the MONDAY two weeks before the 10 day pre-flight window begins. Be prepared to sit on hold for a long time.
We got to the vet and they asked if the dogs had any problems (no) and if they had rabies tags (yes). They checked the shot record and scanned the microchip, but didn't do anything else and didn't look at the crate at all (I didn't even take it inside). I didn't get them kennel cough because we were not boarding them and it isn't required for flight. If you do, it has to be done 3 days prior to the flight. Kadena Vet gave me a signed rabies certificate, certificate of health, and letter of acclimation that said they were healthy for travel, but shouldn't be outside 45-85 degrees for more than 20 minutes. Took about 30 minutes total.  (Current rabies vaccine must be administered 30 days prior to PCSing.  When I had tried to book an appointment for vaccines I found it was nearly impossible on base, so went off base to Noah Animal Hospital.  They were lovely and she got all the required paperwork, shots and even snacks and an adorable dog tag!)
Stopped to make 5 copies of everything plus orders and then headed straight for Naha Quarantine Office. They give you a map at the vet, but they couldn't tell me exactly where the building was, and the map isn't great. I wandered around until someone pointed me in the right direction. Park at the International Terminal. Walk around to the right side (as you face it) of that building. You'll see another building set back a little bit. There's a bit of Kanji, but no English to identify the building. Once you get really close, you'll see a very small sign on the door that says animal quarantine. Walk in the building and make a left. It is the next door on the right. There are signs in the building. I took the animals in their crates. This office scanned their microchips and stamped all 5 copies of the vet papers. They looked at the letter of acclimation like they didn't know what it was, but stamped it anyway. They put a green tag that said 'Quarantined' on each crate, but didn't inspect the crate at all. About 5 minutes total.  (I made all my xerox copies at the USO on Kadena.  When we went to Naha, a guy at the front door stopped us from bringing the crate in — so no one even saw it.)
Next stop was the airport on fly day. They didn't inspect the crates or animals. The main thing was that I wasn't allowed to have any food or water in the trays. A gerbil-type water bottle was okay, though my pug never did figure out how to use it. They didn't look at any of the paperwork either. My luggage was checked to DC, my final destination, but the dogs were only checked to the next stop, Tokyo. Cost for two small dogs (I think based on weight – total 25 lbs) was 9000 Yen (about $90).  (My cost was about the same but I calculated that if I'd had a large dog, it would have been over $300, but I think there is a limit to the weight a dog can be and still fly as baggage.  Must go as cargo over a certain size.)
Arrived in Tokyo. Had to pick up the dogs at baggage claim which means exiting security, rechecking them, going through security again, and processing through immigration.  (Go to arrivals instead of international transfer when debarking the plane – they had a sign with my name on it to remind me). At baggage claim, there is a small counter that said animal pickup. They brought them right away, and had a cart I could use to get them to the check-in one floor up. Since I only had about an hour, it was a rush. I had to ask another passenger to let me cut in line at immigration or I probably would have missed my flight with the animals already checked in. Since I was already rushed, I didn't have time to take the dogs outside for a short walk/water/bathroom.
LESSON LEARNED: Make sure you have an extended layover in connecting airports. About 3 hours is probably about right. The travel agent doesn't know enough to do this for you.  (We had 3 hours and with 3 kids in tow, we only sat at the gate for about 15 minutes — so be sure to have enough time!)
At the Tokyo airport, they did inspect the crates. They are required to have bolts with nuts holding the two halves the crates together. Fortunately, I read this somewhere and was ready, but I think they wouldn't have let me flown if that wasn't the case. The bolts were obvious on one crate because I had to drill holes for them. On the other crate, they fit underneath the plastic clips, so I had to show them to the agent. They also said I had to have a food and water dish, which my Chihuahua had managed to dislodge by then. Just clipped it back on and good to go. (Looked everywhere for these so if you lost the one that came with your crate, order a replacement online – we had to make a homemade one from findings at the 100 yen store).  (I had lost the water dish somewhere between the Shogun Inn and Tokyo, so I panicked!  But the check-in woman didn't miss a beat, reached behind the counter and brought out 2 dishes that she attached and pointed us to the closest water fountain to fill them before turning the crate back in at the oversize baggage counter.  Classic Japanese customer service — but I wouldn't recommend going without the dishes!)
LESSON LEARNED: Make sure your crate meets all requirements before your flight starts because they don't inspect until mid-way and then it would be too late to fix. Crate had to have metal screws holding two halves together, food/water dish on door, and 'live animals' sticker (can buy at PetBox near grooming office).  (I think we got the Live Animals sticker from someone during the whole process…?? Barbara was definitely better prepared than me!)
Cost in Toyko was about $400 for both dogs. Also had to fill out a new tag for their crates that said last time they were fed and watered, and signed to say it was done within the last 4 hours (not true in case of food since the vet recommends you not feed them – and they don't eat every 4 hours anyway). After checking them in, rolled them over to the Oversized Baggage Office for drop-off, and headed to the gate.  On the plane after takeoff, I asked them if I was supposed to get something that verified they were on the flight. The attendant checked – yes, I was and yes, they had gotten on the plane. Never actually saw a piece of paper. Hadn't seen one on the first flight either, but I don't think the Japanese flights do that.
Arrived at Dulles airport in D
C. Animals were parked in a random location in baggage claim. No one was there, and no one checked to make sure I actually owned the animals before I picked them up. Someone had given them some water by then, and it managed to spill all over their blankets. Think they were fit to burst, so they didn't drink any. Went to customs, and had to go through line 'A' for agriculture. They said I needed to give them all of the dog food since I couldn't bring it in the country. Stupid me told them I had some in my bag too, so they threw away my PetBox expensive dog food that wasn't even open along with the food I had in the baggie on the crate. They said they could give them a handful then, but since the dogs hadn't gone to the bathroom in about 15 hours, didn't want them to explode. They didn't check any of the vet paperwork either – so I still have 4 copies of everything (the Naha office did keep one copy). No one ever checked the rabies tags either since I had their collars in my bag the whole way.  (Exactly my experience — after all the hullabaloo of paperwork and hoops it was crazy to have no one care at all on the other end.)
Walked them outside the airport. Both went number 1 and 2. Then headed to my sister's place about 15 minutes away. There they both went 1 and 2 again and 1 again and again and again. Now day two, they didn't number 2 after breakfast. Think it will take a day or two to get their systems back to normal, and they're whining much more than normal. All in all a long trip, and glad it is over. They are really no worse for wear, but wouldn't try that with an older dog. Glad to be home!