CONTRIBUTED BY HOLLY BATES
(Editor's Note: This is one of the topics we receive the most questions about as people prepare to move to Okinawa. Holly wrote this comprehensive guide 10 days after finishing the PCSing process with pets, so all of the details were fresh in her mind. Thank you, Holly!)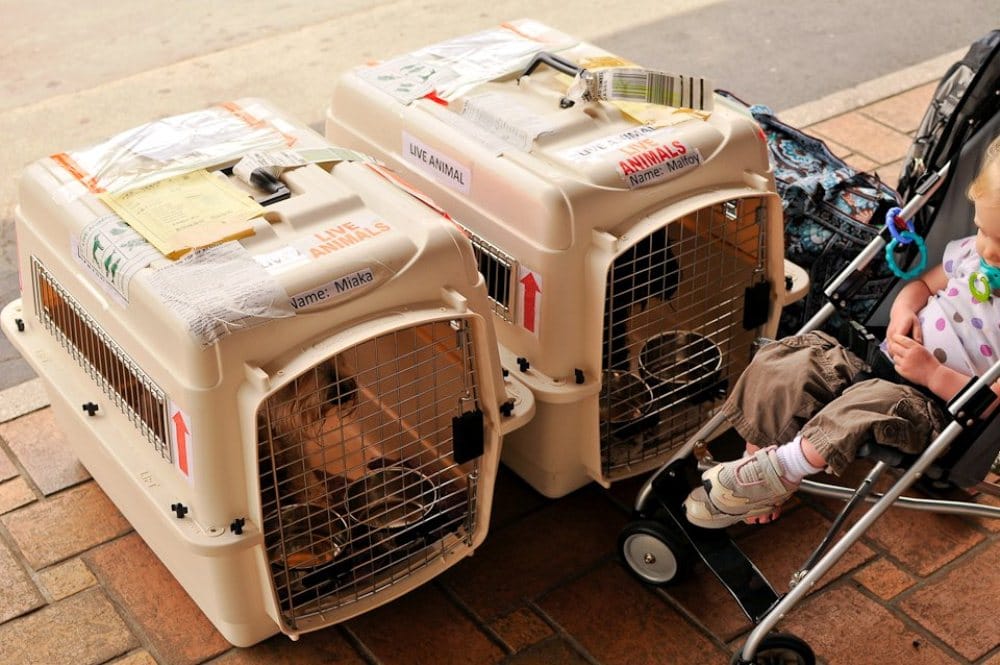 We had about 2 months notice before PCS'ing to Okinawa with our pets. Military flights were booked for another 4-6 months, so we would be flying commercial, what to do?
As SOON as you find out you are PCS'ing, call your vet to begin the paperwork. We have two dogs, one large (70 lbs) and one small (6 lbs). Here is a step-by-step of what we did:
Prep Work:
Called the military vet. Our dogs have always been seen off base because we have lived off base, so they both had to come in to have a full physical. I also had to transfer all of their records to the military vet.
Rabies vaccines: Even though both of our dogs had previously had rabies vaccines, they had to be given additional vaccines. This is because Japan requires a blood titer (FAVN) testing. This is a test that shows that the antibodies from the vaccine are in your dog's system
Both of our dogs are micro chipped, but our large dog only had a domestic chip. They cannot do the rabies vaccines until after your dog has an international chip which delayed his testing a couple of days. EVERY DAY COUNTS.
FAVN Testing: Once the dogs their rabies vaccines, a second blood test must be done about a week later.  It was drawn from the neck of our small dog and the leg of our large dog. The tests are then sent to Fort Sam Houston for testing (to show the active anti-rabies antibodies). Once the results come back, your quarantine time begins.
Quarantine: The incubation period for rabies to show in a dog is 180 days, so your date starts when that titer is done. Even though you are still in the States at this point, the time still counts toward your total 180 days.
Coordinating with Japan: Once you get this information validated (the titer comes back, in effect), you will need to visit this website: https://www.maff.go.jp/aqs/english/animal/dog/import-other.html
At the bottom of this page are forms. You will need to fill out the Import Notification Form and the Advance Notification Form.
Scan them (along with the necessary records and FAVN results listed on the form) and send them to the email address provided.
If they are any issues, they will tell you what to do. Once you get approval to bring your animals you will receive an email with an approval number.
Print this out for your records.
10-Day Health Certificate: Once you book your flight, you will need to get back in touch with your vet's office. When traveling commercially, you are required to have a health certificate for your pets issued no more than 10 days prior to your arrival in Japan. In the event that you cannot get into the vet, contact your local USDA and they have expedited services to help with this. Your vet will also need to fill out the Recommended Certification Forms, which is located at the bottom of the page on the website listed in step #6.
Once you have all of this make copies!  Make a copy for yourself, one for the Japanese and one for your pet.
Traveling Process
We traveled on Delta to Tokyo and then on ANA from Tokyo to Okinawa. We called both airlines to make sure we had our animals booked correctly for the flights. We paid for each pet on Delta, and then once more on ANA. We also made sure we had the correct crate dimensions. (Delta has crates for sale but if you choose this route make sure you have them before you get to the airport. There are specific dimensions and weight restrictions for each airline.)
We took large Ziploc bags and placed a copy of the Japanese approval letter, FAVN results, and necessary forms on each crate. We taped them onto the crates. We also wrote a note on the large dog's crate that said "Hi, my name is ____ and I am a sweet dog. I do not bite. I would like to use the restroom or have some water if you have time. Thank you." I don't know if this helped but it couldn't hurt. Also have a copy of the orders in each bag and with you. If they do not know you are military, your dogs will be placed in mandatory quarantine in Tokyo. If you are military, that is waived.
Our large dog flew underneath the entire way.
Our small dog stayed in the cabin with us until Tokyo. We took her out on the long flight and let her sit in our laps. Nobody said anything, but I am not sure what the rules may or may not be. Proceed with caution.
In Tokyo:

We got off the plane and proceeded to baggage claim. We could hear our large dog barking. We picked him (and our luggage) up, and proceeded to Animal Quarantine. We went through all of the paperwork (original copies were given to Japanese authorities) and they moved us through. It took about 20 minutes, then we went to check in with ANA.
In Tokyo, we had pre-rented a crate for the small dog because she had to travel underneath the plane. Both dogs were taken and loaded in the plane. It was a 3-hour flight.

In Okinawa, we picked up both dogs at baggage claim. They will be thirsty, so give them water in small increments and take them outside. There is a large grassy area at the very end of the airport outside. (Pick up after them if they poo, please. :))
Quarantine in Japan
If your dogs are still within the 180 days, you have several choices:
If you are lucky enough to reserve a pet-friendly room in Temporary Lodging while you are waiting for housing, your pets can stay with you.
If you are staying off-base or are in a non-pet-friendly room, you can call ahead to make plans for someone from the base vet to meet you after hours to take in the pets for quarantine, this costs about $60.
If you have a friend who lives on base, you can also arrange for your pets to stay with them while you are waiting for housing.
Once you get housing, if its on base, the dogs can finish out the 180 days there.
If you get approved for off-base housing, you will need to keep your dogs at the vet clinic for the remainder of their quarantine time, or arrange for them to stay with a family that lives on base.
Please note that now matter what you choose to do, your pets will need to be seen by the base vet within 72 hours of arrival in Okinawa.
Rough Price Breakdown Per Dog:
Physical and Rabies vaccines: $100
FAVN Testing: $75
Microchip: $50
Health Certificate: $50
Pet tickets on the airline (varies by size) – $200
If you get your health certification through the USDA and need it expedited, expect to spend about $200.
Crate (depends on size) – $50-200
After-Hours quarantine: $60
Daily Quarantine: $25
Also, I recommend taking insurance out on your dogs with your insurance company, but you will need at least 2 weeks of processing to get this before you leave so again, start early.
It can be very expensive and I know the military only reimburses a very small portion, but you can make it work.
Good luck! It is worth bringing them!
I am happy to answer any responses to this post if needed.
For more information about PCSing with pets check out all our other posts on the subject.