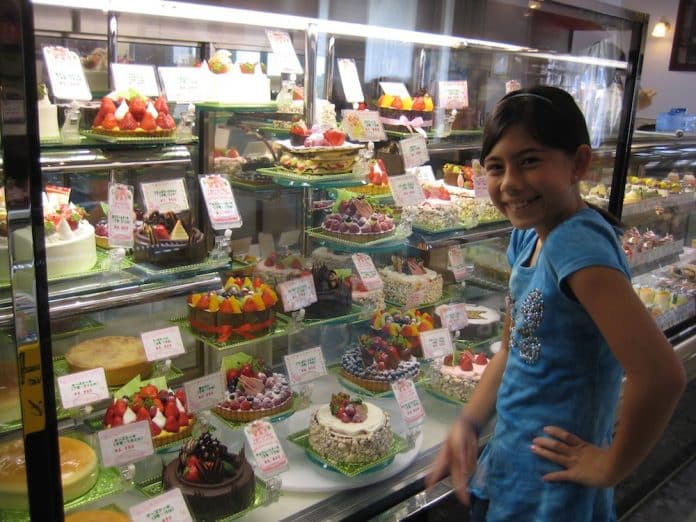 CONTRIBUTED BY CALYN PAQUIN

Petit Sweet Front
I passed by this place so many times with intention to patronize like I did with many places I've seen in Okinawa. After I tried a delicious birthday cake they made at a birthday party and heard so many great reviews from my Japanese friends, I finally made the trip.

Petit Sweet Inside
When my daughter and I walked in, we were in awe at all the beautiful French and Belgian work of art. The bakery has shelves full of pastries and sweets. It reminds me of the time when I worked at a 5 star hotel in Singapore. They have pastry chefs who create beautiful and delicious cakes, pastries and sweets just like what I saw at Petit Sweet.

Petit Sweet Display
The friendly staffs in neat uniforms did not speak much English but they could understand some so when I asked questions, they were very helpful. You can see pastry chefs working through the clear glass window behind the cake counter. We ordered a lovely blueberry tart, two cream puffs and a sparkling orange soda to share.

Petit Sweet Blueberry
The server took the items out of the display case and brought them to the kitchen and the chef put them on china plates and added a beautiful cream sauce at the side. She also brought us two glasses of water and two glasses with ice for our soda.

Petit Sweet Seating

Petit Sweet Outdoor Seating
The whole atmosphere was so relax with soft background music. There are two tables of four and one table of six. There is also a table outside if you prefer to soak in some sun.
The items in the display cases were so tantalizing we wanted to try them all. Most pastries range from 220 yen to 380 yen. The cream puffs though were 90 yen each. Every item was made there and there is only one Petit Sweet in Okinawa. Most items are sold individually or in beautiful gift packages.

Petit Sweet Display Cakes
There is a big screen tv that plays a slide of the many cake creations. You can pretty much order any of the cake in the display case in bigger sizes. Square shapes are priced higher than the round ones but they only come in bigger sizes (24 -30 cm). Every cake, except for the cheese cakes has plenty of fruits on them. The cakes range from 1300 yen for a mini to 11 500 yen for a 30 cm square cake. There might be additional charges depending on what you want to add. They do have a sheet with pictures of the cakes and prices but it's in Japanese. I would suggest you bring someone who speaks Japanese there if you plan to order any cake just to make sure you know what you are getting. They also sell cake candle sets to add to their cakes.

Petit Suite Bday Cake
This is a picture of the cake I tried at the birthday party. It's Chocolate Nama (fresh) Cream cake; light, not overwhelmingly sweet and covered with fruits. Oh and I want to add that my friends told me that Petit Sweet is well known for their Valentine's Day goodies. I'll be sure to go there again!
Directions: From Foster Legion Gate, go straight pass the light to the next light. Turn right and head south on route 29. You will pass 2 gas stations on your right along the way. The 1st one is ENEOS and the 2nd one is Carenex. Keep going until you see Petit Sweet on your left. Turn in to park.
Or you can take 330 to Nagata traffic lights. If you came from the north, turn left at the 2nd light after the big 100 yen Plaza sign and if you came from the south, turn right at the light by King's Taco. You will be on route 32. Keep going straight until you see the blue sign to route 29 for Futenma. You will come to the traffic lights of Minamiuehara. Make a left onto 29. After the next traffic lights, keep going and look out for Petit Sweet on your right.
Payment: yen only.
Hours: 9:00 am – 8:30 pm daily
Phone:  098 895 7825