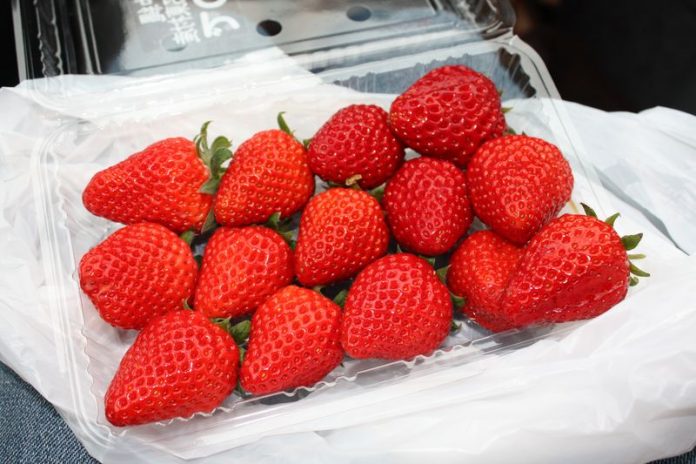 CONTRIBUTED BY MARY RICHARDSON

It's strawberry season in Okinawa!
Sure, you could go to the store and buy a package of the sweet red fruit that may have been shipped over from somewhere else, OR you could seek out the local Blue Sky & Green Field Farm. Located in the northern part of the island, this strawberry farm lets you pick your own.
We went last weekend, and sampled the offerings. We planned to make strawberry shortcake with them, but let me tell you, the delicious perfectly ripe berries didn't even last the ride home!
The farm charges 1,300 yen for each adult and 800 yen for each child (500 yen for little kids) to pick and eat for 20 minutes. They hand you a basket and scissors, expecting you to eat all your berries within that time frame. I thought they'd let us take home free of charge whatever we didn't manage to eat, but I guess they figured that we'd clean out their supply completely.
In any case, for 350 yen, you can buy a small container for your overflow strawberries to take home. If you decide not to pick, but you still want to buy the berries for take away, a person will go and pick the berries for you while you wait for about 10 minutes.
The Blue Sky and Green Field Farm also sells other kinds of fresh vegetables and they appear to offer horseback riding nearby.
Getting to the farm takes about an hour and a half and is a bit of a journey. Rather than driving up there for the sole purpose of strawberries, you might combine this excursion with Hiro's Coffee Farm for a fun day outing.
When we arrived, they asked us if we made a reservation to pick berries (we did not), but they seemed happy to let us go ahead and pick anyway. In any case, the number to reserve your time is 0980-43-2542. They didn't speak a lot of English at the front desk, but they did round up one of the farmers who happened to have a lovely British English accent!
You can probably expect there to be strawberries until the end of February.
---
Blue Sky & Green Field Strawberry Farm
Phone: 81 980-43-2542
Address: 382 Gesashi, Higashi, Kunigami District, Okinawa Prefecture 905-1205, Japan
GPS Coordinates: 26.600623, 128.14999880000005
Directions: Take 329 north to Camp Schwab. Once you pass Schwab, continue on the 329 for 3.3 km. Take a right on the 331 towards Higashi Village and continue for 23.8 km. The road will be very curvy in parts and you'll pass some gorgeous ocean vistas on the way. As you get close to the destination, look for a pineapple factory on the left side. You'll go around a bend and you'll pass over a bridge. Slow down here and be prepared to take a right after the bridge. On the left side, you'll see a white building and a two story wooden observation deck and the Mangrove Tree Park.
Right before you get to that, take the first right after you pass over the bridge. You'll drive along the water for a bit and you'll pass some businesses and houses on the left side. The right side will be a shallow water area, where you'll see kayaks and small boats. Follow the road to the fields and look for banners leading to the strawberry farm. The banners are red and white and have strawberries on them. There seem to be different roads leading to the farm, so if you just head towards the greenhouses in the distance, you'll probably be okay. Continue to look for the red and white banners. Parking area is on the left side and the entrance is on the right. Good luck!

Look for this view when you enter the fields and head towards the greenhouses.

Entrance to the strawberry farm; parking is across this entrance on the left side.