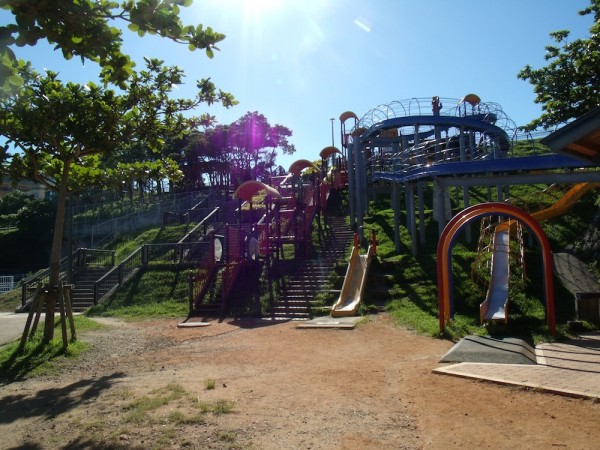 CONTRIBUTED BY KARA PIERACCINI
If you've ever visited the Former Japanese Navy Underground Headquarters or even driven by on 7, you most likely saw this playground (although I'm not sure of its official name). To me, it's the ultimate playground. There are two huge roller slides that twist and wind around each going down the side of a hill. Once you go down, you can either take the stairs back up or take the fun way and go up using the nets, ropes, and ladders.
The area at the bottom of the slides is well shaded with a play area for the younger crowd and swings.
In my opinion, this is one of the better parks on island. The slides are great, meaning I can play just as long as my kids can!
The park has lots of shade, bathrooms, vending machines, and parking.
Directions: Head down 58 to Naha. Once you get through the main part of Naha and are getting close to the airport, 58 turns into 331. Stay on that, going towards Itoman. Make a left onto 7. Stay on 7 for a bit. You will go through a tunnel and when you come out, you'll see the playground to your left. At the next stoplight (there's a Hotto Motto on the corner), make a left. You'll come to a stop sign. Make a left. The road will make a big horseshoe turn, don't take the curve, take the street to the left. You'll see parking on the right hand side. This is also some of the parking for the Naval Underground. Once you park, cross the street and the park will be in front of you.