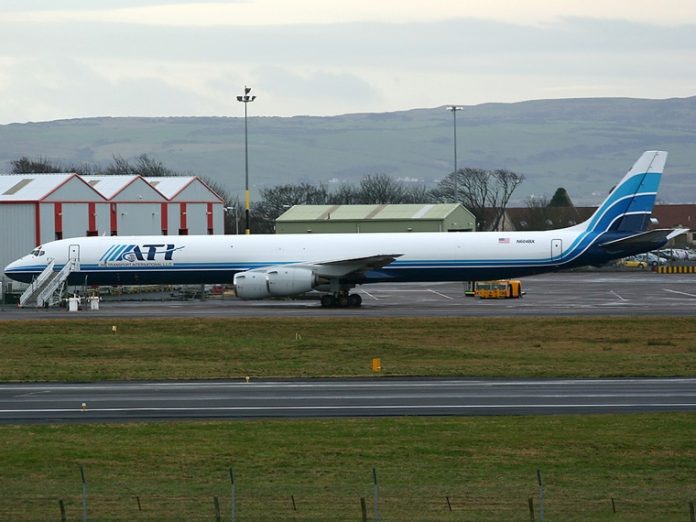 What exactly is "Space A" travel and how does one do it?
To some, traveling Space Available (commonly known as Space A) is intimidating. Whether it's the rules involved or the uncertainty of traveling without a pre-paid plane ticket, many are missing out on this terrific travel opportunity. Don't let terms like "AMC" and "EML" scare you! Especially from Okinawa, Space A is the perfect way to check out Asia – for FREE! For in-depth info on the how-to's of Space A check out Space A for Dummies, Everything You Ever Wanted To Know About Space-A But Were Afraid To Ask, or An Idiot's Guide to Space A.
Already know about Space-A but think it can't be done with kids? Think again! Okinawa Hai reader Melissa Thurber is here to tell you just how easy traveling Space A with children can be. She and her family recently spent an unforgettable week in Singapore!
CONTRIBUTED BY MELISSA THURBER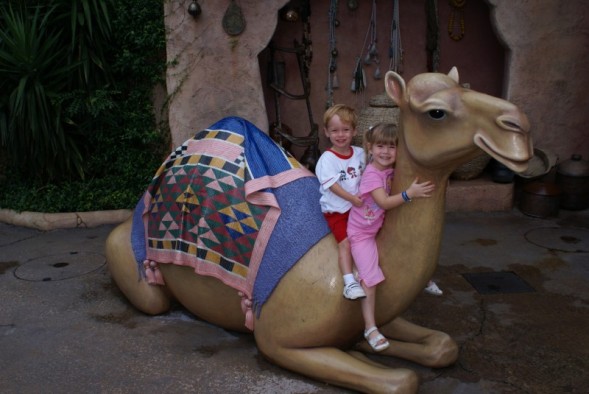 Our kids are 2 and 4: traveling with little ones is always a bit of a challenge, but thanks to Space-A the trip was actually quite easy. Initially we spent some time in Tokyo, and then caught a hop from Yokota to Singapore.
Planes, Trains and Taxicabs: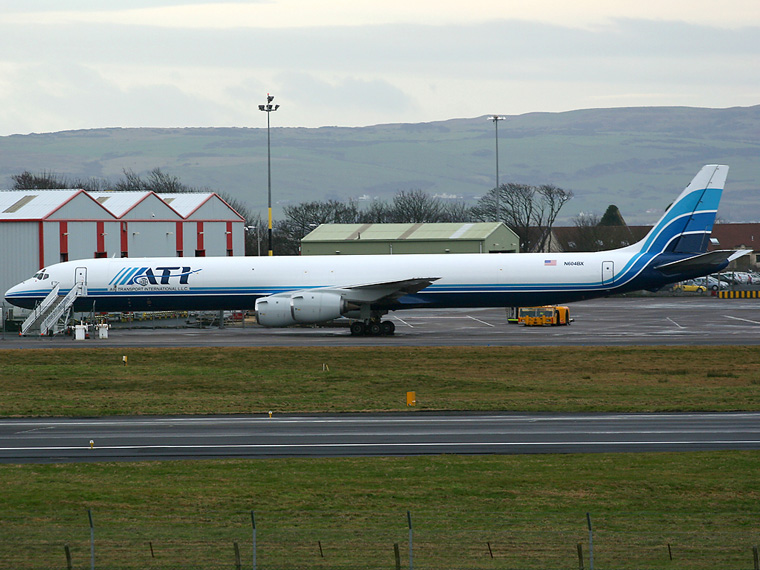 Our flight was on a DC-8 that was outfitted to hold cargo and passengers. It was run by ATI and they did a bang-up job! The plane's passenger capacity was 32, but there were only 15 passengers with two flight attendants. According to the flight attendants, flights are only full during the summer and holidays. Our plane left about an hour after the scheduled departure, but once in the air everything went smoothly. They fed us more good food than we could possibly eat, and seven hours went by pretty quickly watching movies.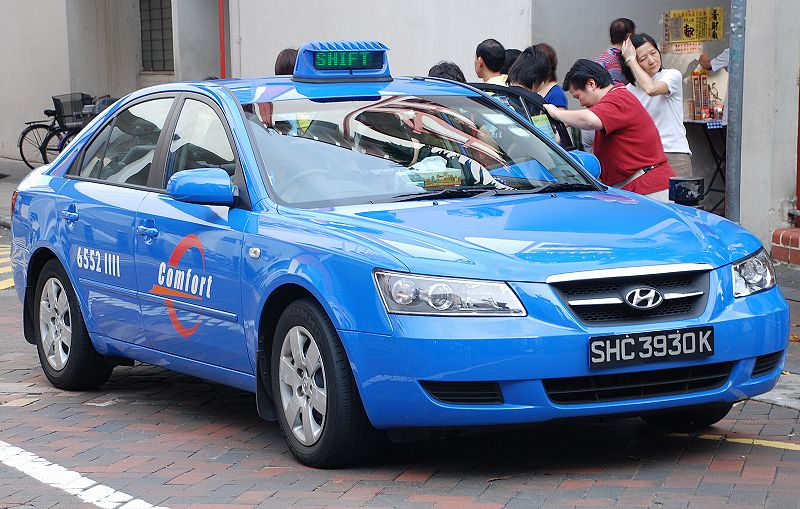 Once on the ground in Singapore, we grabbed a cab from the airport to our hotel in Sembawang, the "American Military" part of Singapore. It took about 30 minutes and cost about 20 dollars. Some of the cabs take credit cards, but plan on having cash to pay.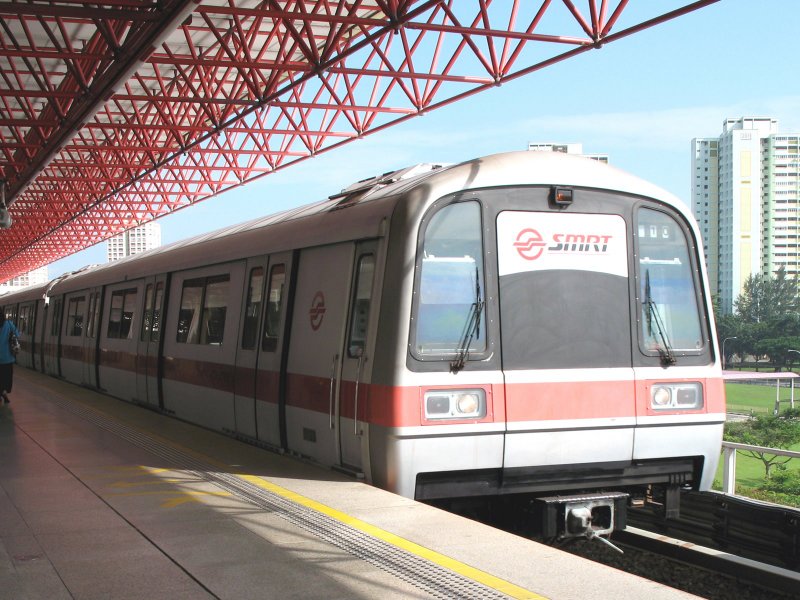 Since English is the country's primary language it is quite easy to get around. We walked to the Mass Rapid Transit (MRT) station and rode it everywhere. They do have a tourist pass, which I would recommend. You can purchase it at any of the MRT stations. Kids under 100cm ride free.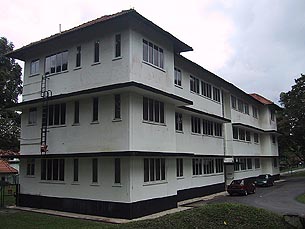 We stayed at The Navy Gateway Inn, which was fabulous and cheap! The outside doesn't look like much, but once inside our room, we were very pleased. We had a 3-bedroom, 2-bath apartment with laundry facilities right outside the kitchen door for less than $50 USD/night. If you're traveling Space-A, you can only call 5 days prior to your scheduled arrival to reserve a room. They have an email address, but we found it didn't work so well. You do need to pay for the room in cash, so keep that in mind when planning how much cash to have on-hand.
There isn't an American Military Base in Singapore, but rather an American Military SPACE, located in a building at the Singapore Navy Port. It's home to a very, very small commissary/NEX, which isn't much larger than the shopette on Foster. There is a Navy Federal bank there and a cash cage to exchange money. At the time of this post, 1 US dollar was worth 1.5 Singapore Dollars (SGD). We were able to hit the bank and commissary/NEX and buy some necessities for the room the first day. They do have very limited hours and are not open on Sunday.
Singapore and More!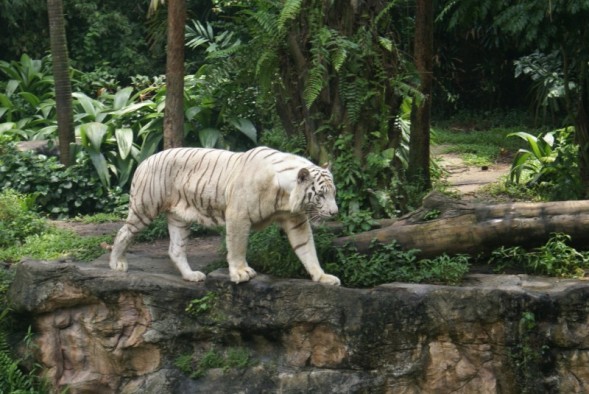 The kids loved the Singapore Zoo. There are no metal cages at this zoo; instead the animals are kept in realistic habitats surrounded by dry or wet moats. Thanks to this "open zoo" plan, we really got up-close and personal with the animals. There were parts of the zoo where we walked with orangutans over our heads on the cables and trees. We were all able to ride an elephant (and have a picture taken while on it) and had we known earlier, we could have had breakfast with the orangutans.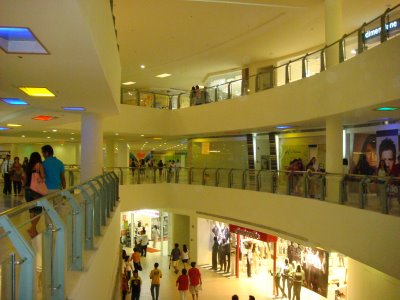 Vivo City Mall is an attraction all it's own, with event spaces, al fresco dining along a 300 m promenade and a large roof top amphitheatre. It also has a station for the Sentosa Express monorail, which is a fun four-minute ride to Sentosa Island.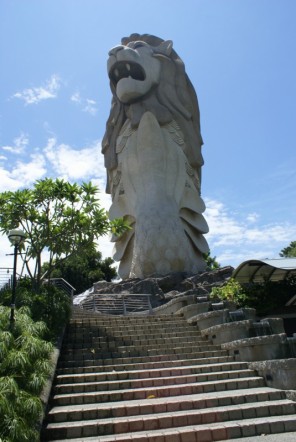 Sentosa Island is home to many attractions, one of which is Underwater World. Personally, I didn't think it was worth the admission price of $22 SGD per person, because it didn't hold a candle to Okinawa's Churaumi Aquarium and Ocean Expo Park.
We did see a nice dolphin show which featured pink dolphins. However, we didn't actually see any pink looking dolphins. My daughter kept asking me where the pink dolphins were! After the show started, we learned something interesting: unlike humans who "go gray" with age, pink dolphins start out gray and "go pink" with age. The dolphins in our show hadn't matured enough to turn pink!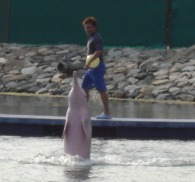 They'll look like this when they're older. 🙂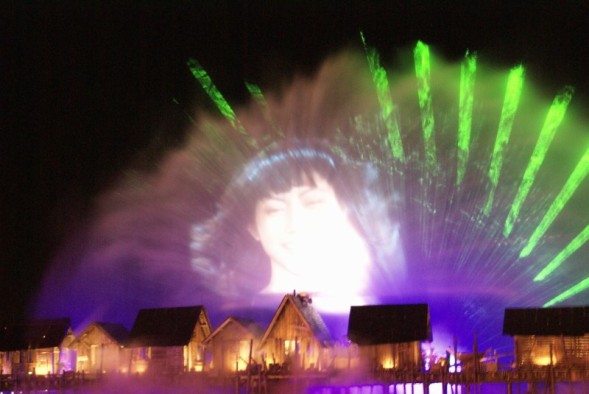 You don't want to miss a nighttime on-the-water laser-light/fireworks extravaganza called "Songs of the Sea". It was the best $8 SGD we spent! Photographers mingled during the show taking pictures for about $20 SGD. Ours turned out really nice, especially since we don't have many family pictures from our vacation.
The shopping in Singapore is out of this world! Downtown Singapore has every big-name store you can think of. Unfortunately, the prices are astronomical: a bottle of OPI nail polish was $30 SGD. We did buy a few souvenirs, but mostly we did a LOT of window-shopping. It was so nice to be able to read everything and see tall buildings! We spent a whole day downtown just walking around and looking at the sites.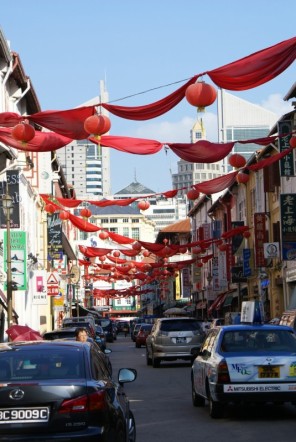 Chinatown was really nice and clean. The vendors were a little pushy, but not horrible. I highly recommend visiting the Hindu Temple that is in Chinatown.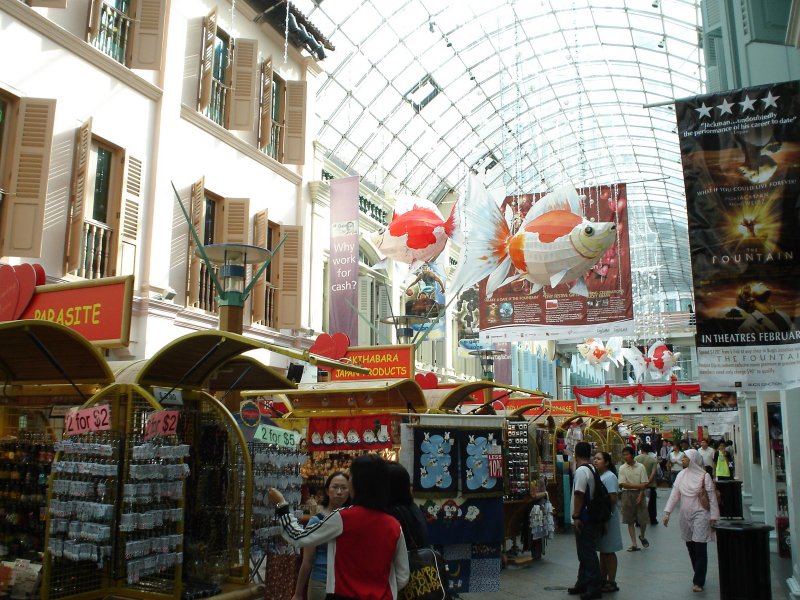 Bugis Street was a ton of fun. It's Singapore's largest outdoor market. It goes on and on for blocks. Vendors sell fruit, food, clothing, touristy trinkets, and everything in between. As with all great outdoor markets, prices are negotiable – haggling is as much fun as shopping!
Singapore has alot to offer. Whether it's bargaining in an open-air market, meditating at an ancient shrine, upscale dining or down home cooking – Singapore is the ultimate smorgasbord of adventure. But don't take my word for it, pack your bags and see for yourself! Thanks to Space A, traveling through Asia is now a snap!
*****
For additional Space A flight/registration inquiries contact:
Kadena Passenger Service
Commercial: 011-81-611-734-0153
DSN: 634-0153/632-6487
Fax: 634-4221
Yokota Air Base Travel Information Desk
Commercial: 011-81-31175-5-5662
DSN: 315-225- 5662 begin_of_the_skype_highlighting              315-225- 5662      end_of_the_skype_highlighting begin_of_the_skype_highlighting              315-225- 5662      end_of_the_skype_highlighting
Fax: 315-225-9768