CONTRIBUTED BY MUNEERAH BEE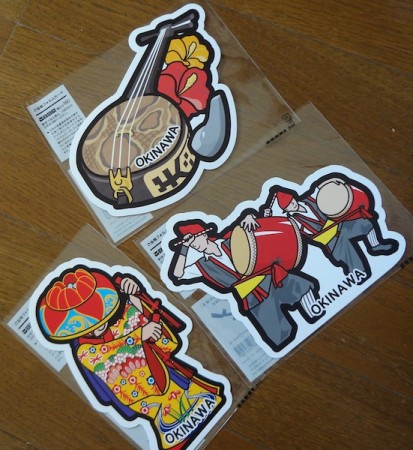 Sometimes I think that my curiosity and interest about the world had humble beginnings from my hobbies of collecting stamps and postcards as a kid and a teen. Even now, I still have a soft spot for philately and deltiology. (those are just fancy ways of saying "the collection and study of stamps and postcards.") This personal passion explains my excitement about the Posta Collect Gotochi postcards.
Oh no my friends, these are no ordinary postcards.
Each prefecture in Japan produces a different set of postcards with designs and motifs unique to the region, and you can only buy them at the post offices in their respective prefectures. They cost 180 yen each.
A new Gotochi postcard has been released in each prefecture, each year since 2009. The postcards from Okinawa feature a shisa (2009 release), goya (2010 release), a Ryukyuan dancer (2011 release), a sanshin (2012 release) and Eisa dancers (2013 release).
Besides their aesthetic appeal, these irregularly-shaped cute and colorful postcards are a great way to learn about the different Japanese prefectures. Plus, they offer a piece of Japanese culture and history to hold right in your hands. You can imagine why they are highly sought after among postcard collectors around the world.
Even if you're not planning to prowl from prefecture to prefecture to collect all of them, they still make good gifts and mementos. I can't wait to see what next year's Okinawan design will be! Shuri Castle, perhaps? Or the ocean and marine life? Okinawa soba?  Kijimuna, maybe? Your guess is as good as mine.
Where to find them: Available at all Japan Post (JP Post) offices. Look for the 〒 sign.
Size: About 10 cm by 17 cm
Variety: Five different designs
Payment: 180 yen each (and you will need a 120 yen stamp to mail it out)