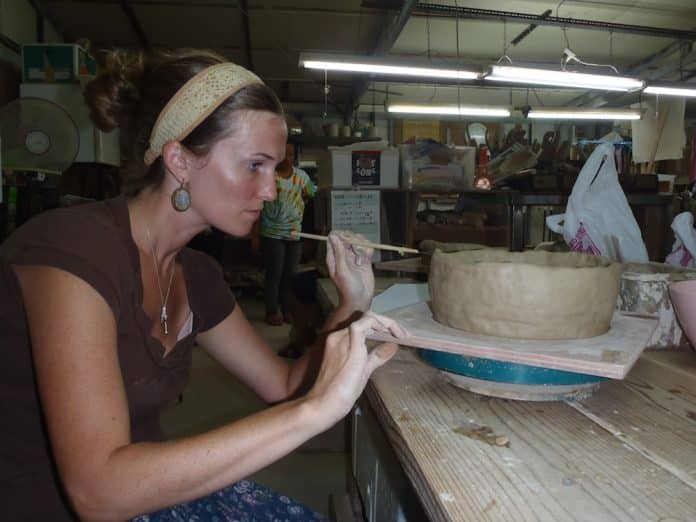 CONTRIBUTED BY SARAH FILLMAN
My husband and I are new to Okinawa and really want to dive into some of the unique cultural experiences that are offered here (there are so many.) A great resource is the Schilling Community Center on Kadena. They offer a ton of great classes, excursions, ticket and travel information, big detailed maps of the island, and really cool events. So if you are new to the island, and want to get out or get involved, this is a great place to go.
I signed up there for a drawing to receive a free lesson in pottery. It's obvious that pottery has a big cultural significance here on the island. This was evident after visiting the Yomitan pottery village. It's a true art form with a very specific Okinawan look and has been a large part of their culture for centuries.
Well, I got a call from the Schilling telling us that we won the class! This was the second drawing that we had won in a month! There were about six of us who attended, and we were not the only people who were drawn from the contest. (So take advantage of this and go to the Schilling to see what you could win this month! Odds are good!)

Pottery Unfired
We met at the Schilling at around 5pm and a bus took us to a small pottery studio. The class was taught by Takahiro Ohara and we had a translator with us who helped him with his English. It was so neat to learn about pottery from a true Okinawan potter! He was very patient, and able to answer any questions that we had.

Pottery Sensei
So first we formed bowls out of clay with our hands by building up the walls. Slowly but surely, we smoothed out the edges, evened the sides of our thick and sticky clay and created these odd shaped bowls. This took a while, and as we formed our creations we were talking with Ohara-san about his career as a potter and his small studio in Yomitan.

Pottery Learning
After we finished, he let each one of us throw on the wheel. He helped us to ease into it and carefully instructed where to place our hands and how much pressure to apply to the clay as it spun. Here in Okinawa, the pottery wheel turns clockwise, whereas everywhere else in the world it's counter clockwise!

Pottery Throwing
Next, we wrote on a piece of paper a personalized word, symbol or message to be carved into the bottom of our bowls. Mine said "Okinawa 2011"
They informed us that in a few weeks the Schilling would contact us to come and pick up our glazed and fired bowls. Olibe (in Japanese) is the color of the green glaze, a traditional look here in Okinawa. The color Olibe was named after a famous samurai on the island.

Pottery Bowl
After about a month, I went to pick up our bowls and they looked amazing! So shiny and a gorgeous green. These will be keepsakes that my husband and I will have forever!
Schilling Center Phone:  634-1387
Hours:  Monday – Saturday, 7am – 9pm; Sunday & Holidays, 9am – 5pm