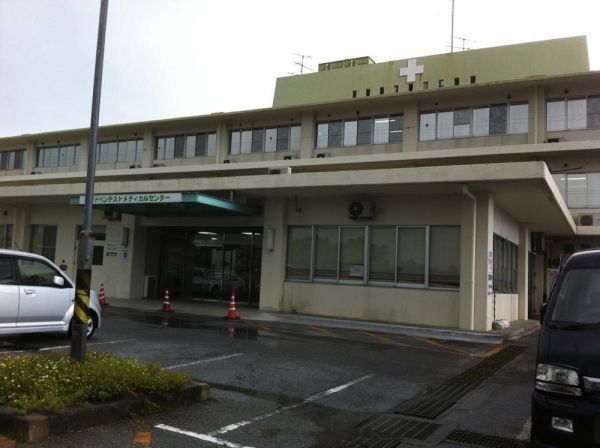 CONTRIBUTED BY STACY ROSE

Adventist Med Center
I recently gave birth at Adventist Medical Center and wanted to share my experience for anyone considering this option.
At my first appointment, they gave me a plastic card (like a credit card) with my name on it, and at each subsequent appointment I had to give the card to the receptionist upon arriving. It's how they keep track of appointments and payments. I saw an American board certified OB/GYN, Dr. Vaughan, for every appointment, and he did an ultrasound every time to measure the baby's growth.
On days they did lab tests, they sent me to the lab after the urine test and someone took blood. Dr. Vaughan had both results available on the computer by the time I got to the exam room so we could go over it during the appointment. At the end of the appointment someone in the OB waiting area handed back my Adventist card and a folder, which I took to the cashier.  Each normal appointment took about 30 minutes and cost 5,500 yen (5,000 for the appointment, 250 for the urine test lab work, and 250 tax).  The receipts they give you are in English and easy to file with Tricare. The birth and hospital stay cost $5,200 total. Our reimbursements took 30-60 days.
My preference was to give birth with as few interventions as medically possible, and Dr. Vaughan and the staff at Adventist supported that. My labor progressed very slowly over 3 days and I wanted to stay at home as long as I could for it. We went to Adventist on day 2 thinking things were progressing but I was only 3.5cm and they let us go back home since my water had not broken. 24 hours later we returned and I was 7cm and they took me right into the delivery room. The midwives and nurses were wonderful. My birth was primarily attended by a Japanese doctor (Dr. Sakugawa) since it happened so quickly but they called Dr. Vaughan and he stood by the bed to assist and make sure everyone followed my birth plan.
Here are the things I requested: no induction, no epidural, no episiotomy, ability to move around and eat/drink during labor, intermittent fetal monitoring, no breaking of water if sac is still intact, immediate skin-to-skin contact with the baby, wait to cut the cord until it stops pulsing, give us an hour of bonding time before weighing/measuring, and oral vitamin K. Most of that is standard care there (except for maybe the cord cutting delay and not breaking the water). Dr. Sakugawa wanted to do an episiotomy but I said no and Dr. Vaughan supported me. My water never broke on its own and Dr. Sakugawa waited to break it, with my permission, until my baby was being born. After delivery they wheeled us into a little recovery room and left us in the quiet with dimmed lights for at least an hour. Then a nurse came back and asked if she could take the baby to weigh and measure him. After she brought him back to us, we went to our room for the night. We had a private room with a bathroom that had a nice clean shower and a Toto toilet with the sprayers. Nurses checked on us every few hours but didn't bother us.
Here is a photo of the type of room we had, taken from their website:

Adventist Room
Most of the newborns stayed in the nursery there but ours stayed in our room the whole time (another part of my birth preferences). The food was really good – Japanese meals in large portions that were always too much for me to finish. I can't tell you what most of it was but there were enough different things at each meal that I could find plenty of tasty things to eat. We stayed for 2 days, and they waited, at my request, to bathe our baby until the last day. I think the Japanese standard is to stay 5 days. At discharge, they scheduled a 5-day check and PKU test as well as a one-month baby checkup with a pediatrician. Dr. Matsumoto is the pediatrician we saw for this checkup. He grew up in the US and speaks English as a native speaker.
I asked a bunch of questions at my first appointment, and here is the info I got… Only about 10% of Japanese women get an epidural and a lot of Japanese hospitals don't do them but you can get one at Adventist. Apparently circumcision is also not very common but Adventist does that too if you want. Japan only gives the hep B shot to children of mothers who have tested positive, but if you want the hep B shot you can get it, you just have to sign an additional waiver. The C-section rate at Adventist is about 18-20%, and has gone up recently because they are doing fewer VBAC's (I didn't ask why since it didn't apply to me).
A nurse suggested at my first appointment that I go to their little store and buy a little blue book of maternal and child records. I brought that to every appointment and the nurses updated it with my weight, blood pressure, urine tests, and other information. They also included details about the birth including how much blood I lost, as well as all the baby's information. The book has pages for baby records (height, weight, immunizatios, dental checkups, illnesses) up to 5 years. I think it's a nice way to keep all that information together, and it's something I get to keep rather than having to ask my doctor for all that information in the future if I want it.
I switched to Tricare standard for this, which requires us to pay out of pocket and file for reimbursement. Depending on the total cost of care provided, the reimbursement amount is 80% – 100%, and the form is really simple. The staff in the Tricare office were very helpful; they transferred me into Standard and then showed me how to fill out the reimbursement forms and provided a sample. The whole process took about 15 minutes.  Being in Tricare Standard means I am seen in military facilities on a space available basis but so far, space has always been available. I can call the local clinic on my base and get an appointment without a problem, and for that there is no co-pay. It works exactly as it did when I was in Prime.
In order to get a US passport and the Consular's Report of Birth Abroad (CRBA) for our baby we had to go through some extra steps. We had to take a form that Adventist gave us in Japanese over to the Nishihara Town Office to register our baby's birth. This is required to be done within 14 days of birth. It took about an hour, and there was an employee there who spoke English and she helped us. Then we had to take 2 copies of the Japanese registration form from the town office to a translator for an official translation. The translation and the Japanese form were required for the CRBA application.
Directions:  Adventist is located sort of in the area of Shuri Castle. There are many ways to get there so I wont give directions, just the map pin. The way I go from Kinser is definitely not the way to go from farther north. The turn onto the Adventist driveway is off of route 29 and is located very close to an expressway overpass and a Lawson. Here is the sign at the driveway.

Adventist Turn Sign
Phone:  Main operator — 098-946-2833. OB/GYN — 098-946-2837. You can only call the OB/GYN number directly for scheduling appointments between 8:30 and noon Monday-Friday; otherwise just dial the main operator.
Website:  https://www.amc.gr.jp/english
Map:  Click for larger image.

Adventist Map
We were very happy with our experience at Adventist and Dr. Vaughan is a great doctor and a great person. The administrative aspect of things was very organized, and the staff was always friendly and helpful even if they didn't speak English. I hope this information helps anyone out there considering Adventist for your birth.