CONTRIBUTED BY SHELL BURGER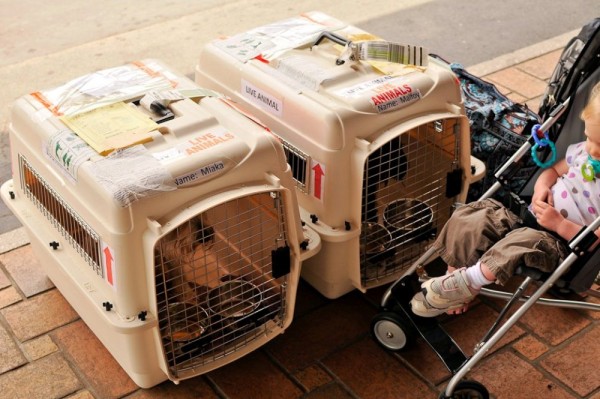 When we found out last January we were moving to Okinawa in June, we were very excited; then came the daunting task of preparing. Luckily, when we got word we quickly googled moving pets to Okinawa. WOW. There was a LOT we had to do to bring our dogs with us. Since they are part of the family, we never considered not bringing them with us. 
Most of the guides out there mainly focus on military PCS's with pets, however, since we are civilians we did not have access to military vets. Thus, our process was a little more difficult, costly, and time consuming. As most guides will tell you, the first step is to make sure your dogs have been micro chipped with an ISO (International Standard) compliant chip. Once you have the chip, you will need two rabies vaccinations at least 30 days apart, but not more than one year. Then you can get the FAVN test, which checks the rabies vaccination level in the dog's blood. Okinawa and Japan are rabies-free and they want to stay that way, so they are very strict on bringing animals into their country.
Both of our dogs had been micro chipped years ago and were up to date on vaccinations, however, when we went to our civilian vet we found out that one of our dogs chips was not ISO compliant. This of course, cost more money and time. Did I fail to mention there is a six-month quarantine? I will get into that more in a moment. 
One of our dogs, Miaka—a salt and pepper schnauzer—was able to get her second rabies vaccination and have blood drawn to start the FAVN test. You can have the second rabies shot and FAVN done on the same day. Our other dog, Malfoy—a black and white schnauzer—had to get the micro chip and first rabies shot, then wait 30 days to get his second rabies vaccination and start the FAVN test. Once the FAVN test is sent away, the six-month quarantine period starts. Luckily, you are able to home-quarantine your dogs while in the states.  If you don't reach the full six months, like we did not, you are still able to bring your dogs with you when you PCS. You will just have to finish your quarantine at an on-base location, whether that is Karing Kennels or an on-base residence.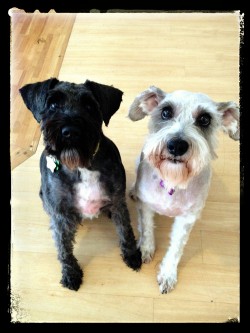 That is just to start the ball rolling to move them to Okinawa; to actually get them here is another lengthy process. First, you should make arrangements as soon as possible to get them on the same flights with you. When we finally got our orders to move to Okinawa, the Patriot Express was already full so we ended up on United Airlines. Let me tell you how much of a struggle it was to get our dogs just booked with United. When we PCS'd, United had just changed their pet policies and not only increased the safety and care the animals received, but also the cost. United started using "Pet Safe," a procedure to prevent animals from sitting on the tarmac for hours in the heat; instead the animals would be placed in air-conditioned vehicles until the last minute to load. We really liked this idea. Another new policy of United was that they restricted where animals could fly out of, mainly due to airplane types and whether cargo holds were pressurized or not. This again is another new safety feature. This did mean we had to drive more than an hour to a different airport when we were moving—even though we had an airport 20 minutes away—but it was worth it to take our doggies with us.
One thing to keep in mind when booking your pets with an airline is to check the route all the way to Okinawa.  United partners with ANA (a Japanese airline that goes from Tokyo to Okinawa) and to get our dogs on the ANA flight, we had to have the travel agent change the flight code from a United Flight to ANA. Luckily, our agent was able to do this and we were able to book our dogs all the way through, after several hours of phone calls with several companies. You definitely need some patience when trying to book your dogs. Also, you will be faced with a cost from United for your dogs and a cost from ANA or the Japanese carrier for each dog. 
Finally, we had the dogs being home-quarantined and they were booked on flights. Our next step was to send all the necessary paperwork to the Japanese AQS (Animal Quarantine Service) at least 40 days prior to arrival. You can find all the necessary forms on the website for the AQS. To submit our forms, we emailed the completed and signed items to na-k1@aqs.maff.go.jp. We received approval within two days of sending the forms. They will email you back the approved forms that you will need to print off and bring with you to provide at AQS when you arrive at Tokyo. Make sure not to change anything on the forms after they approve them, or you will need new forms.
After the AQS paperwork was all completed and approved, 10 days prior to our leaving the states we had to get a health certificate for the airlines. Part of getting this health certificate involved getting USDA approval of the certificate. If you have access to a military vet while in the states this process is easy, since the military vets are all USDA certified, but once again, as civilians we were not able to use a military vet. There were two ways to get approval: overnight the health certificates to the USDA vet in your area and have them overnight them back, or drive to the nearest USDA vet to get the forms approved. Most states only have one or two civilian USDA vets. Since we were leaving just after a holiday weekend, we decided to just drive to the vet and have them approve the forms. And honestly, that is all the USDA vet does, approve forms; they don't inspect your dogs at all. We had to get the health certificates from our normal vet then take the forms from our vet to the USDA. It felt like a waste of time, but both the airlines and AQS did look at the paperwork. You can find more information about USDA vets and what all you need at their website. If you have questions, just call your closest office; they are very friendly and know what all you will need.  They can also verify your local vet can complete the health certificate.
After the USDA forms, we were set with paperwork for our dogs. We used the airlines guides to find crates suitable to transport our dogs, and followed the guidelines for paperwork, names, food, and water with the dogs. Something brilliant we read was to freeze water in the dog dishes in the crate so they could have something to drink while in flight. We did make sure they had both a food and water bowl in the crate, as well as an old towel; most airlines won't let you have a "mat" in the crate. One thing I would do differently is to have more than just one serving of food for each of our dogs because we were delayed overnight in Tokyo. Luckily, the airline found a hotel to put us up in that allowed our doggies to stay on the docks, so my husband was able to at least walk them and feed them, but we felt bad since they had only one meal in 48 hours. I would recommend taping an extra meal or two to the dog crates.
Once we handed over our dogs to the gate agent in the states, we did not see them again until we landed in Tokyo. Once we got through customs and immigration, we proceeded to pick up our bags and dogs, then head to the AQS counter. Both dogs were each on a cart ready for us, so all we had to do was proceed right to AQS.  The lady took our paperwork, reviewed them, and stamped our dogs' paperwork and told us to check in at the military vet. I think she barely glanced at our dogs. It seems the paperwork is the most important thing for them.  We had followed suggestions and had probably 10 copies of everything for each dog. That was way too many copies, and a lot to carry. Honestly, we only needed three, but I would probably have about five to play it safe.  You never know who all will want copies of what. 
I will say that the people at the airport are very helpful and friendly. The guy checking our luggage through the customs section, after we had our dogs and ALL our bags, actually helped us push some of the carts we had loaded. We definitely over-packed; we had six large suitcases, six carry-ons, a convertible car seat, stroller and two dog crates. We were probably quite a sight: my husband and I, with all our luggage, 18-month-old daughter, and two dogs. I honestly look back and cannot fathom how we managed it all. 
Once we got to Okinawa, our sponsor picked us up and helped us drop our dogs off at Karing Kennels. Make sure you work with your sponsor to either get pet-friendly quarters for when you arrive or make reservations at the Kennel on base. During PCS months, aka the summer, the kennel books up fast. They also have after-hours drop off if your flight arrives late at night like ours did.
As the Japanese AQS people will tell you, you will need to register your pets with the military vet within a set period of time. I cannot remember the exact time, but I know we arrived on a Saturday night and registered the dogs that Monday. You don't need an appointment to register; it is walk-in for registering. For more information on Kadena's Vet Clinic and tips for PCSing with a pet you can check out their website.
Although the process to bring our dogs with us to Okinawa was costly, difficult, and time consuming, we could not imagine being here without them. Hopefully, our experience will not discourage you from bringing your pets with you, but instead will provide you some insight into the lengthy process so you can prepare. Forewarned is forearmed.
Useful Websites:
Japan Animal Quarantine Service