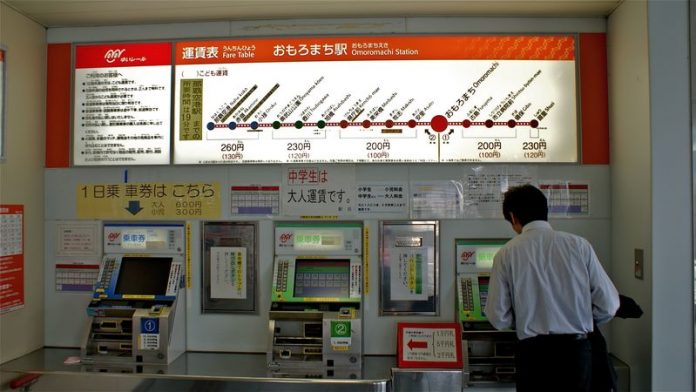 CONTRIBUTED BY JENNIFER SHUE
Riding the "train" is one of my daughter's favorite things to do here on Okinawa. Every time she sees it passing overhead the next words out of her mouth invariably are, "Can we go ride the train? Please, Mommy!!" Every time we do ride it, it is the highlight of her day. And it is so easy and cheap!
Don't be dismayed by almost everything you see at the ticket machines being in kanji. There is a big, backlit schematic of the rail line with stops labelled in both kanji and english, grouped into sets of 3 for prices. The stop where you are buying your ticket is clearly labelled. Look at the stops and determine where you want to go and what the price bracket is. Now comes the fun part – approaching the touch-screen ticket machine.
This part really is all in kanji. What I do is pick one distinctive (usually more simple) character to match up with the characters I see on the touch screen in my destination price bracket. The vertical row of buttons along the side (actual buttons, not part of the touch screen) allows you to select buying tickets for one adult (an image of a single person, like on restroom decals), multiple people, an adult with a child (stroller age is free, elementary age is a child fare, I believe), and some other options I have not yet used. Select the number of tickets, match your destination kanji, insert your yen, get your ticket. What you have bought is a one-way ticket.
If you are standing there staring at the screens and the buttons and are just totally dumbfounded as to what to do (as I was the very first time I tried this out), have no fear – the attendants at the service window all seem to speak very helpful english and will gladly show you what to do or answer your questions.
After you put your ticket through the turn-style thing, grab it when it pops back up on the other side so you will have it at your destination. At this point you will need to figure out if the particular station you are at has a central platform for all trains (usually there will be a sign that says something along the lines of "All trains"), or if you need to determine which side you need to be on. Does the direction you are heading ultimately end at the airport (Naha kuko) or Shuri? If you make a mistake, it is no big deal, you'll just have to walk downstairs and around to the other side.
The monorail does go to all sorts of useful areas around Naha, where we all know parking can be a problem. You can also buy day passes (open ticket), multi-ride passes, and pre-paid fare cards to suit your needs. The little trains are, of course, neat and tidy. First train is at 0600, last train at 2330. The individual stations are labelled in both english and kanji, and the station announcements are clear and easy to understand.
Parking:  This can be a bit complicated.  The monorail seems to have been built for people to walk to and then travel on.  There aren't many park & ride lots like you might be used to in the States.  Please comment if you have a favorite parking spot for jumping onto the monorail.
For some additional information, this site may be helpful.