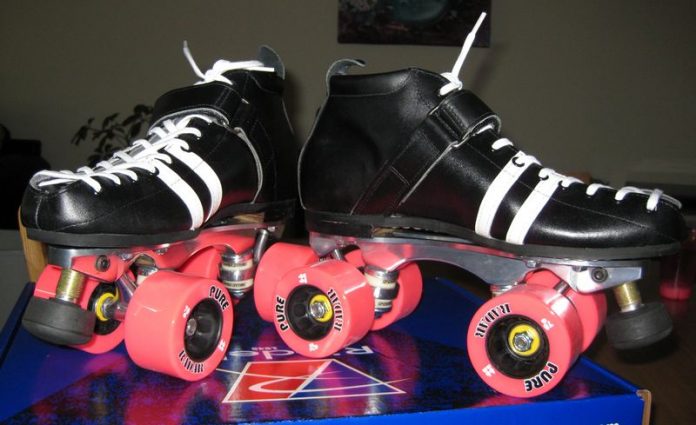 CONTRIBUTED BY AMANDA HARMS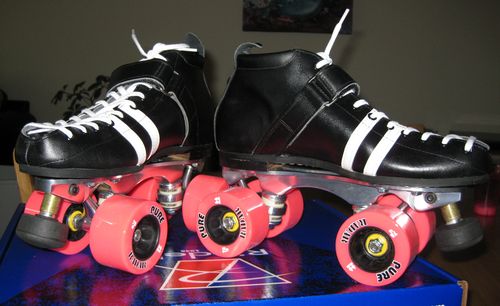 PLAY ROLLER DERBY WITH US… the KOKESHI ROLLER DOLLS!
Part manifesto- part invitation, here is my proposition:
So there I was… Thirty-one years old and pregnant with #3.  I could feel my body succumbing to the demands of pregnancy and as much as I love being a Mom and as much as I adore my children, the feeling of losing myself during pregnancy is one that does get under my skin… no pun intended!  As a part of this process, I started to daydream about how I would lose those pregnancy pounds when my body was given back to me.  I am not much of a jogger, and I have a very short attention span, not to mention a serious lack of "extra" time – even less once the new Baby arrived!  Suddenly it hit me…roller skating!
Why had I never thought of it before?  Perhaps the fact that I haven't stepped into a roller rink since I was a teenager, perhaps because I have no roller skating skills, perhaps because I knocked out all my teeth at a skating party when I was 8 years old…all good reasons, but now the urge struck me like a bolt of lightning.  Not only did I want to skate but I wanted to enter the realm of the Roller Derby culture.  Shortly after this realization, (which I had kept private while pondering how long it would be before my interests moved in a different direction, as often happens) I watched the film "Whip It", which featured the modern Roller Derby culture.  This may have sealed the deal.  I was totally convinced that this was something I needed to try.
I began looking around for information…tips on how to skate, tips on buying skates, and in general researching the heck out of Roller Derby.  I must say that I loved what I found.  The freedom from social stereotype, the raw element of the game, the sportsmanship, the camaraderie, the GIRL POWER, the hot outfits, the personality, the Derby names, the tattoos!  This is a culture of individualism.  A full-contact, full-of-charisma sport made of women from every walk of life, young, old, wallflowers, and party girls.  It was exactly what I needed to bring my spirit and my body back together.  I had two things standing in my way…
First, I had to reckon with the term "full-contact".  After all, I have never been in a fight in my life!  I would never consider myself an aggressive person.  I'm not a push-over, still, the thought of having a pack of half-crazed Amazonian women shoving me off my eight wheels was just plain nightmarish!  The mere thought made butterflies in my tummy, and my already reconstructed front teeth ached at the thought.
Not ready to abandon the idea that I could be a natural Derby Girl, I researched this aspect of the game and found I could still skate for my own personal amusement but perhaps I should opt to be a statistician or a fan instead of a player.  Hmmm…not likely.  This thought made me sad and thoroughly annoyed.  I'm a LEO, and I am a DOER not a spectator.  I couldn't stomach the idea that I'd be on the sidelines- so that was out.  I continued to review the sport by watching bouts online, reading forums, and doing some self-reflecting. I came to the realization that it's not the idea of getting hurt that dissuaded me – it was my fear of being in a physical confrontation for the first time. Naming it made it easier to deal with.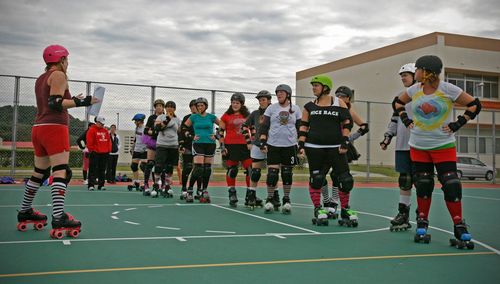 After all, what is the worst that could happen?  Yeah, there are broken bones and such that are the all too real hazard of loving this sport, but mostly you are looking at big bruises, scratches, and at the root of these superficial injuries, some painful landings on the track.  I became convinced that this was an occupational hazard that I could live with, something that I would get used to, something that I needed to overcome.  Then it joined my list of fears to get over…right next to scuba diving (which will also be confronted in good time.) Next I had to move on to the #2, which was actually the bigger and more immediate issue… no way to play Roller Derby in Okinawa if there wasn't a team to play on.
I longingly looked at the websites of various Derby teams all over the U.S.  They are so far away.  They are way over there…I'm way over here.  This first sounded like a deal breaker.  I gave up… momentarily.  I figured that I'd still skate and use all the tips I could find to learn tricks on the track… how to do crossovers, how to speed skate, how to jump over obstacles, and I'd study the rules.  This way, I'd be a shoe-in for whatever Derby team was closest when we got back to the States.  I mentally fast-forwarded 2 years into the future to our DEROS date.  I'll be 33 years old… and two years is FOREVER! (Did I mention I'm a Leo?  I like instant gratification.)
With this thought reverberating in my mind, I opted to at least try to see if there was any other people that would at least keep me company while skating and to maybe meet some new friends.  As a workout, its great stuff and doing it with others makes it less likely that I'd give it up.  So, I put up a topic on the website Okinawa Hai Society.  I did get a couple of bites and ended up finding a couple of Gals that wanted to join me in my quest.  So, after confessing that I'd be another couple of months before I could strap on some skates, we agreed to start roller skating together in the near future.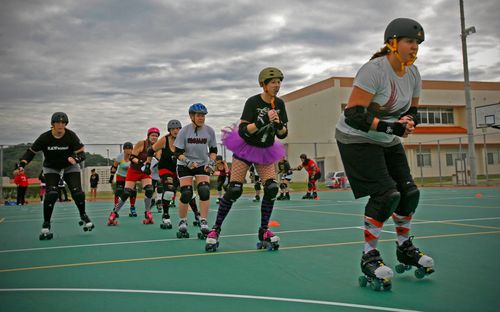 This brings us up to the present day… but something has changed.  Primarily, I read the book "Down and Derby."  This book gave me a highlight of the history of Roller Skating and Roller Derby, its ups and downs since the end of the 1800's.  And, it gave me a better idea of the most modern type of Roller Derby, the one I have found myself drawn to.  I realized after reading about the most recent rise of this sport, which started to resurface as recent as 2002 in Austin, TX, that the girls that started this were just as clueless and just as inexperienced as I am.  Actually, I'm even better off because they were reinventing the wheel from some old vague rules that were researched on the internet and no consistent vision on what direction the sport should take.   They had at least come before me and paved the way.  So, I figure, what the heck?  I think that there are people in Okinawa that will take to this sport like moths to a flame… both as players and spectators.  I believe that the only thing that this opportunity lacks is someone to take it from idea to paper… and this is my electronic paper.
We are now a handful of women that are on the bandwagon and are ready to take this thing on!   We are forming our Derby Army and want you to be a part of it.  Don't get me wrong, we don't have all the answers… yet.  We don't have all the details… yet.  But we are working on it NOW.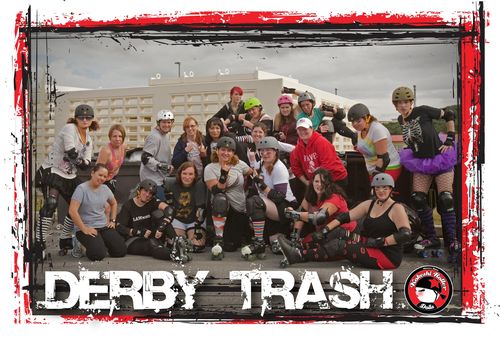 If you are interested in being a part of this female sport revolution, and if you want to be a part of history by being part of the first ever Okinawan Roller Derby league, then come roll with us.  To be a player, you must be 18 or older, you must have health insurance, and you must be a GIRL.  You DON'T have to be experienced or rad skaters, as long as you are willing to learn, to fall, and to have fun with it.  To be a coach, ref, or scorekeeper, the criteria isn't so gender biased.  Even boys can play those positions, and we are recruiting for those too!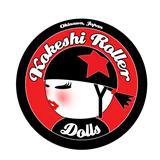 Update Feb '11:  We currently have 3 interleague teams each practicing three times each week.  We have 60 skaters, plus refs, coaches and scorekeepers.  We are also on Facebook now with a page under "Kokeshi Roller Dolls".  We use that page to update everyone on the day to day happenings, to post tips, and to generally communicate with our members and fans.
We will hold recruiting events from time to time try to find more Roller Dolls, and officials, and to spread the word that Derby is here.  We are an easy going crowd though.  This is just for fun, laughs, and good times.  We aren't out to make money, to pressure, or to be pressured.  Who knows where this may lead? Perhaps we'll contentedly enjoy our part in a Roller Derby club where we hang out, skate, and scrimmage in pretend bouts for our friends and families.   Perhaps we'll excitedly end up being able to authenticate the first league in Okinawa, Japan with the WFTDA, Women's Flat Track Derby Association, but regardless of where this goes, the philosophy is the same: it's all for fun!
If you join the team, please come with ambition, a positive attitude, and a willingness to try new things.  Once you are a Kokeshi Roller Doll, be prepared to commit to 2-4 hours a week of practice, to offer your skills (and believe me, you have needed skills!), ideas, personal experiences, and to develop some new friendships.  And don't forget to start thinking of your new alias, your derby name!  You can use this link to see if your great idea is already taken.
Financially, you will be responsible for buying your own gear ("Quad" skates, helmet, pads, which all told will amount to $150 or more) and probably monthly membership dues (TBD), which will be used for securing rink time, and promoting our league and events (flyers, merchandise, and such).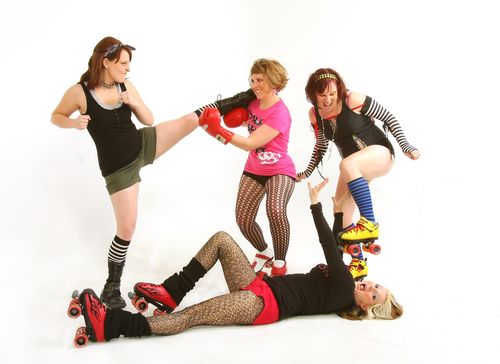 Christopher A. Baldwin, Photo Credit
Whether you want to be a Roller Girl or you just want to test the waters, please contact us or stay tuned for information on future events.
Facebook:   "Kokeshi Roller Dolls"
Email:  contact@kokeshirollerdolls.com or joinKRD@kokeshirollerdolls.com
Website:  www.kokeshirollerdolls.com
ROLL ON!