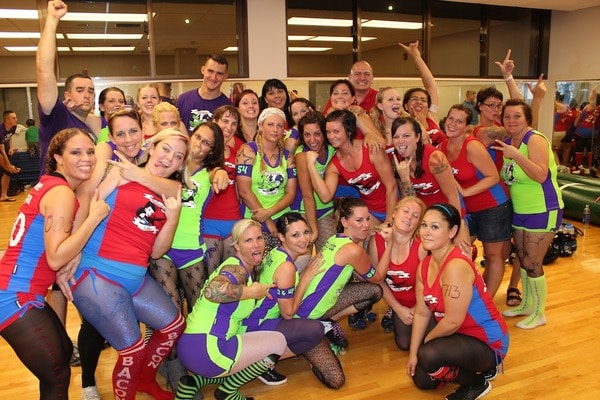 Derby Gang
CONTRIBUTED BY ZABRINA "JerZee Stinga" Songui
When I first got to this island, I felt so disconnected. I was newly married and this was my first experience living overseas. My day-to-day activities involved going to the gym, driving around the island, cooking and cleaning. Yes! I know…Snore! Then, I was lucky enough to meet someone that was involved with the Devil Dog Derby Dames — a new roller derby league on Okinawa.
Roller Derby in Okinawa seemed like the perfect way to stay active and meet new people so I thought…why not? I had never been involved in roller derby before and had actually never heard of the sport until I watched Whip It –or as it's most often referred to– "the roller skating movie with that Juno girl." So there I was, searching the web for Fresh Meat Derby Packages (the derby terminology kills me! Yes, I am a derby geek and proud!). At my first practice, I noticed that most of the girls were like me, fairly new to the island with no derby experience wanting to get out of the house or job and have some fun.
What is roller derby you may ask? It is a full contact sport in which two teams skate in a pack around a track helping their "Jammer" through the pack while trying to stop the other team's Jammer from getting through. Here is a YouTube Link to give you a better idea. However, it's more than just a game. It's a culture where women are free to express their individualism and strength, as well as their femininity.

Derby Cheer
I found myself laughing before my first game, when I put on a full face of makeup and my funkiest pair of tights. In what other sport would you ever have getting funky as a primary objective? By the end of the game I was exhausted, had no idea what the score was and had black eyeliner smeared all over my face, but I was hooked! This day I especially learned that derby is about more than just looking cute (although looking cute is half the fun); you also have to work your butt off in practices and in games to support your teammates. That is what brings us together and builds the camaraderie that we now have as a league and on our individual teams.
I have been a Devil Dog Derby Dame for 10 months now and the experience has been an unforgettable one. You can choose your level of involvement from skating dame to official (skating or non-skating) or coach. You can also join with your spouse as both men and women are welcome as officials and coaches. Although spouses of Marine Corps members started the league, we are an inclusive organization open to all that are 18 and over. We are also an approved MCCS organization, are a fully insured and follow WFTDA policies and procedures.

Derby Teams
If you are interested but do not know how to skate, we hold a "Dog Pound" practice which starts every first Sunday of each month for new members. Here, you learn the basics before you are placed on your team. If you missed it this month or are waiting for skates to come in, no worries! You can start the next month.
So….if you're not afraid of a little contact, always wanted to wear fishnets and tutus but never had the guts to wear them in public, have always had the guts but can't find the right occasion, or just want to be a part of something that is pure AWESOMENESS…. this is the sport for you!!
If just want to see the action please come out to one of our games. We always have upcoming events posted on the home page of our Devil Dog Derby Dames website.
Website:  www.devildogderbydames.com or Like us on Facebook–search "Devil Dog Derby Dames"
Membership:  Click HERE.