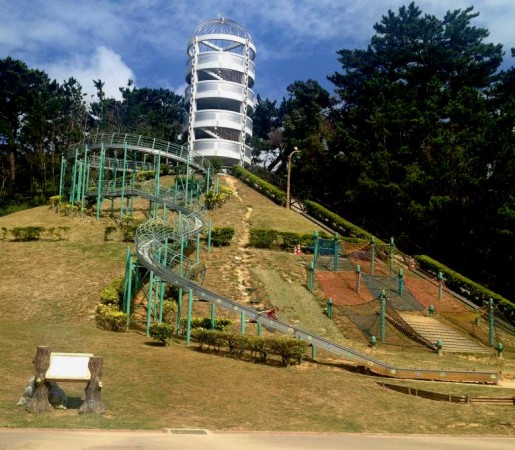 CONTRIBUTED BY MARLOW TOWNES
Editor's Note: This park was originally featured on our site back in 2007. Click here to read the original Tobaru Koen Park post.
When word came that Okinawa was a possible duty station for our next transfer, I began reading Okinawa Hai to gain as much knowledge as I could. This would be our first overseas assignment and I realized it would bring an additional set of challenges. 
In hopes of making the kids' transition as smooth as possible, I began showing them pictures of playgrounds and other things I thought would pique their interest. Excitement grew in all of us.
Our first successful playground adventure was to Uehara Upland Park. The kids were in awe and, although it was a very hot day in July, played for at least two hours.
There was one other American family there and as our children started to interact, I made my way over to exchange conversation with the mother. I explained that we were new to the island, and she began to tell me about other fabulous parks. I jotted down directions to this one because it didn't sound like anything I had read about and is quite close to where we live. We ventured to it within the next few days.
When you pull into the parking lot you see about seven parking spots, a bathroom, a map, and a very small play area surrounded by lawns and a wooded hillside. When you follow the path to the right you wrap around the hill to find a very amazing roller slide. I call it Roller Slide Park, as I don't know what the Japanese name is for the park.
The plaque above the slide's entrance indicates that you are 83 meters above sea level. 
There is also a lookout tower which takes you an additional four stories up and provides 360-degree views of the island. There are covered tables and, as the map indicates, a one kilometer walking path, basketball area, and multiple bathrooms.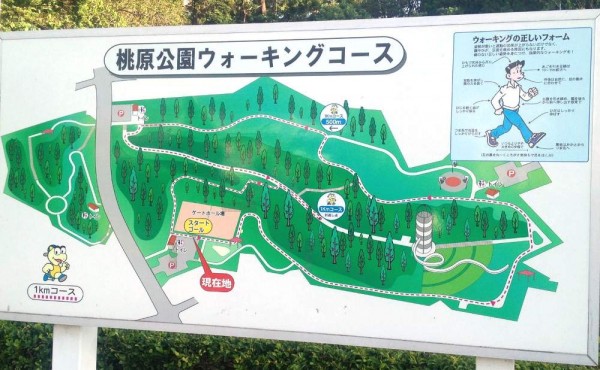 Note:  There is excellent banana spider viewing in the trees and bushes that line the paths. 
The yellow seat my son is holding makes roller sliding more fun and a little easier on the body, and they are available at 100 yen stores.
Directions:  From Kadena Gate 1 head South on route 58.  Turn left at the second light onto route 23.  Start counting stop lights.  Turn right at the 3rd light.  Continue counting lights, pass through the second light and turn right at your second opportunity (there is one narrow street and then the second right is the parking lot.)
Address: 657 Yoshihara, Chatan-chō, Nakagami-gun, Okinawa
GPS Coordinates: 26.3229883, 127.77800239999999
Like our blog?
Grab a T shirt or souvenir from our shop. Or click through to Amazon using one of our links and do your usual shopping. It helps us keep the site going. Thanks for your support! Cheers
[adrotate banner="159″]