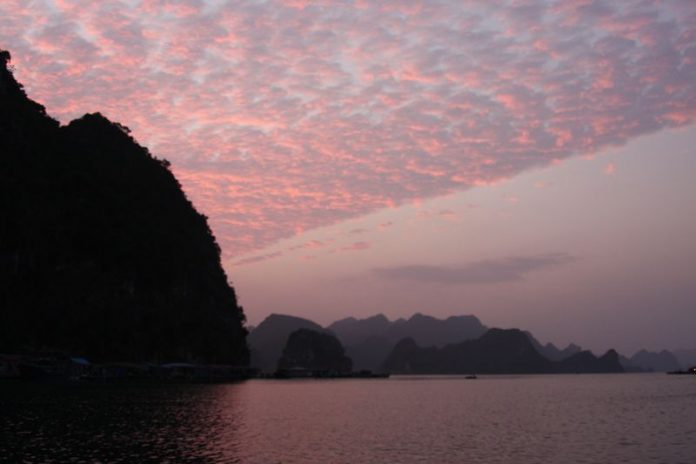 CONTRIBUTED BY MARY RICHARDSON
Of course, there's no time to jet off to Vietnam for Valentine's Day, but you can always get in the romantic frame of mind by looking at pictures and planning a trip there in the future.
I highly recommend this travel experience.
One of the most popular travel destinations in Vietnam, Ha Long Bay is a UNESCO World Heritage Site. It is located in Northeastern Vietnam in the Gulf of Tonkin. For over 500 years, artists, writers, nature lovers, and tourists have praised the calming atmosphere of the bay with its thousands of limestone islands, sea caves, and pillars jutting out of the ocean.
A popular way to experience Ha Long Bay is by sailing on an overnight junket, or traditional wooden boat. These ships are small replicas of old ships and have a 1930s Indochine feel to them. All the meals are included and you can eat in an airy classy dining room or on the deck.
Dozens of tour companies offer overnight trips to Halong Bay with different one and two night itineraries. A fairly standard agenda, however, includes stops at caves, mountains, and floating villages.
Some of the side excursions also include snorkeling and swimming, and tai chi classes on the deck in the mornings. It goes without saying, though, the whole experience is really about sailing the soothing waters of the bay.
Due to weather conditions, many visitors prefer to visit Ha Long Bay in the summer when the visibility is high and the water is emerald green. In our case, we went at Christmas while it was slightly hazy and overcast, which suited me just fine. I still thought it was lovely.
You can experience Ha Long Bay by booking a tour to Vietnam through both ITT or Tours+ Travel Agencies, or you can do it on your own.
We opted to make our own arrangements, which turned out to be less hassle than expected. We purchased our flights to Hanoi, Vietnam and Visa through a travel agency on base. Next, we booked our hotel in Hanoi through the Internet and reserved everything else through the hotel. This included airport pickup, Ha Long Bay excursion, and sightseeing.  Keep in mind if you make your own plans that the drive to Ha Long Bay from Hanoi takes about 3 hours.
You can sail Ha Long Bay in any number of price ranges. Check out
this list of popular junket
companies. We sailed on the Jasmine Junket and had a very nice time, but the Red Dragon looked great to me too. (it was already booked up)