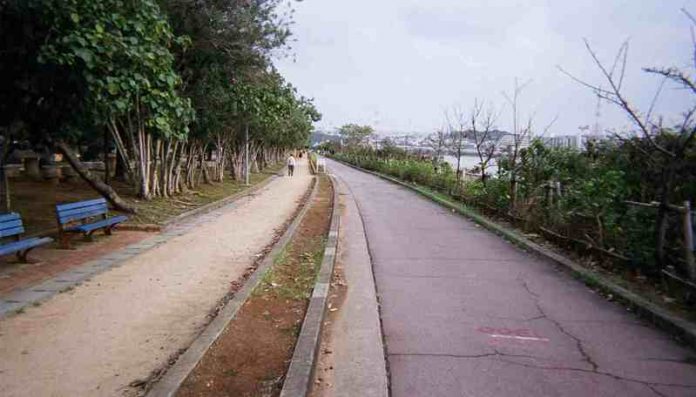 Reader Amy Hester had a great question for me the other day:
"Just wondering if you know where there might be any running trails. I have plenty of running routes on roads, I just want to run some off road. I'm willing to drive pretty much anywhere on the island for some trails or even take a ferry somewhere if anyone knows of any trail race. Thanks for any tips you can come up with."
Being a Hai-tech Investigative Reporter, I pulled out all the stops and googled "Good Places to Run in Okinawa"… and hit on a great web site run by Paul Sminkey. Paul is the Associate Professor for the Department of British and American Language and Culture at Okinawa International University. But more importantly to our readers, he is an avid runner!
Paul has taken the time to describe, map and photograph several different running spots around the island. Some of these places (ie: Comprehensive Park) have been featured on Okinawa Hai in the "Parks" section, however I'm including them here for their appeal to adult runners. After all, parks aren't just for kids!
So, without further ado, I'll turn you over to our guest contributor. Take it away, Paul!
Manko Park (Naha City):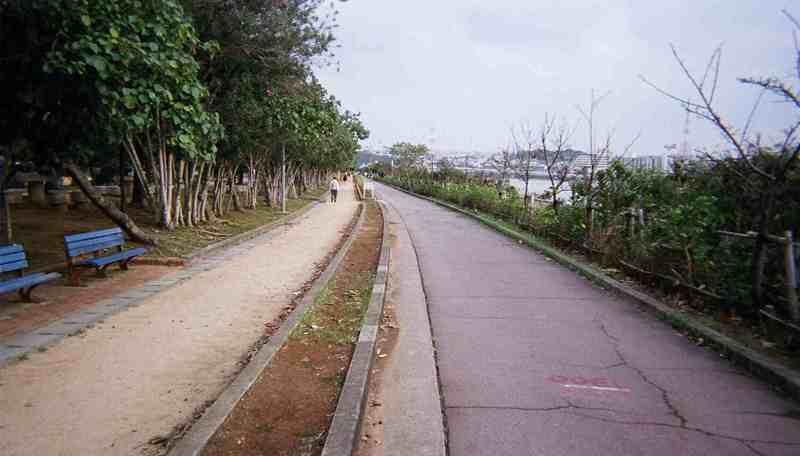 :
Manko Park is one of the most popular places for running in Naha, so you'll never have to run alone. In fact, running groups often meet here. Apart from the two bridges, the course is perfectly flat, and within the park, there's both a dirt and an asphalt path. Since the path runs along the river, the scenery is quite nice. The Manko Park jogging path is about 1.5K, but there is also a nice path that circles around the river. I've marked the (precisely) 4.12K loop that I usually run. The park itself is relatively well lit, but a small section of the path on the opposite side can feel a bit creepy late at night. I've never felt at risk, however, and this is one of the nicest places to run in the city. I only wish it were closer to my home.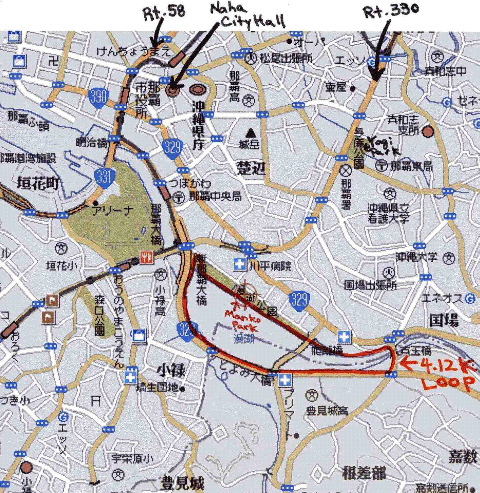 Ameku [or Shintoshin] Park (Naha City):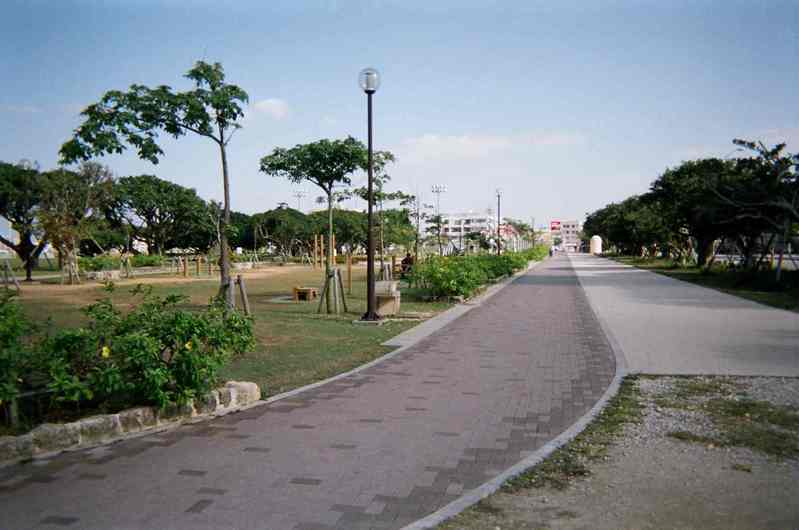 Diagonal from Naha Main Place, the large shopping center with the Cinema Q movie theatre, Ameku Park has tennis courts, picnic areas, playgrounds, a skateboard area, a basketball court, and most importantly, a padded 850-meter path on its perimeter. The last 200 meters of the path are a bit steep, but the soft material (which looks like brick) is very easy on the legs. The parking lot is locked at 9:00 p.m., and the lights go out at 10:00, but there is still enough light from the street, and you can run here as late as you like. I usually prefer to run after 9:00 because the path is a bit crowded with walkers and people walking their dogs from 7:00 p.m. until 9:00 p.m. Even at those busy times, however, I've never had to alter my pace. I also like that the distance is marked every 100 meters. I live right across the street, so I do most of my running here.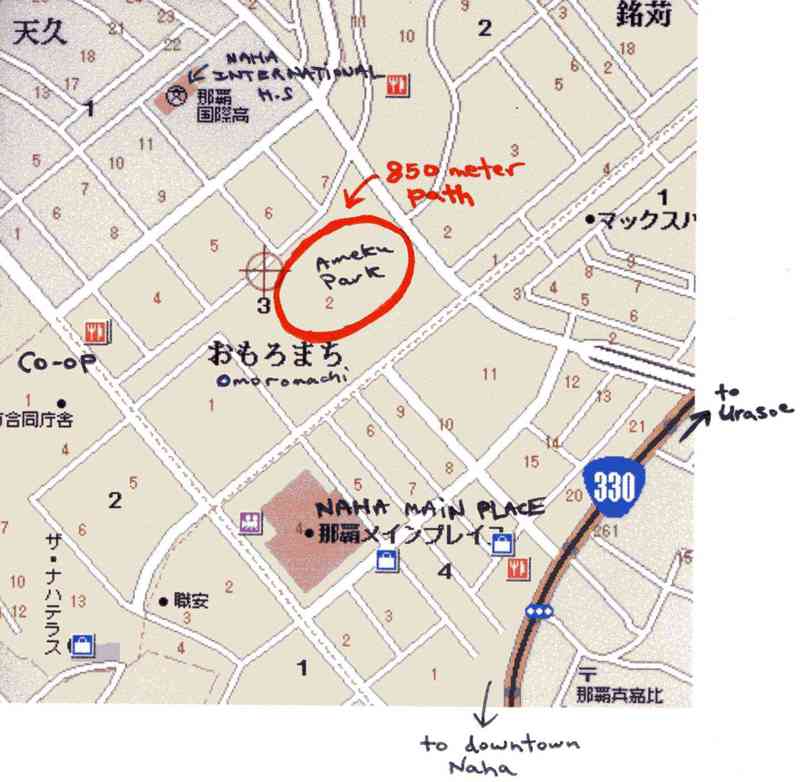 Okinawa Comprehensive Park (Okinawa City):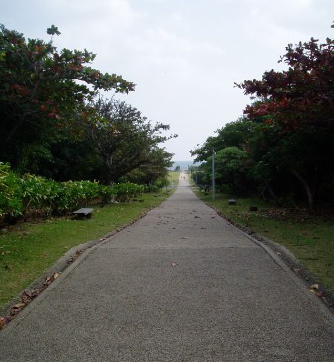 Although I almost never run here because I live too far away, Okinawa Comprehensive Park is a must-see for anyone living in Okinawa. With two tracks and numerous jogging paths (including clearly-marked routes of 3K, 4K, and 5K), many of which are shaded by large trees, the park is undoubtedly one of the best places for running in the entire prefecture. As the largest sports facility in Okinawa, the park has something for everyone: beautiful landscaping, nature walks and trails, ponds, camp grounds, picnic areas, playgrounds, two swimming pools, tennis courts, a gymnasium, indoor and outdoor soccer fields, cycling paths, a fitness center, and much, much more. Various classes, events and programs are also offered.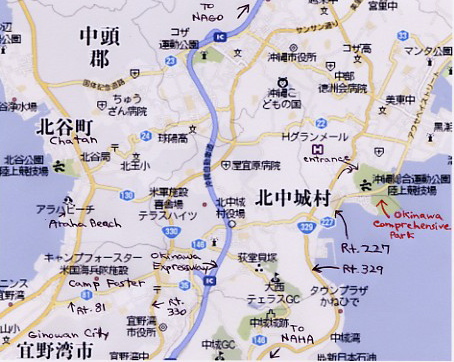 Urasoe Athletic Park (Urasoe City):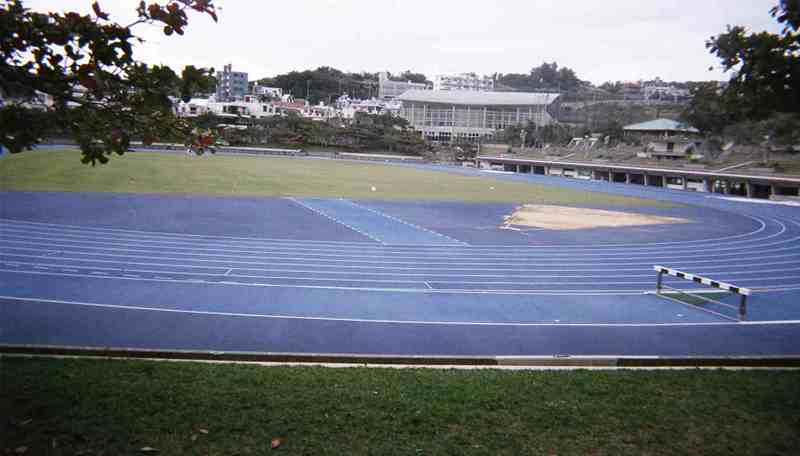 Situated about 5K from Naha, Urasoe Athletic Park has the nicest track in the entire prefecture and is often used for track and other events. On most nights, there are a hundred or so walkers and runners. Pets and smoking are forbidden. The bright blue track is soft, and the entire facility is well lit until 10:00 p.m. This is a great place for doing intervals or other speed training, and a nice soft place to give your legs a break from the asphalt. The Park also has two separate facilities for weight training, both of which are quite cheap. The pool, though, is small and not worth the entrance fee.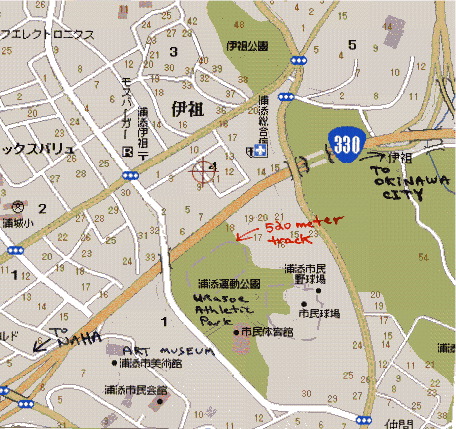 Ginowan Kaihei [Marine] Park (Ginowan City):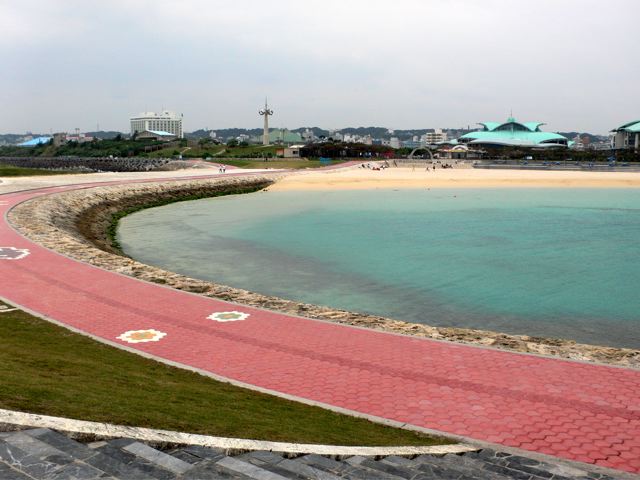 Although most of the paths are asphalt or brick, Ginowan Marine Park is a beautiful place to run, especially during the cooler months. The short 200 meter loop that goes out into the ocean is especially beautiful. This location is much too hot during the summer, but the ocean breeze is quite refreshing in the evening. I don't do a lot of running here, but I usually stop off here for a couple of kilometers when I run to Chatan. The Okinawa Convention Center and popular "Tropical Beach" are also located here, so if you like to "people watch" during your runs, this might be the spot for you. Another advantage to running here is that there is a canteen and many vending machines.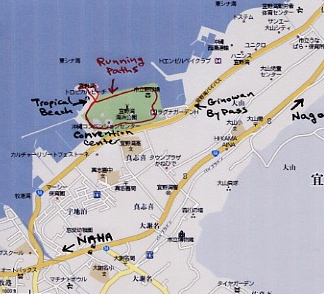 Chatan Park (Chatan City):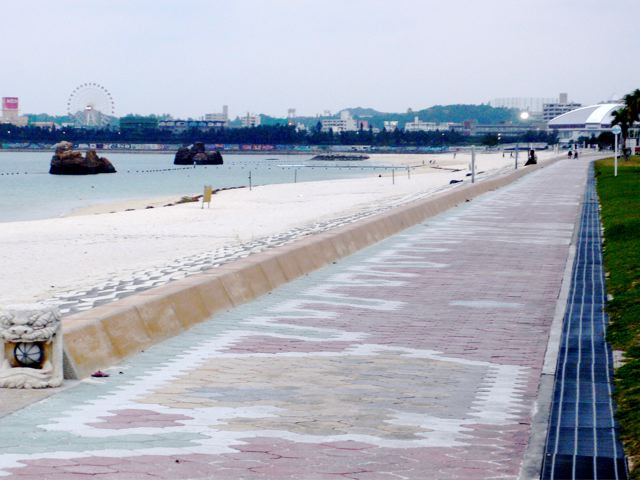 Located to the south of Jusco, Chatan Park provides numerous running paths, including a beautiful coastline running path along Araha Beach that stretches down to the south. The coastline path is padded, making it ideal for running. Although the coastline path is probably too hot for the summer months, the beautiful sunsets and cool ocean breezes make this an excellent place to run in the early evenings. The asphalt running paths further to the north (near Jusco), which circle around the stadium and tennis courts, provide more shade. In addition, the beautiful track, located directly next to Jusco, offers an excellent place to do intervals or other speed training.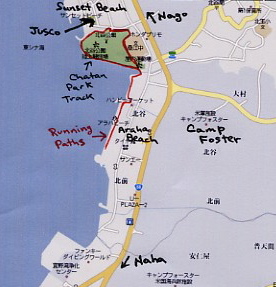 Route 58 and Route 330 (all of Okinawa)– Of course, the easiest place to run in Okinawa is along Route 58 or Route 330, both of which extend for the entire length of the island. Although bumpy in spots, the asphalt sidewalks are generally smooth and good for running. I often run to work along Route 330, which is the better of the two routes.
For more great running tips and Okinawa adventures, check out Paul's page. THANK YOU, Paul for all the great information!
What about you, dear reader? Where do you like to run in Okinawa?