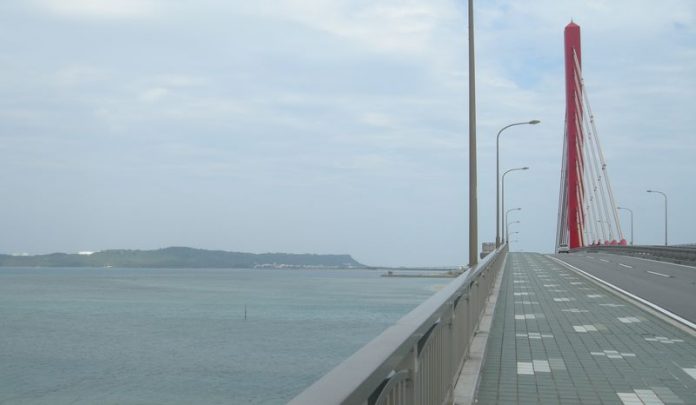 CONTRIBUTED BY JOY BARNES
Six months ago, if I would have seen a post about "Running on Okinawa" I would have kept right on scrolling down the page.  I am a newbie to the pastime of running, only having started after my neighbors convinced me to run a half-marathon.  This is my first race so you can call me ambitious or call me crazy — I have yet to determine which description fits best.  However, in these last six months of training, I have found much enjoyment in running — and more specifically — running here in Okinawa.
Of course, there are the physical benefits of getting in shape and losing those post-pregnancy pounds.  There are also the psychological benefits of feeling good about reaching my weekly training goals.  Running has also become a positive outlet while my husband is deployed.  However, I'm writing this post because the best part of running has been discovering Okinawa from a brand new perspective.
Most of the streets I'm running, I have driven many times before.  However, when I take the same route on foot, I get a whole new experience using all my senses.  Take, for example, the rice store a few blocks from my house… driving past the store, I've seen the bags of rice in the window countless times. But, while running, I can actually hear the rhythmic tinging of the rice and thumping of machines filling those bags.  There's even a slight scent of dry rice in the air.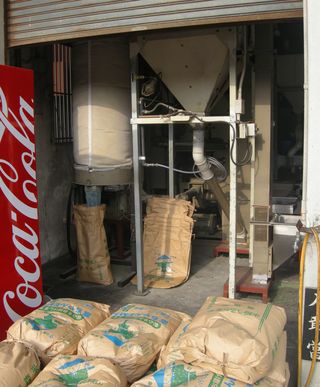 Oh, and there are other scents I experience while running—some pleasant and some not so pleasant.  Passing the drying seaweed smells like dead fish and occasionally I have to pass the pig farms… pee-eww!  However unpleasant those smells are, to me, they are distinctly Okinawa.  Other times, however, I pass the bento shop with delicious smells that make me immediately crave yaki-soba— yummm, yummm.
Some of my favorite routes are the bridges to Hamahiga and Henza Islands in Uruma City.  I get a whole new view running a bridge as opposed to driving it. I often pause during a bridge run to look over the side, down into the clear water.  I also just try to take in the expansive horizon of ocean and islands while on these bridges.  Near the foot of the bridge, the water is so clear that I've seen fish swimming on more than one occasion.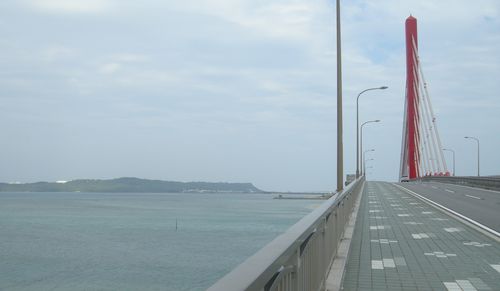 Running also gives me the chance to take some of those winding, back roads that I would not ordinarily drive.  This is where I can view traditional Okinawan houses with the tile roofs and wooden walkways.  Yes, I'm nosey and love the chance this gives me to get a glimpse inside these traditional homes and gardens.  You can't see that driving on Routes 58 or 329!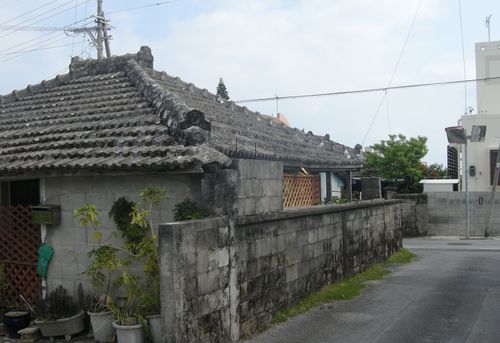 I'm sure I'm quite a sight-to-see pushing my big ol' American jogging stroller, but it's actually the people that I see on my runs that make it more enjoyable. Sometimes it's the farmers in the sugarcane fields or it's an elderly woman quick to comment that my son in the stroller is "Kawaii."  Surprisingly, I would even characterize the construction workers as polite.  The other day, a group of workers kindly halted construction so I could run past their site.  The man directing traffic even did the respectful Japanese "half-bow" as I passed.  Isn't that a pleasant departure from the catcalls of construction workers in the US?!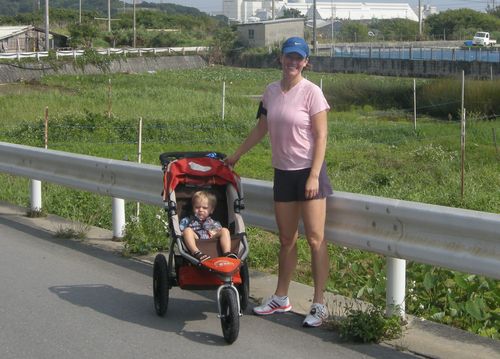 Finally, I don't expect that after reading this, you'll go out and run a marathon.  However, I do hope you'll be inspired to take a pleasant jog out in town.  At the very least, take a nice walk off your usual path.  You, too, may just experience the sights (and sounds and smells) of Okinawa in a whole new light.