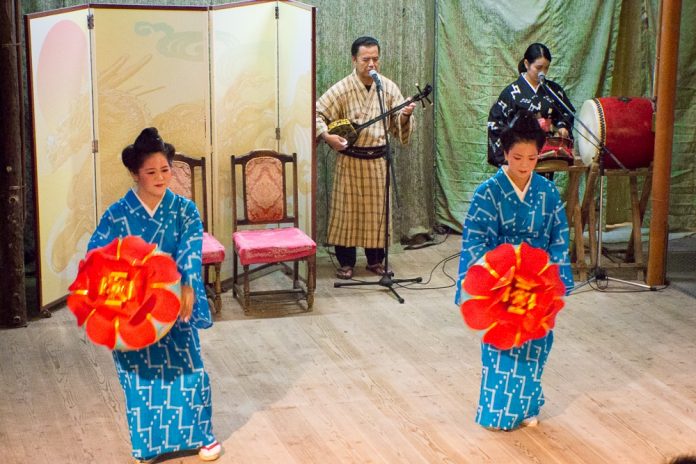 Editor's Note: Ryukyu Mura was originally reviewed on Okinawa Hai on November 1, 2007; you can read a PDF copy of that original review here. The post below is an updated take on this site, published January 22, 2016.
CONTRIBUTED BY MARISSA MATSUZAKI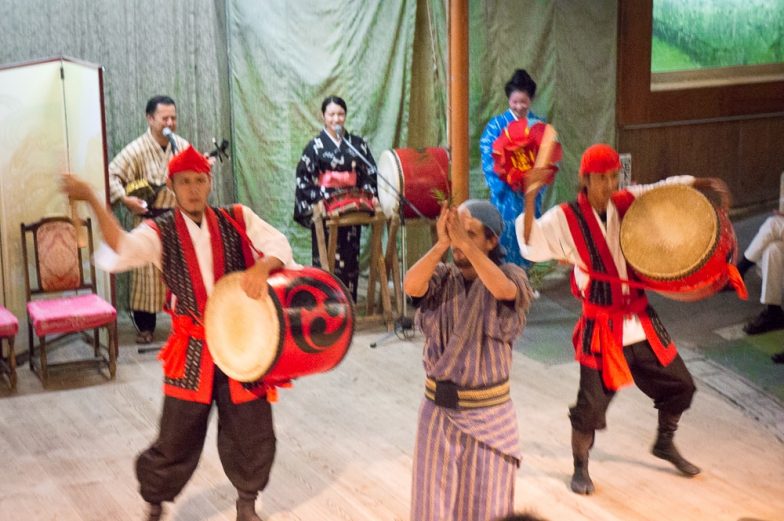 "What do you think you would be most interested in doing when you visit me in Okinawa?" I asked my cousin as we were planning for his summer visit. Without hesitation he said, "I want to experience as much CULTURE as possible." The first place I thought of was Ryukyu Mura.
I discovered Ryukyu Mura by following the elves I noticed on my weekly route down 58 toward Yomitan. Curious about these statues with pointy ears, one Saturday I just followed them and the road signs until I reached Ryukyu Mura. Immediately I stepped back in time and was immersed in a culture of vibrant colors, fragrant curries, traditional melodies, and warm people.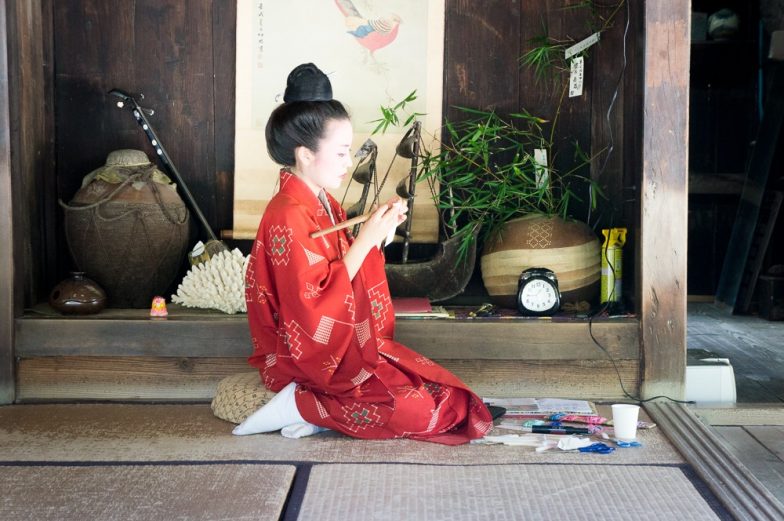 The Japanese word "Mura" translates as village. Ryukyu Mura is a recreation of a traditional village in the Ryukyu Islands (Okinawa was one of the Ryukyu Islands before it became part of the Japanese chain). We enjoyed making our way through the very stroller-friendly paved village that had many shaded areas throughout the course where we could get a break from the hot sun. Throughout the day staff would come walking through or sit in one of the small houses playing traditional instruments and wearing Kimono or Yokata (and if you'd like to rent one to wear through the village you can). Usually as you make your way through you'll have an opportunity to taste traditional teas, soups, or buy food and beverage goods such as cookies or sake. If you purchase a ticket to make a traditional handcraft, you can sit in one of the village houses with a sensei who will instruct you on how to make a picture frame, paint shisas, or paint bingata. When you also purchase a ticket for the Habu show, you're in for a real treat.
We followed the narrow path through a wooded area that led to the theater on the hill. Along the course were informational signs (with English translations) sharing fun facts about Habu and Mongooses. I didn't realize there would be a performance with Eisa Dancers just before the Habu show and it was a real treat! The rhythmic drumming, chanting, and audience participation made the presentation exceptional. After that the Habu handler shared about the snake's behavioral habits and gave an opportunity for pictures with the Habu under his careful supervision. If you are not fluent in Japanese, you can get the gist by paying attention to the handling demonstration. The adorable mongoose made an appearance in the show as well!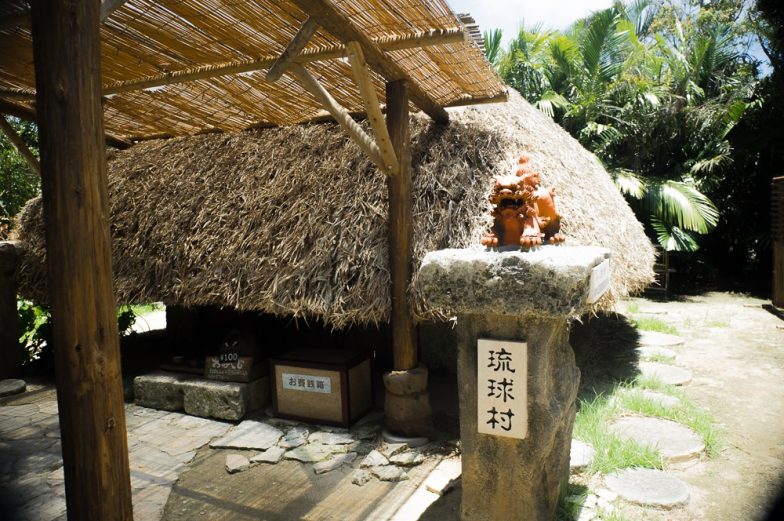 Rounding out the visit we were able to see a water buffalo with a traditional mill, feed carp in the pond, and visit a pottery factory stocked with traditional goods. It was an afternoon full of folk crafts, traditional music, dance, historical artifacts, local food and drinks, fresh air, and even wildlife. My visitor wanted to experience culture and I'm confident that this place delivered.
My final notes to future visitors: A general admission is 800 yen, extra attractions cost a bit more, take 100 yen coins so that the kids can feed the carp, and you can get a package deal through the ITT at Kadena or Foster that includes admission and the Habu show for a little discount. It's a very stroller friendly place, but smaller strollers would be better for attending the show. I recommend you bring water bottles, comfortable shoes, and sun screen. If you haven't already, add Ryuku Mura to your Oki Bucket List!
Hours: 8:30 a.m. – 5:30 p.m.
Payment:
 According to the
website
, adults are ¥1200 and children (under 15) are ¥600, but discount packages are available through ITT. For a full list of prices of activities at Ryukyu Mura, please visit this page:
List of Rates
Address: 〒904-0416 沖縄県国頭郡 恩納村字山田1130
Directions: Ryukyu Mura is located north of Kadena in Onna Village. Take the 58 north past the turns for Torii until you see a digital TV type of thing on the left that says Ryukyu Mura with an arrow to the Left. Turn left and follow the signs for a little ways. You'll see the parking on the right side of the road and the entrance on the left.
Coordinates: 26.4294834, 127.77533819999996
Website: https://www.ryukyumura.co.jp.e.ls.hp.transer.com