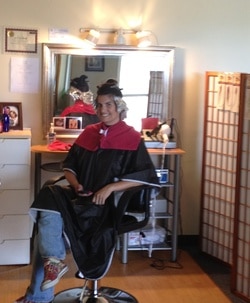 Editor's Note: The owner of this salon has since left Okinawa. We are leaving this post in our archives for those of you who may be looking for it.

Salon Erwani
CONTRIBUTED BY MELISSA JOHNSON
With each move in the last 17 years, there are the immediate priorities — new doctors, dentists, food stores, schools, etc. But then comes the second line essentials — mechanics, restaurants, and HAIR SALON!!! I have found this most challenging on Okinawa. We have been here for 3 months and I have learned a lot in that time. It appears that being blonde is a bit of a challenge here. At one of the American salons, my hair color came out pink. Next, I ventured out to a highly recommended "local spa". They asked me for the formula to do my hair and cancelled my appointment, as they did not feel comfortable doing my color. Yikes! Was I destined to be completely grey for the next two years!
No, a kind friend suggested Jenny Erway of Salon Erwani. Jenny is a Marine Spouse who has opened her own in home salon on Foster. She is fairly new to Okinawa (like me!) but not new to the field. She studied and is licensed in her home state. Please check out her website for far more detailed info. I made my appointment online through her website, with her prices and services clearly listed.
I went today for my appointment. She and I talked through my desired effect for color and the cut. She suggested low-lights and color versus an all over-color to give more depth to my hair. She made me feel very comfortable to say no to her suggestions. But in fact, I was ready for a change, so I told her to do her best. And her best she did!

Salon Erwani Supplies
For the low-lights, she used over 50 foils, most places barely put in 10-20. She was very precise. Then she applied the color throughout my hair. The result was a beautiful blends of colors-blonds and brunette. Though she had only scheduled two hours, the entire process took 4 hours. She never rushed me or her work. She made it clear that she felt strongly about customer satisfaction. If I had to leave within a certain time, I would not have chosen to do the low-lights and would have let her know. She did let me know how long the process would take.
While there, we spoke about her experience. She has cut many types of hair-including ethnic hair (my son is in desperate need of a good cut-and he has had two terrible cuts at American salons here). She allows children to join parents, as long as they are able to self-entertain-with a movie or toys. Though she has just "set up" here, she is ready to bring beautiful hair to Okinawa!
Check out her website and support a military spouse business!
Hours:  Monday – Thursday, 9am – 5pm  (Other arrangements may be made for special occasion styles, weddings, military ball, ect. Feel free to email Jenny with questions)
Website:  salonerwani.com
Directions:  Salon Erwani is located in the Sada Housing area of Camp Foster. Building 1670, room 201.