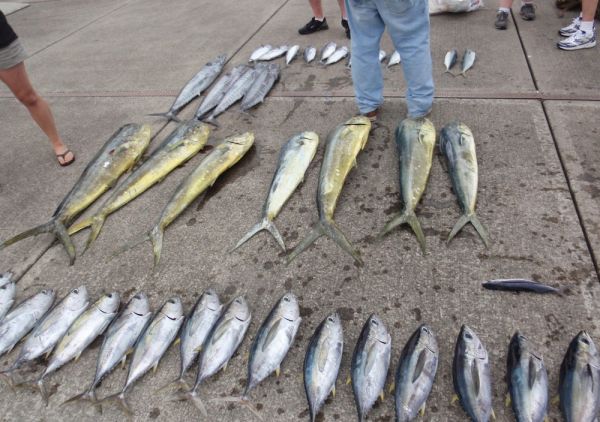 CONTRIBUTED BY AARON LANDIS
Remember the days back home fishing in the local watering hole or lake? Want to tango with larger game, reel in a fish half your size or possibly even bigger than you? There is one great thing about being on an island surrounded by nothing but water: the fish inhabit the waters year round. From mahi mahi, yellow fin tuna, to marlin, there is always something biting.
Rodney Callahan and his partners Jason Bauman and Josh Pollock, along with the knowledgeable boat captains he charters know where the fish are and know how to put you right on top of them. Every trip you go on you will have one of the three along with the captains to help you with everything even if it's your first time or you're an avid deep sea fisher.
Need gear? No problem.
Salty Rods provides gear for those who don't own any, and also provides rods to troll for marlin or whatever wants to bite. Or if you have your own gear you can use that as well.
Be sure to bring your own lunch and snacks; that is one they don't provide since everyone has their own taste in munchies.
As long as you enjoy being out on the open water and fishing you can't go wrong fishing with Rodney and his delightful gang of fishing junkies. They will not stop fishing until everyone catches something, and if they can't get anything to bite they will move all over their "spots" to get the fish that put up a fight.

Salty Catch
Salty Rods has a Facebook page where you can contact Rodney or Jason in order to set up a charter and arrange payments, check out fish they caught on the last trip and keep you up to date on your upcoming trip. Trips normally range from $120.00-$140.00 (depending on Yen rate) meaning all payments they take are in Yen, and every charter they need 8-9 people to sign up.
They also have a webpage where you can order their one of a kind SRF t-shirts that will definitely catch everyone's eye. Once your charter is set up they will give you directions on where to meet up to get to the port where you will leave out of.

Salty Catch 2
The multiple times I have been on a boat with Rodney, Jason, and Josh it's been nothing less than a great experience and I always had something on my line. These guys know what fishing is and definitely love the sport and I am positive they will turn you into a lover of the sport as well. The next time I return to the island I will definitely look them up and schedule charters with them nonstop.
To all the anglers out there: fair seas and TIGHT LINES!
Facebook:  www.facebook.com/#!/saltyrods
Website:  www.saltyrods.com/
Phone:  Rod Callahan  080-3550-0169 or 070-5418-0169
Email: rodney.callahan@yahoo.com