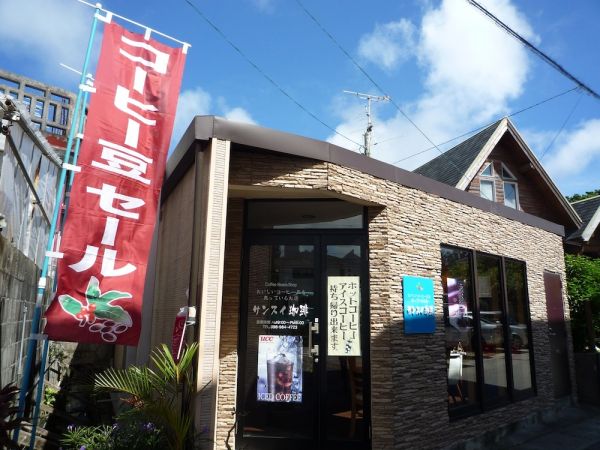 CONTRIBUTED BY NATALIA TSOI
Every day I take the bus to my Japanese language school from Onna village, I see a shiny red banner on a street corner along Route 58. One day, I went to see what it was. It turned out it was a coffee beans shop, called the Sansui Coffee Bean Shop.

Sansui Front
Sansui Coffee provides different type of coffee beans (Brazilian, Mocha, Kilimanjaro, Guatemala, Colombia). The owner also offers his own blends of coffee beans, suitable for regular coffee and café mocha. The beans are freshly roasted in the shop.

Sansui Coffee
The owner is Japanese, but he can speak English. He is very friendly and talked to me while I was browsing the beans. I chose to buy the Brazilian beans, and the owner put in an extra 100g. I love this coffee, it is so creamy and not too bitter when make Espresso at home. I will defiantly buy again.

Sansui Package
In addition to beans, one can order fresh hot or ice coffee for ¥300. The shop has cozy tables and chairs for comfortable drink of a coffee.

Sansui Interior

Sansui Tables
Directions: Sansui Coffee is located in Onna Village near Cape Maeda. Take Route 58 north towards Ryukyu Mura. After you pass Ryukyu Mura, drive for another 5-10 mins until you reach a traffic light. Sansui coffee is straight ahead, there is a red banner and red UCC sign.
Hours: 9:00 am – 6:00 pm
Telephone: 098-964-4723
Website: https://sansuicoffee.ti-da.net
Menu:  Click to enlarge

Sasui Menu