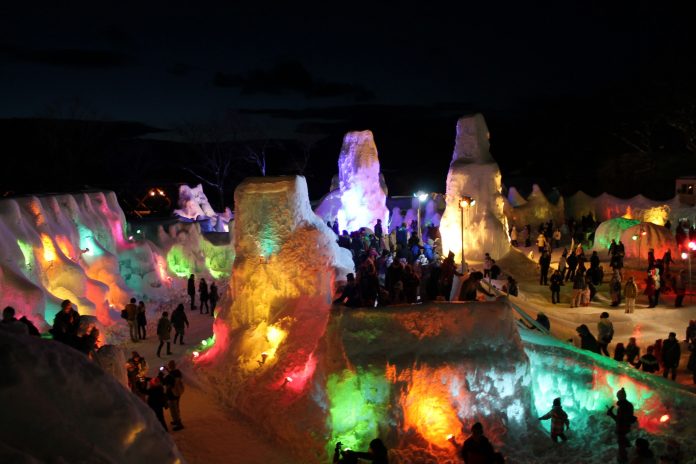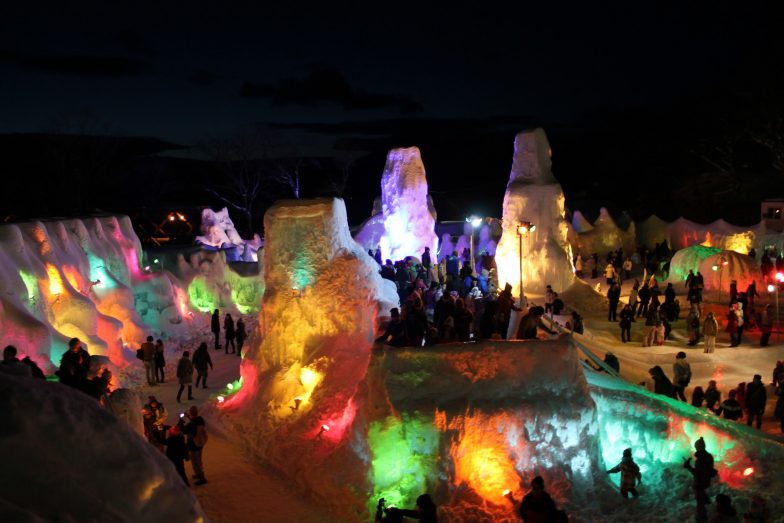 CONTRIBUTED BY MONETTE EAMES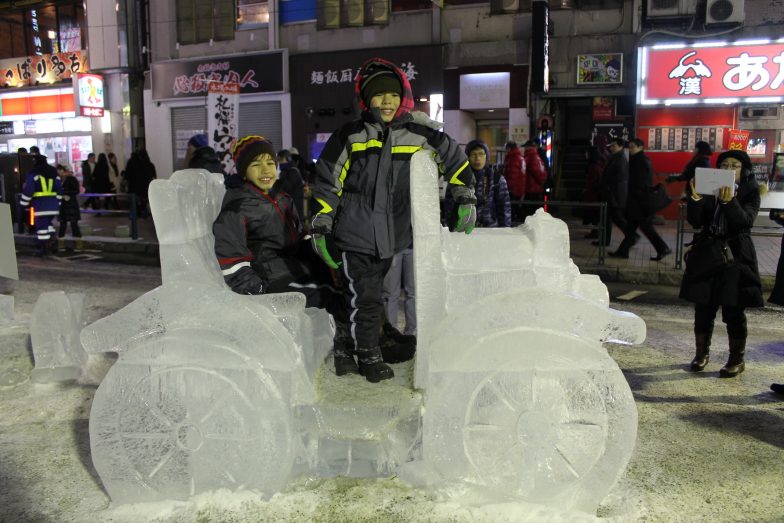 As I write this out, it is a scorching, hot Okinawan day. The armpits are sweating, there is no breeze whatsoever and when you go out, it feels like you're in an oven. But today, I'm thinking of a snowier time. Before I go on, let me say: if you're even thinking of going to Sapporo in February for the Snow Festival, BOOK YOUR ROOMS NOW!!! Now that we've got that out of the way, let me share what my family of five did last February in Sapporo and the neighboring towns.
I knew it would probably be our first and last time experiencing Hokkaido, so I wanted us to experience everything. When I found out how steep the prices were for hotel rooms during the week of the ice festival, I decided to do the last three days of the festival and explore other cities for the rest of the trip. We had a newly turned one-year-old, a six-year-old, and a nine-year-old in tow. Thankfully, I'm married to a Marine with a gung-ho attitude that matches my "We're doing everything!" travelling attitude perfectly.
Also check out our Hokkaido packing list for more tips.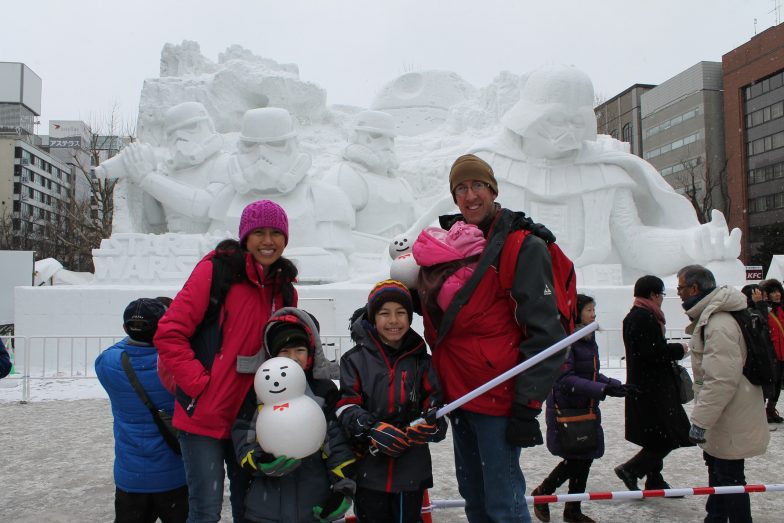 There are three sites for the Sapporo Ice Festival. There is the Odori Site, which is right smack in the middle of downtown Sapporo. This is where the huge ice sculptures are. In addition to all the sculptures, there will be vendors galore, selling food, souvenirs, giving free stuff away, etc.   There will also be a lot of entertainment—music, dance performances, and ski jump competitions, to name a few. The second site is the Tsudome site, this is where you can go down snow slides, snow tubing, and other snow activities. The third site is the Susukino Site, where you'll see more ice sculptures, but on a smaller scale. Details are what really matter here. Don't let the smaller scale keep you away, though. This is where you can play on ice sculptures, sit in an ice bar, and even go in an igloo. You can easily spend a few days visiting these sites. However, do not plan on visiting after the last day, because the day after the festival ends, all the sculptures are destroyed for safety reasons.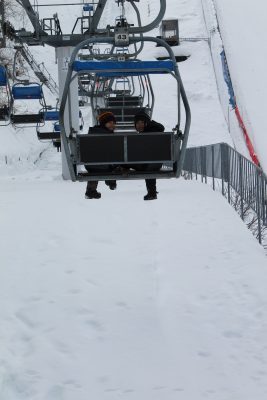 We also visited Mount Okura and Mount Moiwa. Mount Okura is where the 1972 Winter Olympics were hosted. There is also a Winter Sports Museum on site that our kids loved. The ski lift brings you to the top of the mountain and is worth it for the experience of riding and to have a full view of the ski jump. Mount Moiwa is in the middle of Sapporo City where you can see the beautiful view of the city, the Sea of Japan, and Shokanbetsu Peak. Our family loved the views, but loved the very deep, soft, untouched snow around the peak area even more. We spent about an hour playing in the snow and taking pictures there with the kids because it was so pristine. Everywhere else in the city the snow is piled, shoveled, etc., but on top of Mount Moiwa, we had a couple feet of untouched snow to enjoy for as long as we could take the cold!
Shiroi Koibito Chocolate Factory was also a great stop. My children called this place Willy Wonka's Factory, and it did indeed look similar. This place is known for the Shiroi Koibito cookie, which is two butter cookies with chocolate in between. There was a lot to see and do at the factory. Inside the factory, in addition to seeing how the cookies were made, there was a museum with a variety of things from the history of different types of chocolate, to antiques, to a collection of old record players and music from the heyday of the chocolate production and much more.   If you need a break from it all, they have a restaurant that serves you all the yummy sweetness you desire. You can also decorate cookies and cakes here for a fee. Outside the buildings, in the center courtyard of the factory, is a genuine winter wonderland, where we went tubing and played in dozens and dozens of miniature houses. The kids decided to have a snowball fight here and it looked like so much fun, that mom and dad joined in, going house to house and on the roofs and over and under the little bridges bombing each other and the occasional laughing Japanese tourist with snowballs. This was one of the best memories of our trip! At the top of the hour, there is a musical demonstration with figurines that pop out of the top of the buildings – very cool.
We also visited Ramen Alley on one of the nights. We were going to try to figure out which Ramen shop was 'the best,' but given that we were a family of five, freezing and hungry, we decided to just go to the first shop that had seats available for us all. Note that the shops here don't have much wiggle room as they try to pack everyone in. I can't say it was the best ramen ever, but it wasn't bad and I think just being able to say we went to Ramen Alley does it for me. If you have time to find the 'best' place, please reply with the location to this post!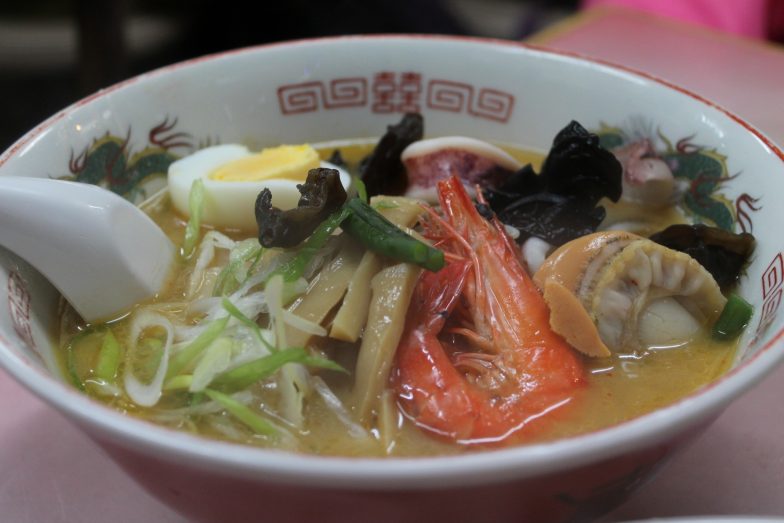 We took a tour to Asahiyama Zoo in Asahikawa, which is the northernmost zoo in the country, and it was snowing the whole time we were there. It's a great zoo where many of the animal enclosures enable visitors to really get close. Imagine sticking your head into a huge tube and having a wolf walk around your head or standing right under a giraffe as he eats his lunch. The highlight for the zoo was the March of the Penguins where a bunch of penguins took a walk in the snow right beside the gathered crowds. It was amazing that none of the penguins walked into the crowds or strayed away.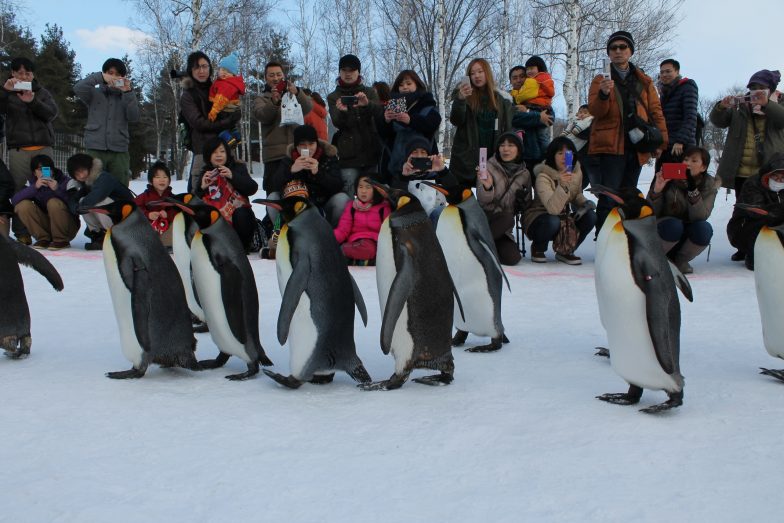 Since we also wanted to visit Otaru (a nearby town) for their Ice Festival, we switched hotels after four days of being in downtown Sapporo. The train ride to Otaru was full of spectacular views of Ishikari Bay. Otaru is a town full of glass shops, restaurants, malls, brick warehouses, cobbled streets and so much more. Add the snow drifts and icicles to the scene, and you feel like you are walking through the movie set of "Frozen."
The festival at the Otaru Canal really put me in a nostalgic mood. Unlike the busyness and craziness of Sapporo, the Otaru Festival is peaceful with ice candles and lights everywhere, placed in the snowbanks and dangling over a spectacular canal covered in ice. Even the crowds seem to be at peace. This was also the place where my family and I decided to make our own snow sculpture. Of all the sculptures we saw, none of them resembled a real American snowman, so we made one right there beside the walk amongst all the other snow sculptures. Upon creation, we stood back and photographed it, and lo and behold other visitors and passersby ooohed and aaaahed over it and also took pictures. We were proud to have contributed!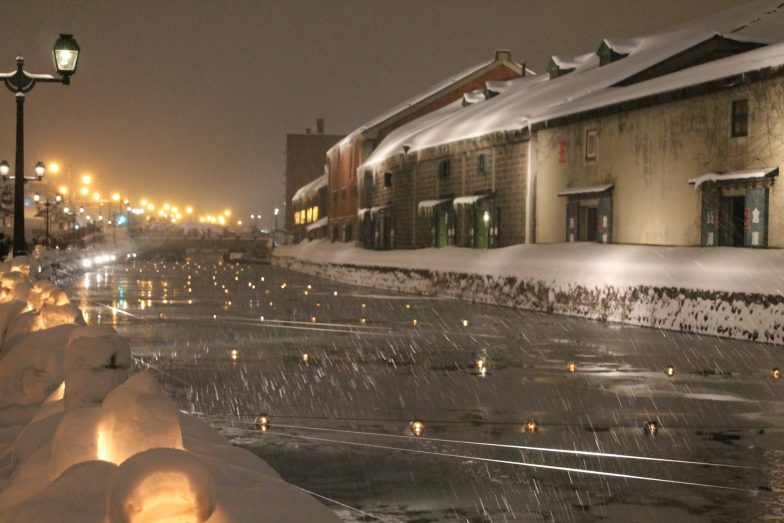 One interesting place we visited in Otaru was the Bank of Japan Museum. One of the highlights was a demonstration area where you can try to lift 100 million yen. There was also a vault with huge stainless steel doors that you could look into. They have great displays showing the history of printing money, explaining how they secure shipments of cash, and how they distribute bank notes across Japan. Very cool stuff, and we didn't have nearly enough time here with only an hour.
Another place worth visiting was the Otaru Orgel Museum. This is not a museum, but instead a huge red brick building full of tens of thousands of intricate, detailed music boxes of every possible size and shape. We even saw music boxes that looked like sushi. There are two or three levels, and the inside of the place must be what Gepetto's factory looked like, because it is straight out of a fairytale. Be sure to visit the very top level for some less expensive items. You can also design your own music box with different materials.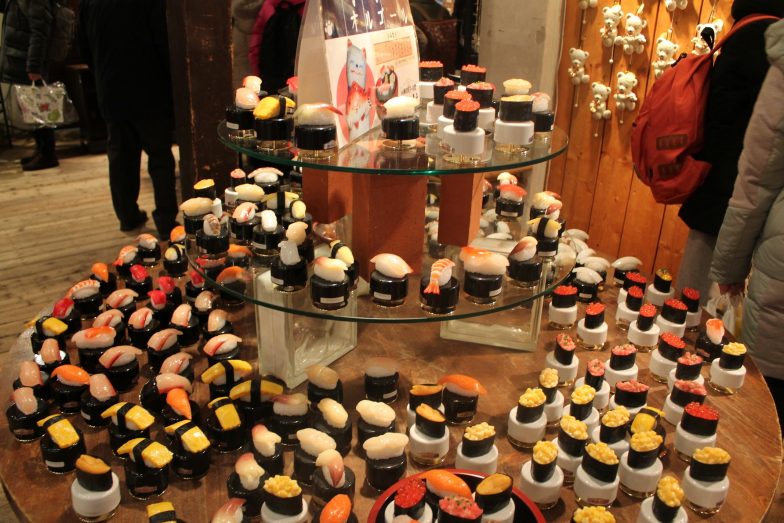 The final and farthest ice festival we went to was in Lake Shikotsu. There were huge pillars of colored ice, tunnels that extended for hundreds of feet, huge house and hotel-sized ice structures that you climb and walk around, ice skating rink, horse rides, ice slides, fireworks, onsens (hot baths), and lots of yummy food. All the sculptures are made from spraying water from Lake Shikotsu and freezing it, before putting colorful lights everywhere. This was a spectacular place and if you can afford the time to go, please do not miss it. The park looked very extensive, with paths leading off into many other parts, and there may be more to see here that we missed in our short time.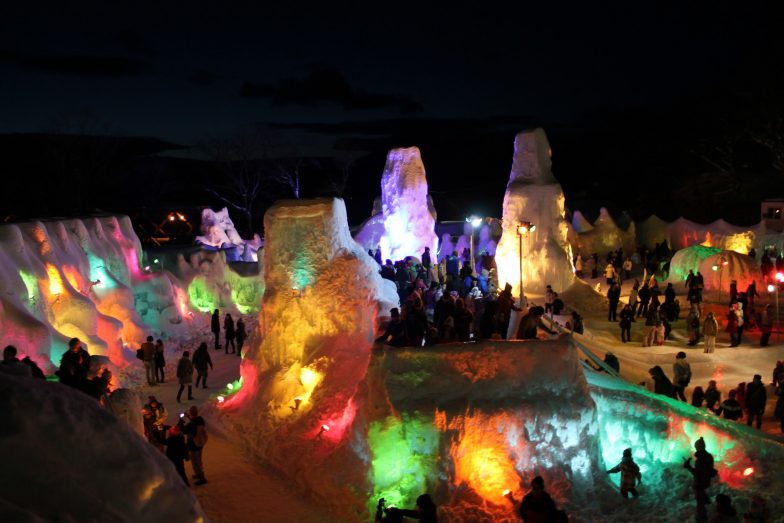 We attempted to go skiing with the older kids and even had classes planned. But when we got to the reserved ski school, they only accepted yen. We didn't have enough, so we went to another spot. Unfortunately, the second place didn't have skis small enough for the kids. Oh, well. We tried! Maybe it was a good thing they didn't get to do it. It saved us a lot of money! We ended up renting tubes and going up to the slopes anyway.  We made our own ice slides, snow angels, snowmen, and had another snowball fight. We all still had a blast.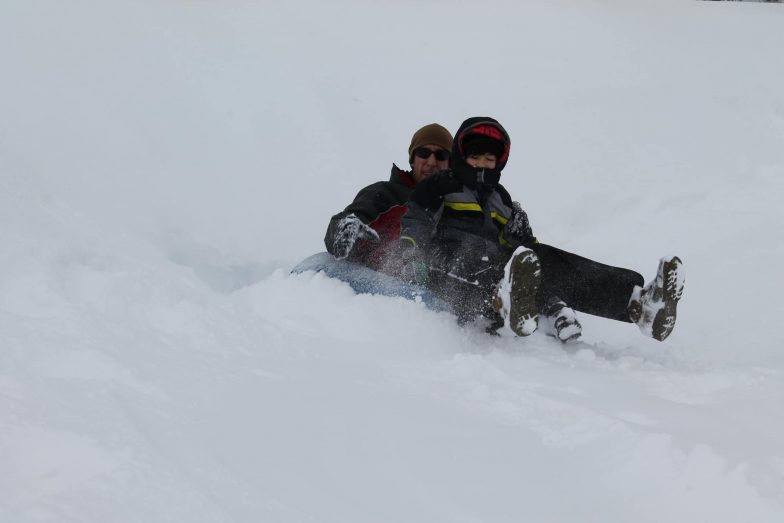 There were two things I really wanted to do that we didn't get to because of time and because we had a baby. I really wanted us to go to Abashiri to go on an icebreaker cruise. It would have been a four-hour train ride to Abashiri and even when we got there, it wasn't a guarantee that the weather would cooperate. The other was to go to the Hokkaido Coca-Cola Bottling Factory, but we spent the time playing in the snow instead.
Wait. There is one more thing: I wish I ate more seafood. We ate a lot, but there is so much and it is so good that you can't miss the chance for huge scallops, crablegs, fish or any of the food from hundreds of seafood shops throughout the area. So those are the three things I wish we'd done while in Hokkaido. Hokkaido is stunningly beautiful in the winter and we enjoyed this trip of a lifetime.