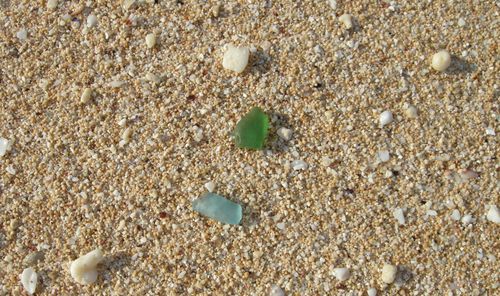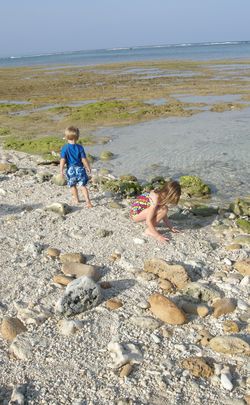 CONTRIBUTED BY JOY BARNES
As a "Florida Girl" I've spent much time around the water and in the sand.  I've collected pretty shells, an occasional shark's tooth and even some beautiful sand dollars.  However, it wasn't until I spent time on Okinawan beaches that I discovered sea glass.  Now, searching for sea glass has become one of my family's favorite weekend activities.
Sea glass is broken pieces of glass that have been tumbled in the waves, on rocks, and on sand, until it has a smooth, worn appearance.  It is usually made from broken bottles or discarded jars, but occasionally the sea glass on Okinawa comes from the antique fishing balls.  I've also found little bits of pottery with the same worn effect, as well as some glass bits with kanji on them.   Most of the glass we find is white, brown and light green, but we've found some nice blues as well as a few rare amber-colored glass.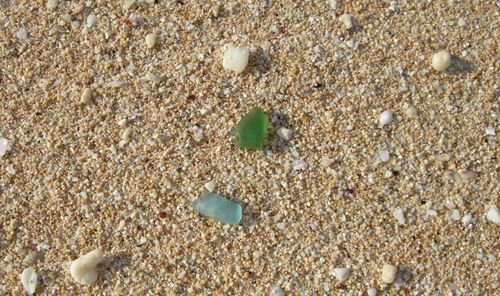 Some people enjoy the hobby of researching the origins of their sea glass, while others make beautiful jewelry from the pieces they find.  For me, I simply enjoy the hunt.  It is an activity that brings together two of my favorite things in life- time with my family and a beautiful day at the beach.  I've always thought there is something so relaxing, even healing, about a walk on the beach; add to that the sweetness of the excitement my kids get from finding little "treasures" on these walks and I have the perfect combination.
It's a great activity for any age.  My two year old son gets so proud when he spots a piece of glass by himself and my six year old daughter likes the challenge of finding a rare blue glass or a piece of pottery.   Even my husband and I like the satisfaction of finding a unique, beautiful colored glass.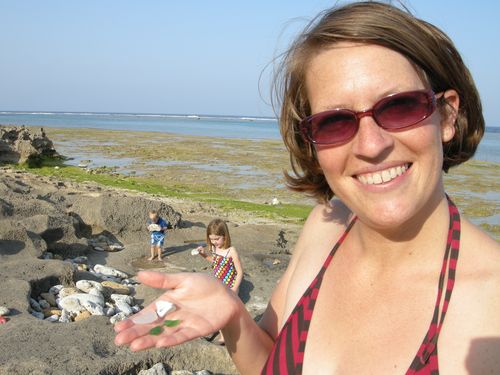 We've found sea glass on beaches all over Okinawa, but the best beaches for sea glass tend to be rockier and more secluded.  We have the best luck finding sea glass out on Ikei and Hamahiga Islands.  We love a quiet stretch of rocky beach out at Ikei Island's Big Time Resort.  It usually costs 500 yen to park at the resort but the beach is beautiful and in addition to searching for sea glass, there are great tide pools for the little ones to explore.  (My kids always find sea cucumbers and an occasional star fish there.)  There are also secluded stretches of beach tucked away on both Ikei and Hamahiga so if you see a glimpse of sand, pull the car over, hop out and go exploring!
Okinawa is perfect for sea glass hunting year round.  In the winter, throw on your sweatshirt and go for a nice stroll on the beach.  In the heat of the summer, the beach is one of the few places outdoors to keep cool.   What's more, it's a great free activity for the family!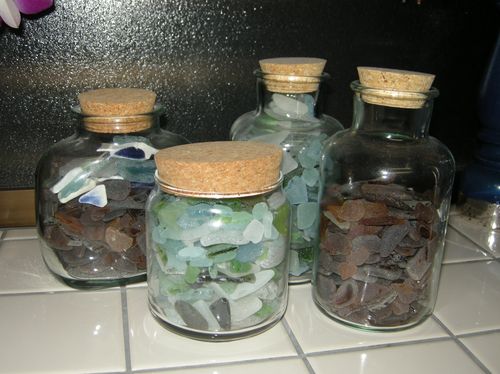 After an afternoon of searching for sea glass, my husband cleans off the glass and my kids like the task of sorting the glass by color.  We proudly display our treasures in glass jars in our kitchen. They are a simple souvenir from Okinawa that will eventually adorn our Florida retirement home. Our sea glass will always serve as a reminder of fond family times on the beaches of Okinawa.