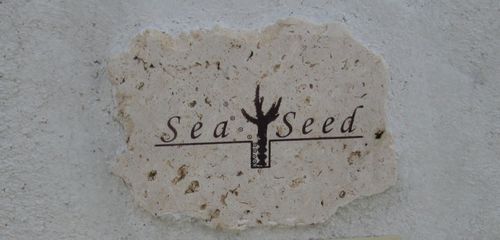 CONTRIBUTED BY THERESA COCKHILL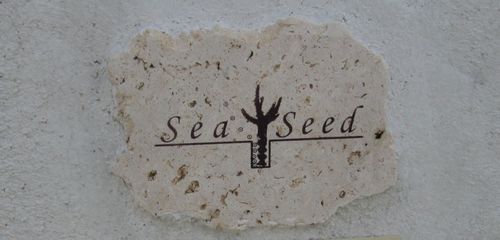 One of the things I love about Okinawa is its complete randomness.  Most things are unexpected, and everyday can literally be an adventure to the American traveler.  One of my most favorite places is Gala in Yomitan, and if you haven't been there then you do not know what you are missing!  This story however is not about Gala, but about Sea Seed, one of my random adventures.
Sea Seed is located right by Gala and if you are touring the Salt Factory area and decided to go to the gift shop then like me, you have passed the advertisement for Sea Seed.  I admit in my ignorance I looked at the pictures in passing, but since everything was written in Kanji/Kana I breezed on by.  I feel now, that was like buying the winning lottery ticket without ever checking the winning numbers.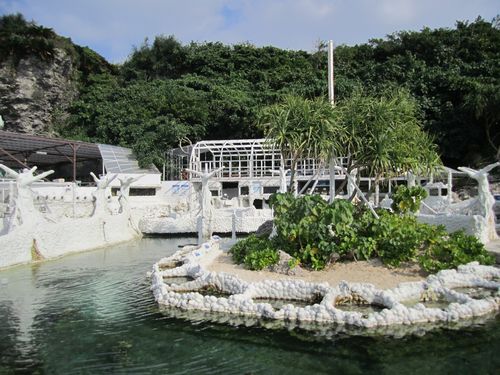 So what is Sea Seed?  Well, it is coral farming.  They are a small group that grows and replants coral in Okinawa to help preserve the island.  That should be the main reason you should go!  It is literally amazing.  On the outside it looks like a prop for my Big Fat Greek Wedding, but on the inside it is Finding Nemo!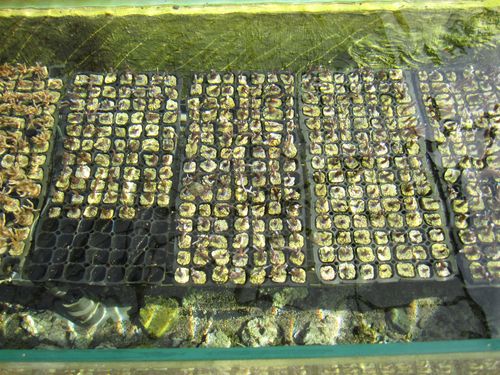 All over in small bowls are coral and fish, as well as in the tanks.  It's possible, if you do not snorkel or dive, to see what is truly amazing about this island's sea life.  And are you ready for the bonus?  Well, we got to hold baby sea turtles!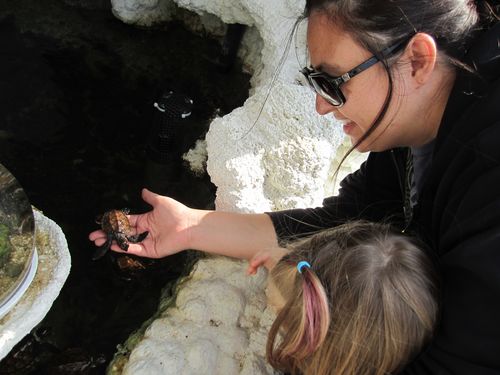 In some of the tanks you are allowed to touch all you want!  Upside down jellyfish, sea urchin, sea cucumbers and starfish. You can even feed the fish seaweed! Throw in a clump and watch a rainbow of a feeding frenzy!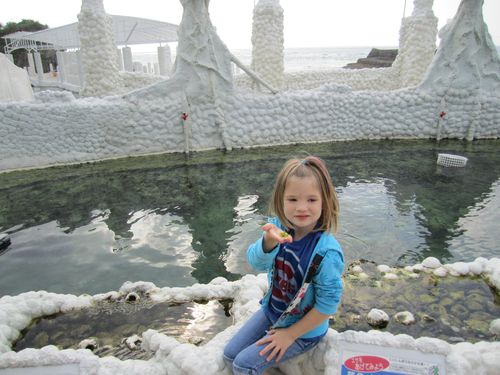 Even though everything is written in kanji, pictures will allow you to muddle through and still enjoy the beauty of what this group is doing for Okinawa, and with your participation, you too are helping the cause.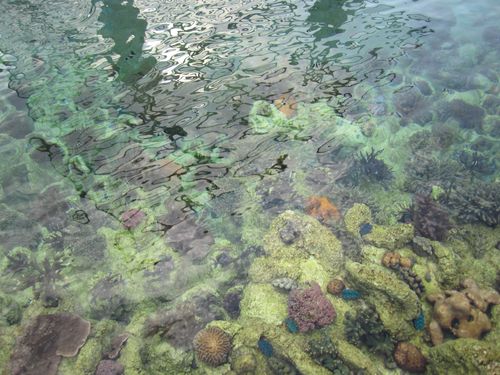 **Please remember that there are seven species of sea turtles, all of which are endangered.  Turtles carry salmonella, so while this is an empowering experience, help your little ones to be very careful and bring some hand sanitizer for afterwards.
Price: 900 Yen for Adults, 600 Yen for Students, Free for children
Hours: 10 am – 5 pm
Phone:  Work in progress
Directions:  Take 58 to 6 where you will turn left.  Keep going past Torii Station and look for white signs that say GALA, follow the arrows to the big fork in the road and veer left….keep following the signs to GALA and park in their parking lot.  If you look over the wall towards the ocean you will see a huge stone platform (see below) and below it a white concrete Greek looking structure, that is Sea Seed.  Follow the stonewall to the right until you see the drive way…it is steep so be prepared, down is always easier!  Walk through the gate and down and you will see it on your left and the ocean on your right.