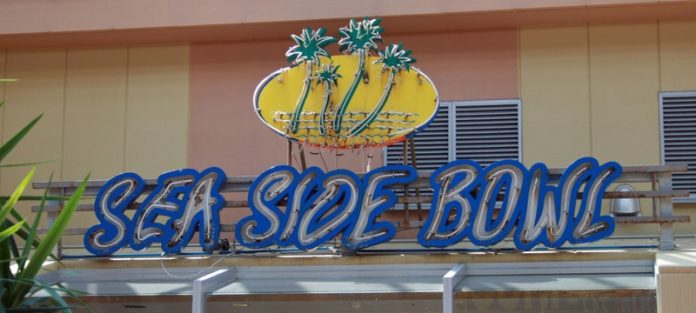 CONTRIBUTED BY HEATHER NORDELL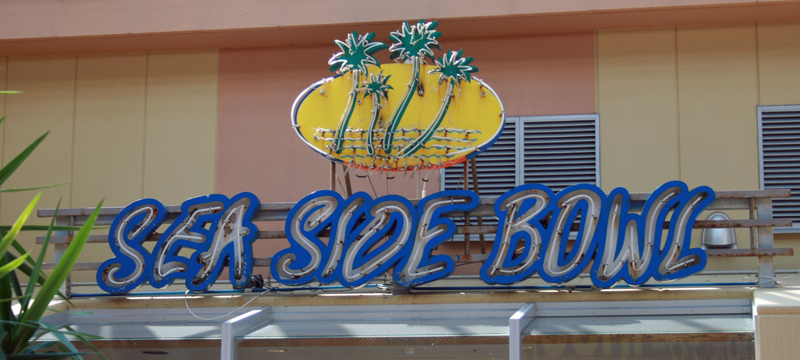 Since I was little I have loved to watch people bowl. There is something about watching the ball roll quickly down the lane and knocking all of the pins over – it really is a beautiful sport. Now if I was the one bowling it would be more like "watching the ball roll down the lane and then right before it hits a pin plop into the gutter". I am terrible at bowling. So bad that my 5-year-old beats me at every game even when I use bumpers. I still love to play and have been enjoying the various places to bowl on base.
I was really excited to find a bowling alley off base as well. We ventured over to Seaside Bowling Alley in Seaside Square which is at the back of American Village. It is a really neat little bowling alley located on the second floor above Sega. The atmosphere is wonderful and has a very retro vibe to it. They have windows along the wall so you can at the ocean as you bowl. You rent your shoes from a nifty vending type machine. Written above all of the sizes are their US equivalent. They do run small though so you may want to bring your own shoes if your feet are large.
If you work up an appetite after bowling a Turkey (three strikes) you can grab a bite to eat at the restaurant located inside the bowling alley. They were not open when we went during the week but the menu did look good. There is also your usual assortment of vending machines full of drinks and tasty treats. If the kiddos get bored while bowling there is also a small arcade. Seaside Bowl was a lot of fun and not too far away.
I also heard that they do cosmic bowling at night – has anyone every been?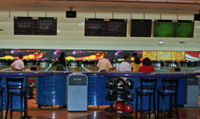 Prices for Weekdays:
Adult 10:00-18:00 300 ¥18:00 till close 400 ¥
Student 10:00-18:00 250 ¥ 18:00 till close 300 ¥
Children 200 ¥
Senior 300 ¥
Saturday and Sunday Prices:
Adult 300 ¥ till 12:00 then 500 ¥ till close
Student 300 ¥ till 12:00 then 400 ¥ till close
Children 250 ¥
Senior 300 ¥