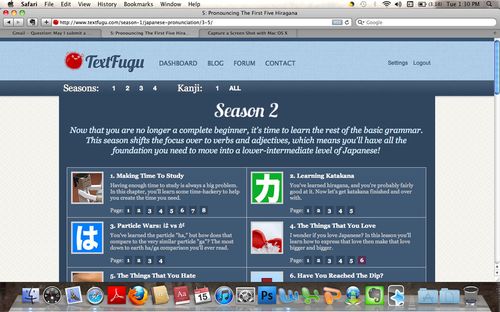 CONTRIBUTED BY ERIN SCHALK
This is the last in a series on learning Japanese on your own.  Click for Part I or Part II.
Don't panic!  Just because there is "fugu" in the name, doesn't mean consuming potentially poisonous fish is necessary for furthering your Japanese studies!  TextFugu is actually a Japanese textbook – online.  Is there really a significant difference between an online and a traditional textbook?  Yes, there is!
The biggest pro of having an online textbook is that it is constantly being updated with new and improved content.  If you've ever had the misfortune of taking a class which required the absolute latest version of a textbook, forcing you to shell out well over $100 to acquire it, you will see why having an online textbook is advantageous.  And, if you tried to sell that book back, only to find that the publisher brought out yet another version (with a total of two to three sentences changed, respectively) and were given a whole $10 for it, you definitely see the advantages of an untraditional textbook.  Hooray!  Now I can go buy lunch with my $10.  Thanks, buddy.
TextFugu also takes a very "human" approach to learning Japanese in order to keep you motivated.  For example, each lesson begins with an inspirational quote, and threads of the humorous voice of the author, Koichi, are woven through every lesson.  One of Koichi's main goals is to keep learning fun so you want to study Japanese day after day.  Also, lessons are also broken up into smaller chunks than the average textbook chapter, making self-learning appear much less daunting, especially for those of us with shorter attention spans. And, if you purchase a membership, you are allowed access to the TextFugu forums so you can interact with and glean advice from other Japanese learners.  Koichi also encourages members of TextFugu to e-mail him with any Japanese questions that they have so he can help.
In addition to striving to keep you motivated, TextFugu gives tips on how to study more efficiently, such as designating one spot in the house for Japanese study only, and keeping that area tidy to avoid distractions.  TextFugu also points you to online learning resources to reinforce vocabulary terms, such as electronic flashcards that adjust to which items you have learned and those you still need to review.
The cost of TextFugu depends on your commitment level and how much you are willing to spend.  You can go through the first six lessons for free to see how you like it.  If you wish to continue, you will have to select a payment plan. You can pay $20 per month for the textbook, or you can commit to a lifetime membership for one payment of $120, allowing you access to all new lessons and updates without additional fees.
Whatever method you choose, I wish you good luck!!