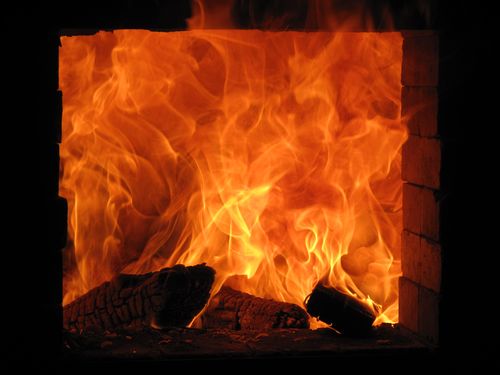 CONTRIBUTED BY STEVE SINGER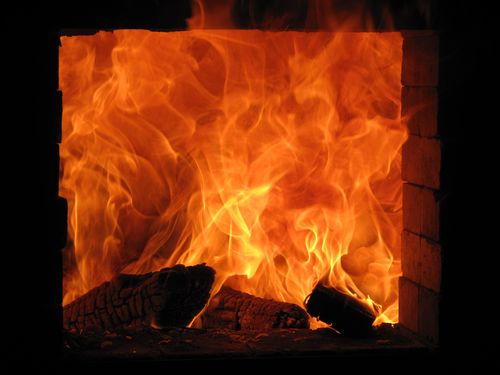 Like FIRE?  If you're going to Nago, enjoy nature, or just want to get off the radar, you may want to check out a wood-fire ceramic kiln firing in Nago. INTENSE is the only way to describe it.  The workshop is owned by an ex-Navy corpsman, Nicholas Centala, who originally built the kiln for a NPO to teach ceramics to persons with learning disabilities and to promote and carry on the ancient ceramic firing process using only wood to heat the kiln.  This kiln is 5 meters long, made of 3,200 bricks, uses 16 tons of refuse wood, and fires to 1/10th the temperature of the sun (2,280) for 4 days.  I've never felt heat like this! The fire reminded me of that scene in Raider's of the Lost Ark when they opened the ark and the white angle demons got out. The pieces inside were white hot and even on a cold New Year's Eve I had to take a few steps when they opened the fire box to stoke the kiln.
I was lucky to go during the firing, because the place was bustling with people who came to work or watch the fire.  The firings only take place 4 times a year due to the massive size of the kiln. I met good people of several nationalities, kicked back in the woods for a while, and Nicholas threw a mean barbeque for the folks that made it til the third day. There was also a large gallery space in the "chill room" and a small workshop where I got to make something of my own to put in the next firing in April.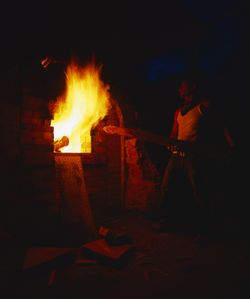 The workshop and kiln site are nestled 600 meters in the jungle of Nago on a one-acre plot not far from the Pineapple Park.  I got to see alot of nature, a few birds and lizards, and the stars at night were the brightest I've seen short of Hedo.  It was awesome to see this side of Okinawa and I got to get my hands dirty cutting wood and helping out around the kiln.  We had a big bon-fire for the New Year's countdown and about a dozen people showed up to do a champagne toast.  I might not remember all the names and faces, but I'll never forget where I was on New Year's Day 2011!
There are occasional open house and free kiln tours.  It was a very cool spot, the owner is a nut, and he introduced me to a beach for snorkeling and a few smaller attractions I never saw in the guide books.
Directions:  Though kind of hidden away, it wasn't too hard to find.  Take the 58 or the Interchange north into Nago and turn left on the 84 towards Pineapple Park, keep driving til you see the sign above for Motobu town and the road becomes two lanes, about 200 meters further you will see a big yellow and red sign that says "ceramics", make a left there and drive 1,400 meters "exactly" to the next sign and make a left.  You zig zag through the jungle a bit, but as long as you stay on the path you can't miss it.
Website:  There is also a homepage where I later found a map: www.sentorayaki.com
Phone:  Contact the workshop directly at 090-5499-4262.
Hours:  The place is open most weekends and closed every tuesday but weekdays are by appointment until 10pm.
Details/Prices:  The fire viewings are free but there is also a workshop where individuals groups can make things of their own by appointment.  Groups are also welcome to barbeque up there and even camp out.  Groups can either bring their own food and drink and use the kitchen and bbq or they can request a bbq plan at an additional cost of $10 to $20 a head.  Individual cost is $40 for one kilo of clay which is a bit bigger than a softball and can make a plate 1cm thick about as big as an A4 size sheet of paper. The cost for groups starts at $20 a head and they get 500 grams of clay (about as big as a baseball) or double for $40.  There is also a hobby plan for regulars or enthusiasts, they pay $100 for a 40cmX40cm space in the kiln and clay is $2 a kilo.  All these plans are cheaper than other public kilns which use gas or electric kilns and those kilns do not have native English speakers or coffee/tea service included.  Nicholas can help the students to make just about anything.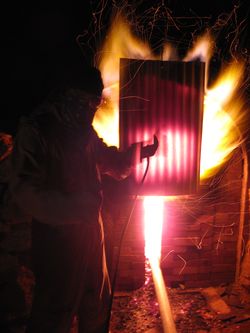 The only downside to the wood-burner is that it can take a few months to get pieces back depending on when they were made.  The next unloading will be in late April.  Volunteers are always welcome and students are encouraged to take part in the various steps of the kiln process as well.  It is a great spot for birthday parties, ladies groups, art and culture enthusiasts, and nature photographers.  There is usually some kind of work or activity going on but its often pretty quiet compared to other places bustling with tourists.  Obedient pets and kids are not shunned, but either might require a tether if they are a safety risk.
The cherry blossoms are in bloom in February, but the kiln site and workshop are surrounded by nature year round and Spring brings different insects and birds plus the quickly growing flora.  There is also a hidden *magic banyan tree*, a few fruit trees, and cave that was used as a shelter by someone during the war.  It is a 20 minute drive to Sesoko Beach, the Aquarium, and Neo Park.