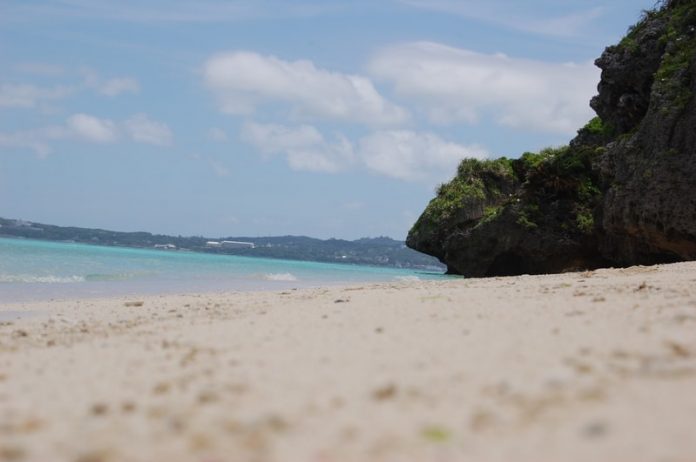 CONTRIBUTED BY DANIELA
Remote, white sand, how I long for you. I am determined. Google Earth is my best friend and off we go.
I heard about this beach. Envied my neighbors that went diving from the beach! I have to go there.
Memorial day weekend and the German in me is surfacing once again; I have an itinerary!
We leave about 9:00 get to Sesoko island about 11:00. Spend a couple of hours, eat lunch that we brought and then go to Pizza in the Sky. Perfect!
Here are my scores:
Accessibility-9
Amenities-4
Facilities-5
Cleanliness-10
Kid Friendly-10
Life Guard-yes
Booties Needed-no
Parking-0
Low Tide/High Tide-10
Surrounding Area-3
Daniela Score- 3
Sesoko island is west of the Motubo Peninsula and about a 2 hour drive from Kadena if you don't take the Express Way.
I heard about this beach and was very excited to see it. We looked at Google Earth and knew it was just beautiful. So, off we go at about 9:00 a.m. I love the drive up the West Coast so that is why I didn't choose the Express Way.
We get to the island around 11:00 and run into the biggest construction site ever! This was very disappointing. The road finally gives way to a small lot with bathrooms and changing cabins. A local person informs us we can't park there. He points us back to the parking lot with the 1.500 yen sign. Alright, we have come all this way. My husband walked to the beach and assured me "it's a nice one". We park and pay the 1.500 yen. The attendant writes 3 people on the ticket. No problems. A van appears, picks us up , and drives us down to the beach.
It is indeed beautiful. White sand, no booties needed, great for low tide and snorkeling. This beach would be great for families and adventures people alike. With some planning that is. Pack a lunch/snack whatever as the only thing available is drinks. This beach is huge and has a swimming area, but the walk there is longer than I want to walk. You can rent lounge chairs and umbrellas, but again, it's quite a walk. We went to the right of the entrance as my husband spotted some shade under the cliffs. He was so smart for hanging out in there as I got my worst sunburn ever. It took me 9 days to get rid of the red and I still have the heat allergy. Be forewarned!
There is a bathroom just as you enter the beach and a water hose with fresh water.
The real disappointment started when we tried to get back to the parking area and the attendant tried to charge us another 500 yen. She stated that parking was 500 yen so the other 1000 was for 2 people. Our family has 3 people. Yet they drove us down there without charging us extra. Why do we have to pay for the ride up? Either way, this is what I learned; drive down to the bathroom/changing area. Make a u-turn and park just above that area on the right side of the road Okinawa style. You don't have to pay and everybody else does it too. Perfect!
All in all this is a great beach, but the time to get to it and the parking hassles don't warrant a great score from me. I can easily go without ever visiting this beach again. Sorry to say as it is really pretty, just not worth the effort. There are beaches like this much closer! If you are going to Pizza in the Sky however and want to see some beach before hand, by all means this is for you.
Directions:
From Kadena AB Gate 1 take a right and go north on 58. Go all the way to Nago then take a left a 449. Take a left to Sesoko island. After the houses end take a right. Follow the signs. This might change as construction in on going.