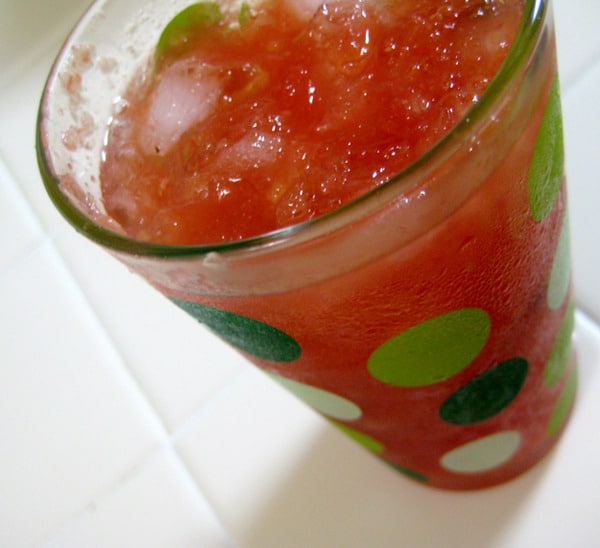 CONTRIBUTED BY KELLY ZENKEWICH
Last week, Kelly started her list of seven great ways to use up those millions of little shikwasa that can be found in every corner market on Okinawa.  To read the first four ideas, click HERE.  And now back to Kelly…
5: Shikwasa & watermelon mint daquiri

shikwasa06
This recipe was born after my fridge froze a very expensive slice of watermelon.
• 4 cups peeled, seeded and cubed watermelon (about 1/6 of a watermelon)
• 1/2 cup rum (I used dark, most people use light)
• 1/4 cup shikwasa juice
• 2 tablespoons sugar syrup (You can also use 1/4 cup triple sec)
• two ice cubes
• 2 tablespoons mint
Blend ingredients together. Serve immediately. Makes 5 cups.
6: Shikwasa blueberry muffins
I have yet to make this but I think it would be good. I baked a lot back home but in Japan I find my tiny off base oven a real inconvenience and prefer not to waste time and money experimenting with temperatures and baking times.
• 2 cups all-purpose flour
• 1/2 cup sugar
• 1 tablespoon baking powder
• 1/2 teaspoon salt
• 1 egg
• 3/4 cup milk
• 1/3 cup vegetable oil
• 2 tablespoons shikwasa juice (about 2 shikwasas)
• 1/2 cup frozen blueberries, tossed in 2 tablespoons flour
In a large bowl combine the flour, sugar, baking powder and salt. In a small bowl beat the egg, milk and oil. Pour into the dry ingredients and stir just until moistened. Fold in the blueberries and shikwasa juice. Fill greased or paper-lined muffin cups three-fourths full and bake at 400 for 18-20 minutes. Top with shikwasa zest sugar if you like. This makes one dozen muffins. You could also turn it in mini loaves.
7: Shikwasa pie parfait / Shikwasa curd

shikwasa08
This is the most time intensive recipe for using shikwasas, but I thought it was the best use.
• 1/2 – 3/4 cups orange juice from approximately 20 shikwasas
• 1 tablespoon lemon juice
• 1 large egg
• 2 large yolks
• 1/4 cup granulated sugar
• 4 tablespoons unsalted butter, cut into chunks and softened
• pinch of salt
Pour the shikwasa juice into a small sauce pan over medium-high heat. Bring the juice to a rapid simmer and let it reduce down to approximately 1/4 cup. This should take 2-4 minutes.
Transfer the juice to a measuring cup to cool. Stir in the lemon juice.
In a separate bowl, whisk together the egg, yolks, and sugar. When the juice has cooled to room temperature, whisk it into the egg mixture in a steady stream.
Pour the egg and juice mixture back into your small sauce pan and set it over medium heat. Stir slowly but constantly until the mixture has thickened to a pudding-like consistency – about 6-8 minutes.
Pour the mixture into a clean bowl. Stir in the butter and the pinch of salt while the curd is still warm. Store the curd in a clean jar with a lid. It will keep refrigerated for about a week.
I served this curd over pancakes, and layered with freshly whipped cream and graham cracker crumbs as a sort of "pie." It would be great on toast, in tart cups…all sorts of situations.
In closing, shikwasas are wonderful, and they will be one of the local products I will miss when I return home. They have a load of seeds so straining is almost necessary, but the juice to size pay off is pretty good. Try using a shikwasa instead of a lime or lemon in your favorite recipe – you might be pleasantly surprised.