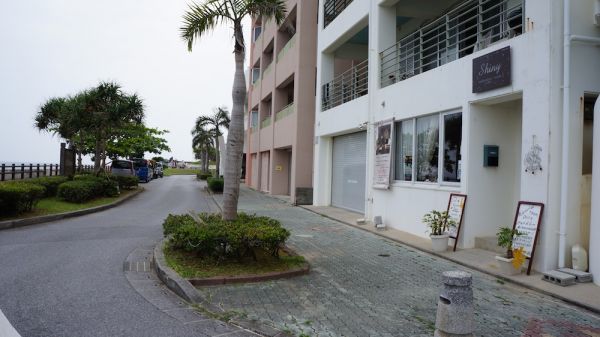 CONTRIBUTED BY ELAINE ROBINSON

Shiny Exterior
Once in a while, it is nice to be able to take a break, relax and, well, get a good massage. Recently, I discovered a wonderful massage place near my house. It is called Shiny Relaxation Room. I've passed by it many times and one day, I finally decided to try it.

Shiny Massage Room
The place is small but has a very Zen touch to it that you just couldn't help but feel relaxed the moment you step in. The owner, Kana, is also the massage therapist. As she is a one-person team, she only takes one appointment at a time. She offers Aromabody, Thai Massage, Reflexology, and Aromacombination (facial and body massage). I've always gone with the Aromabody, and I can tell you that it is awesome! The massage is just perfect in a way that you feel your muscles getting worked on but you do not end up with sore muscles later on.

Shiny Seating
Another thing that I love about her is that she does not waste time. When you walk in, she'll welcome you and let you get changed into a robe. While you are changing, she'll get your foot soak ready. She'll ask if you're ready and she'll bring in the warm foot soak. She'll let you soak your feet for just a couple of minutes, then she'll go in and wipe it dry and have you go on the massage table to get started. All this time, you'll be listening to very relaxing music.

Shiny Certificates
After the massage, she will let you change back into your clothes while she prepares you a drink and a small snack. She'll bring out to the nice and cozy sitting area where you can enjoy it while enjoying the view of the water and American Village/Depot Island across the water. This is especially lovely in the evening or at night when the lights in American Village are on.

Shiny Written Sign
Payment:  As for pricing, her prices are very reasonable (see picture of menu). She also offers a discounted package of 5 one-hour massages for 18,000yen. You can also purchase gift certificates. She accepts yen and credit cards.
Hours:  The place is open Tuesdays to Sundays from 11:00am until 9:00pm. It is usually closed on Mondays but if a Japanese holiday falls on a Monday, it'll be open. It is by appointment only, but you can always call and see if she has an opening for the day or that particular moment…I've done it a couple of times.
Menu:  Click on pix to the right

Shiny Menu Map
Phone:  098-989-6853.
Directions:  Getting there is easy. From Kadena Gate 1, make a left on Hwy 58. At the third traffic light (you'll see Toyohanten Chinese Restaurant and American American Steakhouse and Family Mart at the intersection), make a right. After you turn right, follow the road – you will pass two traffic lights (at the first light, you'll see Hamagawa Lodge on your right; at the 2nd light, you'll see San-A grocery). After the 2nd traffic light, make a left on the next street. Go straight until you reach the end of the street, and then make a right. Shiny Relaxation Room on that right corner. If you reach Café Terrace Nirai and Sunset Music School, you've already passed it. You can park most anywhere along the seawall or along any of the side streets as long as you are not blocking driveways.