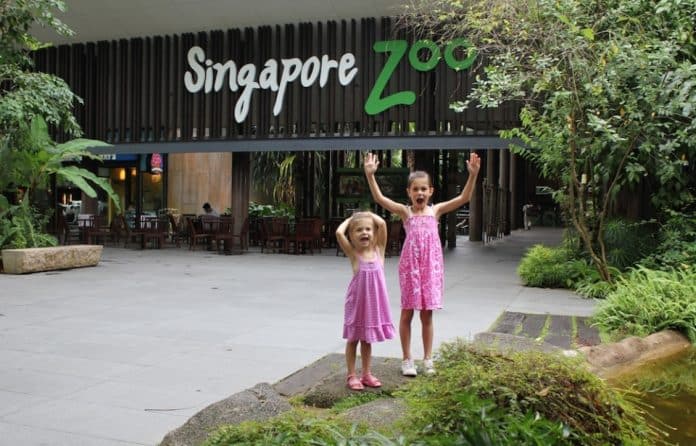 Singapore Zoo
CONTRIBUTED BY ROSIE LEE
One of the most exciting things available to families living overseas in the Pacific is the many great travel opportunities. The options are endless and the cultures unforgettable. We have been fortunate and blessed enough to have traveled to several spots in Asia such as Thailand, Hong Kong, mainland Japan, and Guam. Our upcoming PCS is fast approaching. The last place we wanted to visit before departing Okinawa was Singapore. It is such an exciting, busy, culture-filled, mouth-watering and warm place to visit.
Singapore is on the southern tip of the Malay Peninsula. Three-fourths of the people are of Chinese ethnicity; most of the rest are Malays and Indians and the languages consist of English, Chinese (Mandarin), Malay and Tamil (all official). The Republic of Singapore is the second smallest country in Asia and consists of Singapore Island and several smaller adjacent islets. The weather all year around is warm, humid, with some rain. The week we were there the weather called for thunderstorms everyday. However we had great weather in the morning and afternoon with rain showers in the afternoon which dissipated fairly quickly. As long as you are prepared with an umbrella and raincoat, it won't dampen your day too much. We always managed to find a show or a great restaurant while the rain did its thing.
We bought tickets online and flew from Naha to Tokyo via ANA. We traveled with our 3 and 7 year old girls. We then hopped on United and traveled from Tokyo to Singapore. The flight was about 7 hours but does go by fast. Between the in-flight movies, naps, meals, and a backpack for each child with their lovies, crayons, books, eye spies and special snacks (no sugar), the time flew by. We arrived in Singapore after midnight and took a cab from the airport to our lodging facility for about $40. Don't be surprised, taxis are extra after midnight.
We stayed at the Gateway Inn Navy Lodge at $95 a night. I called 1-877-628-9233 Ext. 746. This is for the Navy Lodge in Singapore. The prompt tells you to choose 1 for reservations, however I did not have luck with this option or via the website. I recommend choosing option 3 for the front desk where I spoke to a really nice lady named Mary. During our stay, Mary also provided great advice on transportation, places to eat, and recommended attractions.
The train station is a short bus ride away or within walking distance and will get you anywhere you need to go except the zoo or night safari, which requires a taxi ride. There is a small navy base within 10 minutes via a free shuttle, which picks you up in front of the Navy Lodge. This shuttle runs from the Gateway Inn to base every half hour, from 6 am to 6 pm only on weekdays. On the Navy base there is a small PX , Subway, The Terror Room Restaurant and a nice size pool. You can also order food right to your room, MacDonald (delivers 24 hours a day), Kentucky Fried Chicken or Pizza Hut.
The navy lodge has nice big rooms; we stayed in a large 3 bedroom, two bath condo style house. Each room had a full size bed and a twin bed with very comfortable mattresses. The house had a large kitchen, dining room, living room and free washer and dryer, which is available right outside your room. Unfortunately, the lodge is anywhere from 20 minutes via a taxi or 40 minutes via the train to the major attractions. For the price and spacious living quarters, it was worth the extra travel time.
Once you figure out the transportation system, moving from location to location is easy. We primarily took the train everywhere because the cost was so cheap and it gave us the opportunity to view the locals. The taxis are direct and will probably run you about $20-$30 to the downtown area. The train will take longer due to the stops and changing of trains depending of your destination. To get around on the train, buses, and monorail you pay with a pre-paid card which you buy at the guest services at any of the stations. There is a small fee to get the card and you deposit money on it for use in transportation.

Singapore Birds
The main attractions are the Singapore Zoo and Night Safari (which is the first nocturnal zoo in the world), Jurong Bird Park (also has the largest aviary in the world), Sentosa Island where you can find Merlion Park and Universal Studios Singapore. The amazing Singapore Flyer (world's largest giant observation wheel), Chinatown, Little India, Botanical Gardens, great museums, and even The Lion King Play at the world renown Hotel Marina Bay Sands (which is home to the largest outdoor swimming pool in the world). There are other attractions, great restaurants, awesome shopping (Orchard street has really expensive name brands like Hermes, Cartier, and Prada to name a few, as well as World Sentosa Mall and Bugis). For the single's nightlife, make sure you visit Clarke Quay.

Singapore Sentosa
The Singapore Zoo is amazing large. You can follow an animal feeding schedule as you travel through the park. There are four great shows. Bring your swim suit, there is a Kidzworld area with a fun water park, zip lines, and play ground for kids of all ages. My husband and I joined in the fun and enjoyed a few water slides ourselves. Oh, and keep your ears open for a ringing bell, a large elephant bucket fill up periodically and the bell warns you of the large bucket of water that pours out into the water park. You are sure to get soaked on this one. It's definitely worth the fun. There are showers available to clean up and change.

Singapore Water Slide
As night falls, step next door to visit the Night Safari. It is a first of its kind and quite amazing. With the admission fee you can ride the train around the park or hop off and stroll the grounds in the night lights. Don't worry, the animals are kept in enclosures.
Recommend you take advantage of the discounted package deal, which includes admission to the Zoo, Night Safari, and Jurong Bird Park. Kids under 3 are free and 3-12 get in at a lower rate than adults. This pass is good for one full day at each park.

Singapore Characters

Singapore Universal Studios
Universal Studios at Sentosa is also a fun place to visit during your visit. It is smaller than the one in the United States and Osaka, Japan, but still enough to keep you busy for a day. This park has great attractions, shows, and rides for all ages. They even have Madagascar and Far Far Away Land from Shrek and their castle. Right out the doors of Universal at Sentosa, there are great places to eat including Hard Rock Cafe, Mulligans and other great Bistros. Sentosa is an attraction of its own and includes nice beaches, rides, and great sites to visit. I recommend you spend an entire day at Universal and one in Sentosa, just to take it all in.
The food is amazing and lots of different options, from fast food to world renowned chef owned restaurants. There are a lot of American favorites, McDs, Burger King, KFC, California Pizza Kitchen, Black Angus, Ben and Jerry's, Starbucks, Coffee Bean and a lot of other delicious local options. We visited Chinatown and Little India to get the feel of their unique local flavors and drinks. All the attractions have great food options as well and great snacking treats. If you like chocolate milk, try the Milo chocolate drinks, especially the Rhino Milo at the Zoo, iced cold and refreshing.
I recommend you bring, raincoats, light clothes for hot weather, sunscreen, hats, comfortable walking shoes, mosquito repellent (yep there are mosquitoes, especially at the Zoo and Bird park), and swimsuits. Also bring a stroller if you have a little one, you will do a lot of walking. I brought a small umbrella stroller and was very easy to maneuver just about anywhere.
Don't miss out on a wonderful opportunity while living on Okinawa. Singapore is only a relatively short journey away. Do yourself and the family a big favor and visit the many attractions that Singapore has to offer. I only mentioned a few.
For another post on Singapore, click HERE.