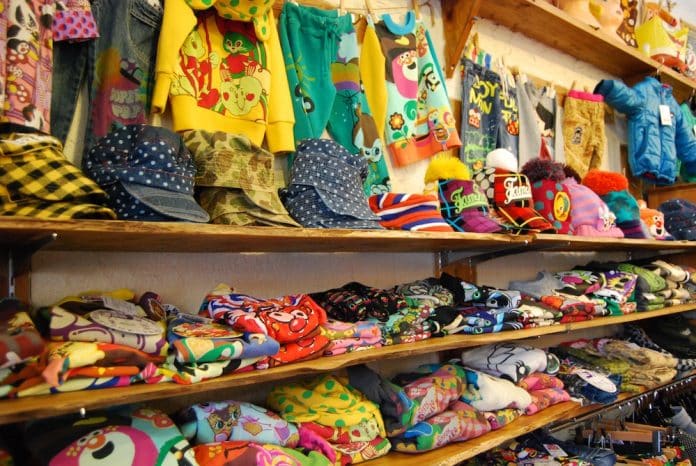 CONTRIBUTED BY SARAH FILLMAN

Skip Front
I am pregnant with my first child, and was very excited when I stumbled upon this store, Skip. It's right in American Village and I couldn't believe I'd never been inside before. When I walked in, the first thing I saw was a toddler size t-shirt with a huge colorful hamburger on it… Awesome!

Skip More Clothes
The entire selection ranges from infant onesies and accessories to early teen clothing. They have great vintage finds with old Disney logos, crazy designs and prints, sports team gear and really random one-of-a-kind apparel. There are cool multi-colored shirts with U.S. states and different graphics. It made me think that many of these clothes were sewn together from old vintage stuff from 20 years ago. I seriously loved this store!

Skip Clothing
It's pretty small, but there is a lot to look at…so many colors!! It wasn't expensive; but not exactly cheap either.

Skip Larger Clothing

Skip Shirt
If you are looking for some really unique clothing, and are into the wacky logos and fun colors for your kids…this is a cool store to browse through. I wouldn't be surprised if you found a t-shirt with an old vintage logo of your state on the front.
It is located on the first level in American Village and the front of the store is facing the Makeman Hardware store. Easy to find if you know where Makeman is.
Hours: Open 11am – 9pm, 7 days a week
Directions: From Kadena Gate 1, turn Left onto 58. At the 4th stoplight (street sign says Kuwae) make a Right. You will see the sign for American Village ahead. At the 2nd stoplight make another Right. Then make an immediate Left into a parking area located behind the large American Depot store. You will see the store Skip on the right side of the walkway, directly across from the Makeman sidewalk entrance.  
Phone: 098-936-8250
Website:  www.skip-okinawa.jp  (the website also shows another location near Naha)