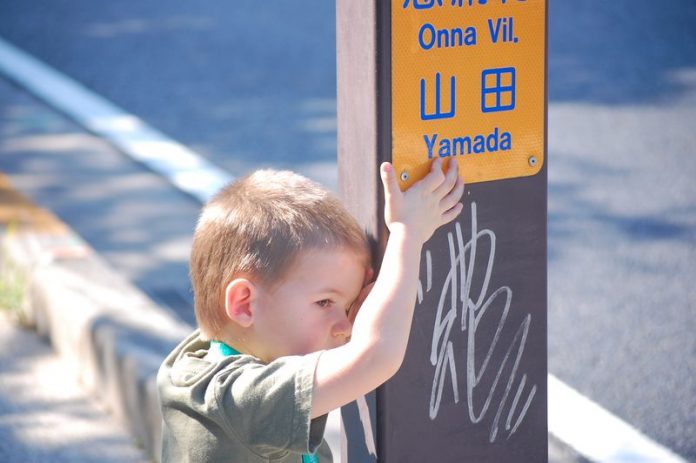 CONTRIBUTED BY JOELLE YAMADA
In 24 hours, we'll be headed to the airport to begin our journey…  home. Home???
It's been a whirlwind week of chasing down signatures, selling cars, packing boxes, cleaning cabinets and eating out as much as we can stand.  My kids are exhausted, my husband is frazzled, and me?  Well, I've said a lot of goodbyes and cried a lot and generally made everyone around me a little crazy with my lists and post-it notes.  But we have just about made it.  Just about made it to the end of our time on Okinawa.
Tears threaten as I write those last words.  I'm not sure how to go about leaving.  On the spectrum of thrilled versus bummed-to-be-leaving-Okinawa, I fall far on the side of bummed.  It's been three years, but I'm not ready to go and that leaves me feeling very awkward.
And I've spent too much time lately noticing places I'd meant to go.  Thinking down my "list of things to do before leaving Okinawa" and realizing the ones I've failed to complete.  Regretting the classes I wanted to take, the restaurants I wanted to eat in and the experiences I wanted to have.
That's not to say that we didn't pack a TON into our three-year-tour.  We did. But there were always more things I wanted to do.  And then last week something happened to highlight these missed chances…
Soon after arriving in 2007, I discovered that there is a town near the Renaissance Hotel called Yamada.  That is our last name, so when I heard there was an old famous bridge in that area (the Yamada Bridge!) I figured we'd HAVE to go there.  It's been on my to-do list forever.
We tried to go about 8 months ago, but following Japanese signs isn't always easy and though we enjoyed a lovely hike, we didn't turn the right way to get to the bridge.  But I thought I knew the mistake we made and vowed to come back later.
Later turned out to be last week, our one family day before the chaos of PCS week hit.  We drove up and turned down the road I thought was correct and began to walk.  Straight up hill.  With a 4 year old, a 2 year old and a baby. STRAIGHT UP HILL.  And up and up and up.  I was surprised I hadn't read about this steep paved road in the directions, but we just kept going.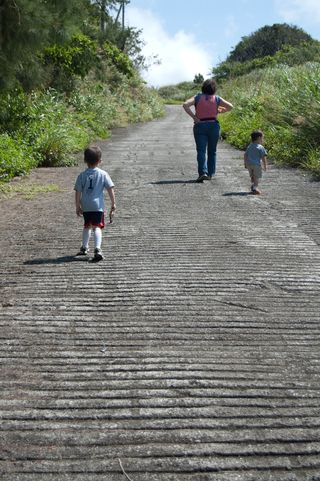 At the top there was…  well, really, nothing.  There was a big scaffolding that the boys enjoyed climbing with their dad and seeing the ocean.  But there was no old bridge in sight.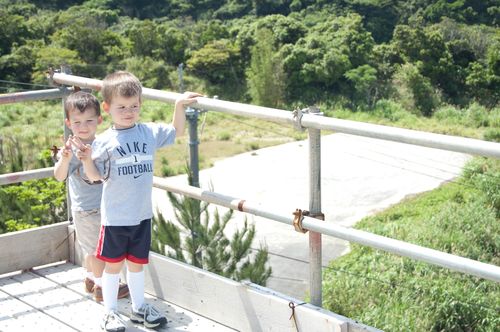 Undeterred, I pushed us forward through the steadily encroaching flora and fauna.  When the path completely disappeared in front of us I finally admitted this probably wasn't the right way and that we'd have to turn back.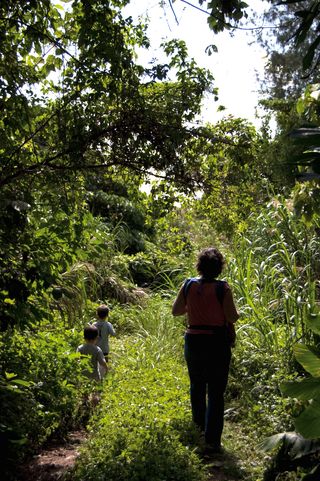 I was very disappointed.  How could we leave Okinawa without seeing OUR BRIDGE???
But my boys didn't seem at all disappointed.  In fact, they seemed to doubly enjoy the walk back down the hill…  finding long sticks along the way to fence with and listening to some crazy bird calls and generally enjoying the day.
As we drove home, I found myself fighting with disappointment.  There wouldn't be another opportunity to find the bridge.  Three WHOLE years on Okinawa and we didn't get there.
Sometimes you just don't get there.
Sometimes you don't see what you thought you were going to see.  Sometimes you're not able to cross off all the items on your list.  But haven't we been told that the joy is in the journey?
As the hours tick down on my family's time on this beautiful island paradise, I can truly say that is true.  There was very little we did here on Okinawa that was easy.  Even the easiest things took a little effort.  But wasn't that where the fun came in?  Aren't those the crazy stories I've told friends and family?  Of the seemingly insignificant successes and new discoveries made daily on our island?
I may not have seen and done everything I wanted to on Okinawa.  But every path led to a new experience that I wouldn't trade for all the rice in Japan.
The journey has been fabulous.  Joy all the way.