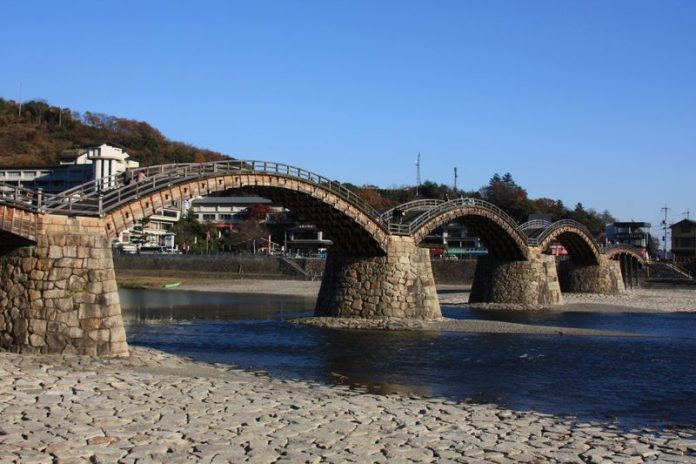 CONTRIBUTED BY MARY RICHARDSON
In early December, my husband had a work assignment at US Marine Corps Air Station Iwakuni and I tagged along Space Available to get a glimpse of life on mainland.
Iwakuni has several worthwhile excursions and it is close enough to both Hiroshima and Miyajima Island to fill a few days with fun activities.  Best of all, other than my time waiting to hop on the plane, it cost nothing to get up there.
So, what exactly can you expect to see and do in about 48 hours?
Well, for starters visit the historic and touristy Kikkou Park where you can tour samurai quarters, ride around the streets in a rickshaw, and walk across the landmark Kintai Bridge, originally built in 1673 without a single nail. It has since been rebuilt twice after being destroyed by floods and is a major tourist destination and photo opportunity, especially in the spring during cherry blossom season.
The Kintai Bridge is located at the foot of Mount Yoyoyama, where you can take a cable car up the side of the mountain and visit the Iwakuni Castle. While you're up there, take a stroll around the perimeter and see Iwakuni from all angles.
After a day of touring Iwakuni, seek out the famous "Chicken Shack," or Sanzoku according to locals. A short drive outside of town, a collection of traditional style restaurants line the side of a mountain. There is indoor seating for chilly evenings in the winter, and outdoor seating next to a pretty pond in the summer time.  Such a memorable dining experience!
The specialty of the house is the savory chicken teriyaki on a stick. We loved it so much we ordered an extra one of these even after we were stuffed full…
An easy and fun side trip can also be made to Miyajima Island, otherwise known as the Shrine Island. You can get there by taking a train or taxi to the Miyajima ferry port, and then take a 10 minute ride by ferry across. Have your camera ready to take photos of the striking floating Torii as you arrive.
On Miyajima, be sure to take a tour of the UNESCO World Heritage site, Itsukishima Shrine.
In addition to the popular oysters, fresh beef buns, and bbq eel, don't forget to sample a few momiji manju, local cookies in the shape of a maple leaf. This signature cookie seems to be made all over the island, and as you stroll around the quaint main streets, the heavenly smell of cookies hits you from all angles. It's also really fun to watch how they're made, and most of the confection stores have the whole process on display between glass windows for easy observation.
I know some of you out there are big fans of azuki bean filling, but I would recommend the chocolate or custard filled ones.
Miyajima is so picturesque due to the deer roaming around freely. Shinto belief holds that deer are sacred animals in that they are messengers of God. You're not supposed to touch or play with the deer, but that doesn't mean you can't capture them in great pictures!
Miyajima also boasts Mt Misen with hiking paths and observation points. You can take a ropeway up to the top and prepare to see monkeys as you make your way around.
Moreover, the famous city of Hiroshima is also only 40 km away from Iwakuni and can easily be reached by rental car or train. There you can visit the Peace Memorial Park, Atomic Bomb Dome and Museum, and Hiroshima Castle.
---
Iwakuni, Japan 
Accommodations:
The Kintai Inn currently only accepts reservations for people on official orders, but the
Monzen and Nishiki lodges
accept reservations from Space A visitors to Iwakuni.
Getting around: The train is a convenient way to make your way to nearby cities, but car rental is also available option while you're there.
Getting there: There's lots of discussion and tips already on this site about how to do Space A, so I won't go into it here. Needless to say, it requires some patience and flexibility, and advance preparation in terms of finding out when flights go up and come back. That said, it's worth it!
Flights to Iwakuni go from both Futenma and Kadena on a fairly regular basis. Contact those terminals for timetable and availability.
Kadena: 634-4221
Futenma 636-3039/3041